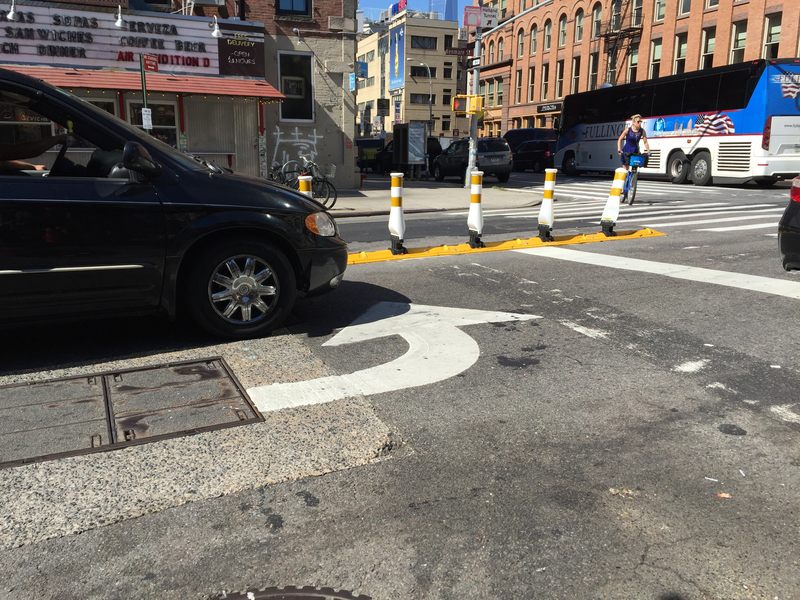 On the eastern fringes of Soho, where Kenmare Street runs into Lafayette, things are...complicated. There's a lot of truck traffic, and vehicles make left turns at relatively high speeds.
"This intersection is a nightmare," says Gabriella Rhodeen, a Bushwick resident who works a block away. "Because it's just kind of a free-for-all. And nobody seems to care when you have a crossing signal or not."
(Nightmare is one term for the intersection. Another is "corner of death," which is how nine-year old Lucas Maxwell referred to it in a video he sent to the city's transportation commissioner.)
But the problem is not contained to Kenmare and Lafayette. The city has just released a new study on left turn crashes, in which it found they're three times more prevalent than right turn crashes.
(WNYC reported on this issue last year. Read: Why Left Turns Are So Deadly)
There are a lot of reasons why. Drivers tend to make left turns at higher speeds. They're negotiating oncoming traffic. And car frames create blind spots that can limit a driver's field of vision.
Transportaton Commissioner Polly Trottenberg said that based on the findings of the study, the city has begun making changes to dozens of intersections — changing traffic light timing, adding time to the pedestrian walk light, and installing yellow-and-white plastic barriers in the middle of the street to prevent turning vehicles from cutting corners.
But that's just for starters. "We're doing similar work throughout the city," said Trottenberg. 'We're currently actually doing a hundred-intersection pilot project."
Work on those intersections should be complete by the end of the summer. If the redesigns prove successful, Trottenberg said they'll be expanded throughout the city.