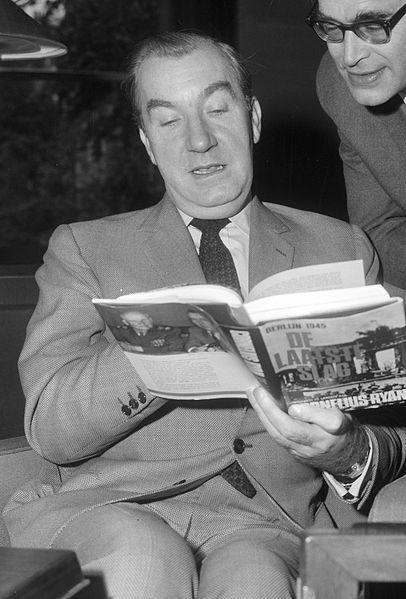 Summary
This episode is from the WNYC archives. It may contain language which is no longer politically or socially appropriate.
Cornelius Ryan discusses the Normandy invasion, and his book "The Longest Day."
John T. Wilson, President of International Union of Geodacy and Geophysics, discusses his trip to Communist China and tells about their science and technology.
Alan Drury discusses Washington politics.
Audio courtesy of the NYC Municipal Archives WNYC Collection
WNYC archives id: 71184
Municipal archives id: LT8872
Transcript
This is a machine-generated transcript. Text is unformatted and may contain errors.
I'd like to introduce to you our master of ceremonies for the day my colleague Maurice Davia who edits the books and authors Department of the book review every Sunday who writes the daily book column in The Herald Tribune on Wednesdays and Saturdays by this time I think you really don't need an introduction to him but keep it up a little longer Mr Dog. Thanks. It was a German field marshal when Ramos who made the prediction on an April day of nine hundred forty four. He stood on the French shoreline of the English Channel and told his aide. The war will be won or lost on the beaches we have only one chance to stop the enemy and that's why he's in the war. Everything we have must be on the coast Believe me the first twenty four hours of the invasion will be decisive the fate of Germany depends on the outcome. For the allies as well as training. It will be the longest day Romney was a good general and a good profit but when less than two months later. On the sixth of July. The Allied invasion of the continent began on those beaches everything Germany had was not on the coast and neither was Field Marshall Rommel canniness Ryan who was there covering the landings for the London Daily Telegraph tells in his book about the longest day why Rommel was absent the sixth of June was also the birthday of the Field Marshal's wife. And on T. minus two Rommel had left his headquarters a moment David and headed for his home in Germany bearing with him as a present a pair of women's grey suede shoes size five and a half. Their other surprising stories in the state of German I'm reading this the German naval commander in the West had gone to Bordeaux. Most of the senior army officers anomaly had gone to another part of the country to take part in war games in which the problem was a theoretical invasion of Normandy the last look for for fighter squadron in France had been moved back out of range of the coast the Allied Radio message that was to precede the invasion was known in advance to German intelligence when it came through the commander of the fifteenth Army instructed a bridge game to order his troops alerted and then began to play bridge again saying I'm too old a bunny to get too excited about this. The Seventh Army which was in the invasion area was not alerted. But if the Germans didn't have everything on the coast they had enough to make the D.-Day landings one of the was most bitterly fought battles a British marine who with his comrades had to swim fifty yards through a fierce machine gun fire said perhaps with including the Seems to be a private beach. The story of that great intrusion in Graham perspective and in close up there was a battle along the whole Invasion Front has never been told better than by Mr Wright and Irishman who became a naturalized American in one hundred fifty I have told you a few of the things that are in the book here is Mr Ryan to tell you a few of the things that are not Mr Right. This is Van De Long don't you know he's a gentleman it's not to be honest here. And I have been told I have fifteen minutes but I think that the writer should be read and not seen so I'll try and keep this is brief as I care. This is a journalist book. It's a book that I wanted to do with the book that I believed in for some fifteen years. If it hadn't succeeded I personally would have felt not only bad but I would have felt that I had not justified the faith. Of the man whom I interviewed in getting the facts therefore it's no surprise to me that the book is selling because it means that the man who might be interviewed found their stories I gradually told and this to me being a New American it's very important indeed. To get the research for this book. Was the first major problem. That called for an enormous effort not necessarily on my part Somebody had to underwrite the research. And the Reader's Digest under up to the cost was enormous the one time there were no less than fourteen people working trying to find the survivors it's a funny thing when you think that there is no record here in Great Britain or in Germany or in France of those men on both sides those who invaded and those who defended no record of them and what they did. Yet on June sixth. This was the turning point for the West and indeed the turning point for the Third Reich yet there is no list of the names they're not honored in anyway the man who came swarming out of the sea. We find a statue here and there to some individual unit but I could not find in Washington and the listing of all these men where of the First Division the twenty ninth Division the ninety eight division the eighty second division one hundred first Division and yet we know so much to these men who landed on that same goes in Britain the same friends. Indeed. Having went through all the histories that have been written on the subject and although my book is by no means of military history I must say that I was amazed to find that there was no reference to the fact that the French had sent in a contingent that day they'd send in one hundred seventy three Frenchmen I found some ninety were killed or wounded on the beaches but there is no record of that fact. As I said I had been dreaming about doing this book for a long long time we saw in one nine hundred forty nine. I think it was in one nine hundred forty nine that I finally decided to do so. I had gone back there with a number of correspondents were invited back back by the State Department to visit the beaches and I walked along on the hard beach and I should always remember. Walking along that sad sad beach which means so much to Americans. As we walked along there was a truck. Carrying sand from the beach a few children playing the side of the water a rusted hawser. Here and there. A. Life preserver rotting away a few tar barrels some barbed wire running up along the bluffs. Or in the sea itself some rusting hulks Mike something out of a dolly painting start standing up there are question marks in the role of history. And this was on the hard beach it was strange to me anyway it was a strange silence about it almost seemed as if the French people before. World War two had gotten to this Normandy Beach. Every Sunday every summer it seemed that the French had not really accepted accepted the peace that was there they didn't go back too much anymore and so the beach still seemed deserted when walking along the beach that good friend of mine we we stopped and we found among the sand actual pieces of shrapnel the same rusting now a track on that was hurled at our men as we tried to come in there now the same how good for you to sword Juno and gold the other beaches It almost seemed as if. I'm this day in history of June the six forty four that you know is forgotten now or that nobody cared and I ask myself where were these men and what happened to them not only the men that came out of the sea I wonder how many of you sitting here had a brother husband or a son who went in. Do we remember the many more. Do we think about these men and I wondered too how many of the Germans survived Indeed I found later that one whole division of the Germans that holding that coastline. It was completely emasculated within the first nine days of battle and I found this out by virtue of the fact that I was not able to find more than two members of the division. So this was my problem to find these people some people said it was impossible some said that. After I had found them and that they would not tell me really what occurred Well we started off and we scoured through the histories and in the histories we found an odd name here and there some sergeant who had helped get men off the beach some private who had been wounded some colonel who had something said something memorable that given a rise in spirit to the men who were pinned down on the beach and suddenly they got up and started to fight and so we gathered all these names and then we found that these people had moved from their original addresses or maybe they had been killed in later battles as the war progressed into Germany over a period of years with the help of the digest researchers. And with the help of literally hundreds of advertisement is that were placed in service and papers of one sort or another I was able to run down some six thousand three hundred men. And never can British German French. And then the next problem was having found these men. How do you how do you make sure that what they're going to tell you is the truth how do you get their basic statistics. So a questionnaire was sent out to these men and you know we asked them for their unit and so on and then these questionnaires came back. Out of the six thousand three hundred that we found we got back around about four thousand questionnaires and then we found that some men. So they had been there on D.-Day but happening we found that D.-Day to each of the veterans who had landed in Normandy the day he landed was the D.-Day it was his personal day of courage it was his D.-Day. Some of them landed on D. plus forty plus five that was their D.-Day this posed a terrific problem of call late in and finding the actual man we ran into one problem a human problem. I began to receive letters from wives and from some children daughters and sons saying My father was there on the day he's too shy to tell you about it but maybe you would come and talk to. The following day I would get a call from some exasperated male saying look. I. Landed about two weeks later but you know I was there and I've never really told my children and all of this is all very embarrassing and so I admit to you and now that in the list in the back of the book there are nine ringers I do not intend to split any family's belief in. Any way out of the six thousand two hundred three hundred I forget now people that we found in the first round this reduced down to about four thousand after we got through the correlation of these questionnaires it was reduced down to about two thousand then the problem was repetition. You had to draw the line somewhere in the problem I was checking. I found that many men for example were fighting a war which they had seen in the movies since the end of the World War two I found that. Many men his accounts did not quite agree with the after action reports which was the only basis of checking let me put it this way if a man said that he landed on a on a certain section of Omaha Beach and he said that he had a certain conversation with two or three other men in that unit and this conversation was important enough for me to include in the book I have to have verification from the other two men now this is a pretty rugged rule of thumb and I grant you that I lost a lot of good stories because of it stories which in all probability were completely true but the fact was I had to draw the line somewhere I had to be absolutely true to I had to find the exact truthful story as it took place you know psychologists Army psychologists have discovered that no man can remember the details of a battle for longer than ten days unless something specific happened in the battle which left an indelible imprint in one particular case to give you an idea of what I mean there is one character in the book the private by the name of the shorts now actually is Nick nickname is Dutch and the dear Dr Scholl's was all of eighteen years of age. At the time the invasion he was a paratrooper and when the invasion was postponed by twenty four hours he started to. Gamble all in the hangar as they will as they waited in and he wound up winning something like twenty five hundred dollars it's all happened and after he won the money there was a male call. And you know the letter that he received that day from his mother was a rosary beads and he opened the letter the rosary beads fell out and dodge being a Catholic and so on he. He surrounded by these these tough fellows you see older than he is big they've been in Sicily landings and so on and he hurriedly picks up the rosary beads and shoves the minutes apart then he starts to play again and suddenly it dawns on him that this day. Like everybody else on the airfield he has. Being two. In his case mass and communion and then he says to himself how can I possibly be in the state of grace when here I am gambling and so he starts off to lose the twenty five hundred dollars. In this particular incident it took a man by the way to lose the money than to win it and in this instance it is indelibly imprinted on his mind the fact that he actually won twenty five hundred dollars and succeeded in losing it now you would need a point like that a point of reference or two. For the thing to be to be there to to be absolutely true so that the man could remember there is one story which I did not include because I couldn't prove it and it may be it may not be true but I feel I must tell you it's about a captain who landed on Omaha Beach. And as he ran down the ramp of the landing craft it seemed to him that everything was firing at him. He ran along the beach looking for some sort of cover there was no cover and then some distance away he saw a burning tank he threw himself behind the burning tank he lay there gasping thanking his maker that he was still alive and as he lay there we heard a voice from the other side of the tank and one G.I. was talking to the other and the voice said Now you where the water bottle on the left hand side not on the right. Is this true or not I had to leave it out. This is the sort of stuff another story was that major plus got a German name was in his bunker and he is the German I write about in the book who sees the fleet he's overwhelmed by the sight of this invasion fleet so overwhelmed that. He has told me at that moment I knew this was the and for Germany now he had dark and the dog's name was HARRIS It was a big German Shepherd and he looked around for his dog and it seemed that it seemed to Plaskett anyway that the dog to the shock of this whole thing the dog disappeared and it seemed to Plaskett just. Symbolic in some way that the dog too were taken off and had rushed away out of the bunker and throughout this day it which was the most horrible day plus gets life is one thought was where where was his dog now General coulter of the twenty nine division the man who is generally credited with having gotten the men on their feet off Omaha Beach. As told me and later wrote in his after action report that as he was walking down on the beach about eleven o'clock on the night of the day he was attacked by a large Alsatian dock and in a certain action report he says. I have no doubt that this dog belonged to one of the defenders when my first impulse was to link both plus cat and. The dog that attacked General COTA but it was too much like a bee movie if I had to do it and I only this morning as