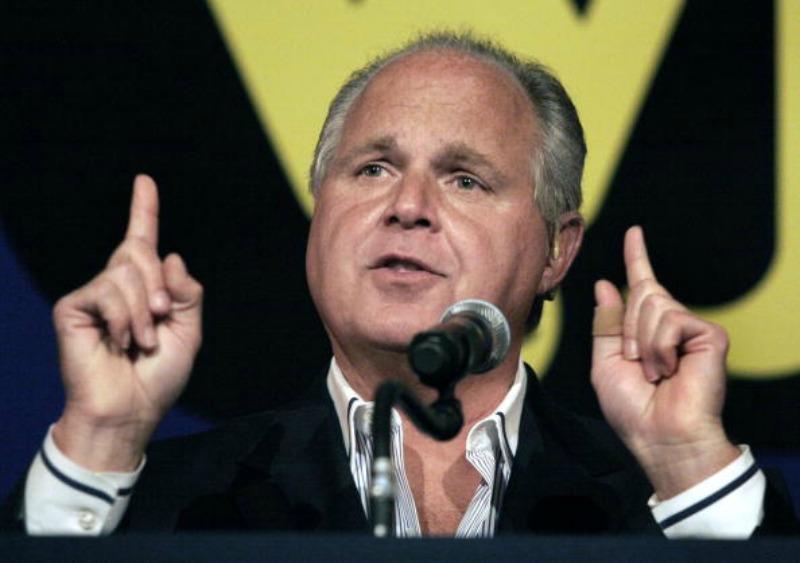 Summary
The 2016 presidential race is turning out to be conservative talk radio's election. Donald Trump is its native son, and Ted Cruz has put it at the center of his media strategy. Matt Katz, a political reporter for WNYC and New Jersey Public Radio, talks with Brooke about how conservative talk radio may explain the popularity of the two current GOP front runners. 
Brave Combo: Jeopardy (Schottische)
Transcript
BROOKE: If the beltway pundits were shocked at the audacity of Trump's debate snub, commenters outside the mainstream saw it coming a mile away.
LIMBAUGH: I heard people on Fox last night talking about this. "Who does he think he is? He can't control the media." I got news for you: He is controlling the media, and it's his objective.
BROOKE: Conservative talk radio guru Rush Limbaugh.
LIMBAUGH: He controls the media when he's not on it. He controls the media when he is on it. He controls the media when he's asleep. Nobody else has been able to do anything like this short of the Kennedys, and they're pikers compared to the way Trump is doing this.
BROOKE: No, says Limbaugh, this is not an endorsement. But to any of you who may have heard rumors of talk radio's decline, all I can say is, not this primary season.
This truly is conservative talk radio's election. Michael Harrison of Talkers Magazine, says talk show hosts praise god for giving them Trump. Trump is a (quote) "shock jock now running for president." Meanwhile, Ted Cruz, running second, has made talk radio the centerpiece of his strategy. So now that medium has two native sons battling it out and bumping up the ratings. Matt Katz, a political reporter for WNYC and New Jersey Public Radio, is an avid listener to talk radio, by which I mean of course, conservative talk radio, Matt, welcome back!


KATZ: Thank you, Brooke.
BROOKE: So, first, has conservative talk radio taken a side? Trump or Cruz?
KATZ: They are mostly playing it coy, lead by Rush Limbaugh, who will sometimes have mild critiques of one or the other, and his criticism is read very carefully like tea leaves to see what he really means. Glenn Beck has taken a side, he has officially endorsed ted Cruz. It's very interesting to see that unlike previous elections, talk radio has two guys that are sort of personified their ideal Republican candidate.
BROOKE: Can you tell who's more popular?
KATZ: It started with Cruz, he's the natural outgrowth of conservative talk, but Trump is starting to supplant Cruz, and not because of ideological reasons, he has more pizzazz than Cruz. Trump has this cross cultural appeal, it's not all angry old white men who like him, and that's what I'm told is consistent with the listenership of talk radio -- it's a little bit more diverse than you might expect.
BROOKE: Why is Ted Cruz putting talk radio at the center of his strategy?
KATZ: He has risen through the ranks by using talk radio. His campaign chairman recently said that the reach of talk radio is greater than any other medium. it's an anti establishment campaign and talk radio is based on this idea that the vast majority of elected Republicans in this country have laid down and let themselves get trampled on by President Obama, whereas Ted Cruz has acted as a Senator in the way that talk radio listeners have always called for their elected officials to act.
BROOKE: Cruz's campaign chairman said that the talk radio is greater than every other medium. I guess it's possible? Radio signals blanket the country even more thoroughly than tv signals. But does it have greater audience than say, uh, television?
KATZ: It's hard to get a sense of the numbers. What we do know, though is that the influence of talk radio is evident in places like Breitbart, the hard right conservative website that has been very important to Trump's rise and their content really echoes what you've heard on talk radio for the last you know couple of decades. the role of it in the larger communication apparatus of conservatives is really the way to evaluate its influence. They represent the grassroots, whatever that might mean.
BROOKE: Is that another way of saying the base, which is another way of saying the most extreme?
KATZ: Yeah. Yeah, I think that's totally fair. I mean, it's hard to understand and to listen how much these people can't stand their elected Republicans. They believe their elected officials have for too long neglected their voices.
BROOKE: And within that context I guess the kind of things that are acceptable to say on talk radio well, there's really nothing you can't say.
KATZ: Yeah. It seems that way sometimes. For example recently Ted Cruz's wife, Heidi was on 1400 AM KVFD in Iowa, and she was asked about the fact that her husband was born in Canada but the way the host put the question it was quite unique.
CLIP
HOST: So, Mrs. Cruz, Heidi Cruz, would you please respond to the fact of whether you're sleeping with an immigrant.
BROOKE: This is the age old question. What do you think came first. Did talk radio create these opinions among the conservative base or are the hosts just a reflection of it.
KATZ: I imagine it's a little bit of both. I think where the talk show hosts really lead is in their story selection. There are like a half a dozen topics that they are constantly harping on. I mean, Benghazi has an outsized role in their conversations. The bias in the mainstream media, political correctness, is huge huge. You notice how I say huge because that's what Donald Trump talks about constantly.

BROOKE: And of course feminism is a great target there, right? Didn't Rush LImbaugh come up with the phrase Feminazi?
KATZ: I believe he did. That seemed like a phrase of the 90s doesn't it? But these are still very current concerns on conservative talk. Rush Limbaugh continues to talk about the idea that Democrats and liberals use minorities and women as a card to play against Republicans.
CLIP
And Trump of course talking about how hey, Hillary, you send him out there you'd better not start playing your vagina card but she's playing that card.
Jeb Bush recently said this about Hillary that she's great at being the victim and that is a line of argument that Rush has been pushing for a quarter century. they're also preoccupied with race. But in talking about race, they always talk about how the other side is preoccupied with race.
BROOKE: They'll say they're called racists but their Islamophobia knows no bounds, it doesn't seem to cause a ripple when candidate Mike Huckabee, who used to be a show host had a guest saying this:
[CLIP]
Islam I do believe is an inherently evil and soul destroying freedom destroying force in the earth
BROOKE: And then Laura Ingraham, more recently:
[CLIP]
INGRAM: Maybe we don't have video of the thousands of people on the rooftop but did that really the point here? yeah, be as accurate as you can, clearly. But to listen to the media criticism of Trump, there was nobody! Every Muslim in the United States was celebrating. United against terrorism.
KATZ: Some of these conversations they're talking about one thing but they're really talking about another. So Laura Ingraham was talking about Trump's now famous allegation that muslims in New Jersey celebrated September 11th 2001. But in defending trump, what she was really doing was blasting the media criticism of Trump for the statement. So, she's not confirming what Trump said, but she's just pointing out that the mainstream media is constantly trying to label their side as racist or intolerant.
BROOKE: And it doesn't matter that Trump libeled an entire ethnic group? That doesn't matter?
KATZ: That would be seen as unreasonable sensitivity. The concern here is that mainstream media is poisoning America against a certain people on the right.
BROOKE: One of the things I find particularly interesting about talk radio in particular is it talks about how very popular it is, how it really represents the people, outside the corridors of power. This is a populist majority that only gets to speak through this particular microphone.
KATZ: Absolutely there's this idea that that's why anti establishment candidates are doing so well right now in the primary because that idea resonates. Rush's right when says this.
CLIP
You know, talk radio it's a euphemism. talk radio means the base of the party. Talk radio means the grassroots. Talk radio means tea party, what have you.
KATZ: IT's not just a medium. Talk radio represents an ideology.

BROOKE: So if we want to know what's going on in the heads of conservatives in Iowa, listen to local talk radio there?
KATZ: Absolutely. You know, people were confounded that Dr. Ben Carson was doing so well earlier this year in the polls. They wouldn't have been confounded if they had been listening to talk radio. Polls indicated that Ted Cruz and Donald Trump will in Iowa finish in first or second place, and it is no surprise that they are the two most popular candidates on conservative talk. And if Donald Trump becomes the president, we will have the talk radio host, at the president of the united states, isn't that exciting?
BROOKE: Matt, thank you very much.
KATZ: Thank you.
BROOKE: Matt Katz is a political reporter for WNYC and New Jersey PUblic Radio. And a frequent contributor to the podcast The Christie Tracker.
BOB: Coming up, why a credit score for radicalization is probably impossible.
BROOKE: This is On the Media.