The Takeaway
The Case For and Against Trump's Supreme Court Nominee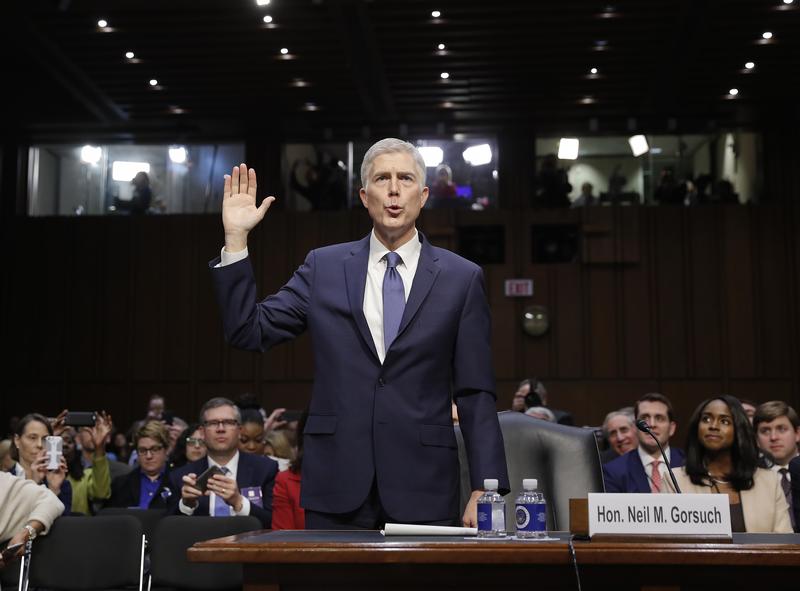 Click on the 'Listen' button above to hear this segment.
This week, another one of President Donald Trump's nominees takes the hot seat. On Monday, Judge Neil Gorsuch of the Tenth Circuit Court of Appeals and the president's pick for Supreme Court Justice, began his confirmation hearing. Throughout opening statements, it was clear that the Democrats were determined to bring up a particular name: Judge Merrick Garland, former President Barack Obama's nominee to fill Justice Antonin Scalia's seat — the very position Judge Gorsuch is now being considered for.
At Monday's hearing, Senator Michael Bennet of Colorado told Senate Judiciary Committee Chairman Chuck Grassley: "The Senate's failure to do its duty with respect to Judge Garland was an embarrassment to this body that will be recorded in history and in the lives of millions of Americans. And it is tempting to deny Judge Gorsuch a fair hearing because of the Senate's prior failure. But Mr. Chairman, two wrongs never make a right."
The other name on the tip of Democratic tongues is Senate Majority Leader Mitch McConnell. The Republican leader led the blockade of Judge Garland, and Senator Ted Cruz was quick to defend his party's position to keep the seat vacant.
Some Senate Democrats have used their time to voice concern over what Judge Gorsuch would do when called upon to stand up to President Trump, arguing that he was chosen by special interest groups. Now, Judge Gorsuch will face a long day of questions from the committee as they dig into his past rulings.
Timothy Meyer, a professor of law and an enterprise scholar at Vanderbilt Law School, clerked for Judge Gorsuch on the U.S. Court of Appeals for the Tenth Circuit from 2007 to 2008. He explains why he believes he should be confirmed to sit on the nation's highest court. 
However, with Judge Grosuch's nomination, critics say that Republicans are playing political games and that the integrity of the judiciary is at stake. It's a process they say was tainted when the Senate refused to consider Judge Merrick Garland.
Former Wisconsin Senator Russ Feingold was a 16 year member of the U.S. Senate Judiciary Committee and voted on six Supreme Court justices. He recently penned an opinion piece for The Guardian and says the confirmation of Judge Gorsuch would delegitimize the highest court in the land.