Summer Begins with Egg Cream Splash at Coney Island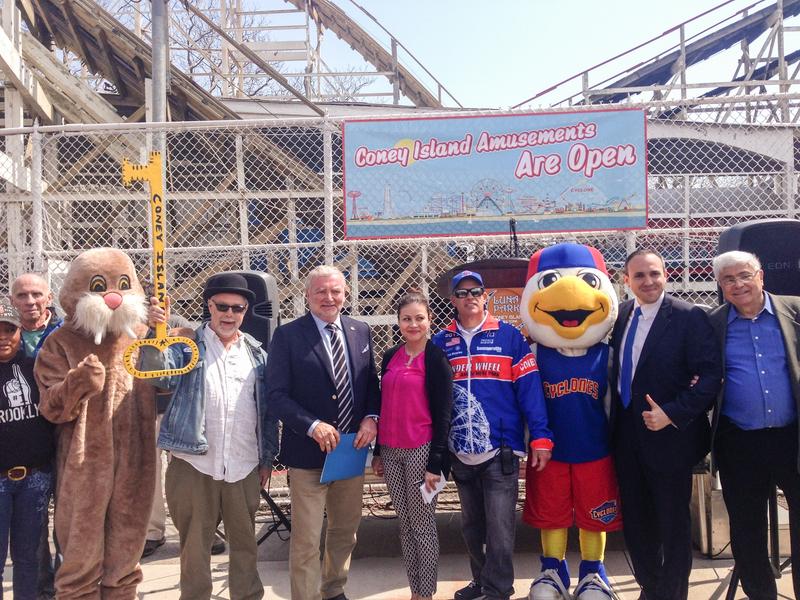 Dignitaries officially opened the seaside park's 40 rides on Sunday by christening the Cyclone roller coaster with a bottle of egg cream. Italian tycoon Alberto Zamperla smacked the bottle against the coaster's first car.
Here's a look at the day that signaled the start of summer.
(Janet Babin/WNYC)
Riding The Cyclone at Luna Park on opening day. Coney Island's amusement park is open every day this week, in time for many students who are on spring break. Since Sandy struck two years ago, the amusement district has been making a comeback. 
(Janet Babin/WNYC)
Brooklyn Borough President Eric Adams in a Cyclone Roller Coaster seat.
"This [Park] is going to be a major focus of how to revitalize Coney Island, we're going to try to use this area for the ball drop on New Year's," said Adams. He was also on hand for the egg cream christening. 
 (Janet Babin/WNYC)
The first 100 visitors Sunday got to ride the Cyclone coaster for free; the ride was discounted all day, but the coaster was more than some riders bargained for. Carolyn Kruk, right, of Manhattan brought her friend Taryn Montgomery of Calgary, Canada, to Luna Park.
"I rock climb back home and I've taken 20 foot falls, that was way scarier," said Montgomery.
 "She's a tough cookie but no match for the cyclone," said Kruk.  
 (Janet Babin/WNYC)
While the weather cooperated, the water was nearly empty, though plenty strolled the boardwalk and enjoyed a bite to eat. 
(Janet Babin/WNYC)
 "We come here every year for opening day," said Marlie Vilfort of East Flatbush.  She had already ridden the infamous Cyclone roller coaster, and was looking for more challenges.
After April 22, Luna Park will be open weekends only until Memorial Day, when it will be open daily for the summer season.