Art Made of Electronics and LED Lights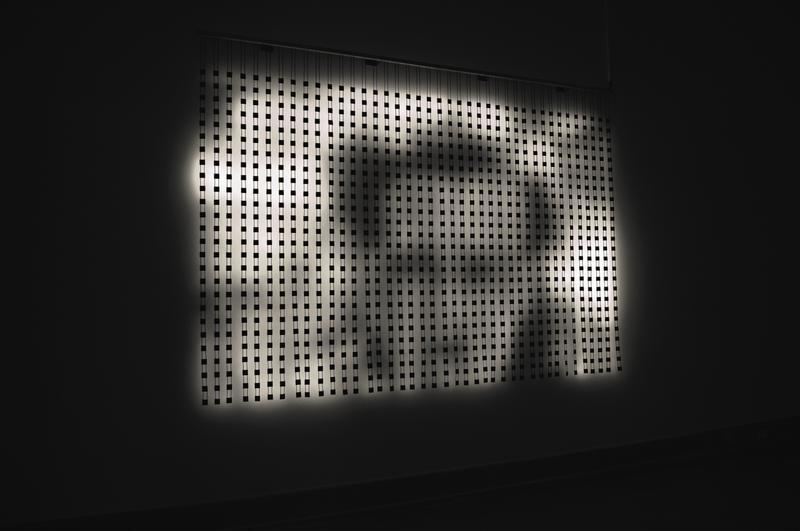 A computer engineer-turned-artist is having his first solo museum
exhibit
in New York.
The Museum of the Moving Image in Queens is opening a show on the work of Jim Campbell. He manipulates computers, custom electronics and grids of LED lights into artworks.
Campbell moved to Silicon Valley in the late seventies to design computer chips. But on the weekends, he moonlighted as an artist, manipulating technology to create electronic art. "I've always had kind of a split personality," Campbell said. "I've had the nerd side which goes one way, and then the frustrated nerd side that kind of needs to create or needs to expand."
Jim Campbell (American, b. 1956). Memory/Recollection, 1990 Video camera, five CRTs, PC computer, custom electronics.
The exhibition is his first solo museum show in New York. It includes three decades of work, from experimental film to large-scale installations.
The exhibition features many of his best-known pieces that experiment with low-resolution imagery. In Home Movies, 1040-1, Campbell projects his own childhood home videos on a large-scale grid of LED lights, abstracting the images. "The low resolution eliminates the details in peoples' faces and things, so the home movies become kind of universal," Campbell said. "It could be your home movie there."
The rarely shown Last Day in the Beginning of March is also on display. The room-size installation involves suspended light bulbs and a soundscape Campbell said recreates the last day of his brother's life.
Jim Campbell (American, b. 1956) Divide, 2005 Custom electronics, 768 LEDs, treated Plexiglas.
"It's fairly abstract and kind of expressionist," Cambell said. "But once you read the labels and you walk around, it kind of gradually comes together. It's a work that's really more about feeling it than looking at it. It's more about feeling the space."
Also on view is Exploded View (Commuters), a work including footage from Grand Central Station.
Jim Campbell's 'Portrait of my mother' (1996) and 'Portrait of my Father' (1994-1995).