New Sounds
Composer Julia Wolfe, 2016 MacArthur Fellow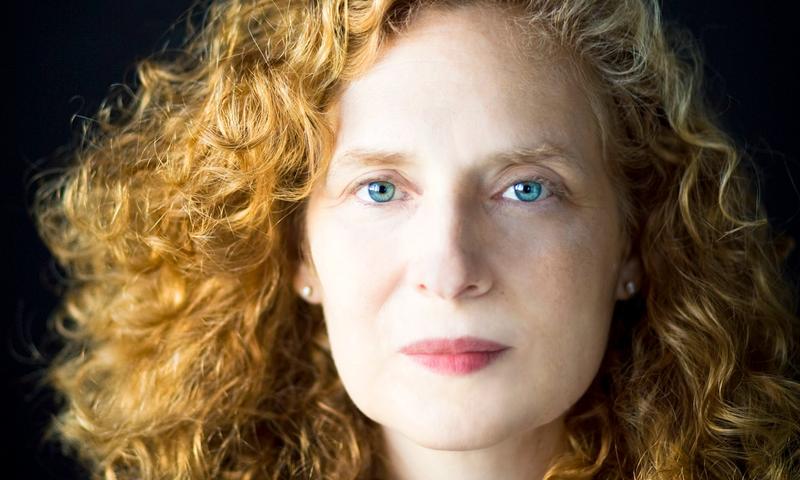 Composer Julia Wolfe is a 2016 MacArthur Fellow! She has been active in New York's "downtown" / new music scene since the early 1980s, and was one of the three co-founders of the new music empire called Bang on A Can. These days she's also composition professor at the Steinhardt School of New York University; and she won the 2015 Pulitzer Prize for music with her work, "Anthracite Fields." 
Her music for the Bang on a Can All-Stars and many others, is just as likely to include electric guitar as it is a large chorus; she'll draw on traditional folk music (English ballads, the legend of John Henry, clog dancing), the driving pulse or dramatic delicacy of minimalism, plus the power of works for multiple sets of instruments, which range from drum sets to bagpipes. Here she is, presenting some of her works, with host John Schaefer on New Sounds. 
She joined John in the studio in 2012, celebrating 25 years of Bang on a Can:
See the Bang on a Can All-Stars performing Julia Wolfe's "Reeling," based on a found sound of a French-Canadian folk-singer doing "mouth music" (the "deedle-deedle-dum" rhythmic singing), featuring the Bang on a Can All-Stars in the studio:

Listen to this New Sounds Live concert, recorded at Brookfield Place in 2014, and Wolfe's work  "Steel Hammer." The evening-length cantata combines American folk harmonies and textures (hammered dulcimer, mouth harp and banjo) with driving minimalist rhythms. ("Steel Hammer" was a finalist for the Pulitzer Prize in 2010.)

Here is an excerpt of her 2015 Pulitzer Prize-winning work, "Anthracite Fields", an oratorio for chorus and instrumental sextet, honoring the people who persevered in the Pennsylvania Anthracite coal region. This deep musical look into American labor history draws on historical texts from a labor movement speech, cites names of miners who were killed or injured in the mines and also pays tribute to the women of the mining community.
Here is an excerpt from her work "Thirst" which is part of a larger collaborative 8-part work, "Water," by the three Bang on a Can Co-Founders. Wolfe sets the texts from old testament (Isaiah), using repetition, both choral and instrumental to dramatic effect, meditating on the "poetry of water: what it means to have it, how we misuse it, and how we struggle for it. Rain falls. Tears flow. A skull is found in a river. A man thirsts." – Composers' Notes, Michael Gordon, David Lang, Julia Wolfe  
Also, listen to Julia Wolfe's music from the New Sounds Live/ Ecstatic Music Festival 2011 with "Believing":
Then, take a trip back to 2002, and a program of music by Julia Wolfe recorded at Miller Theatre:
Julia Wolfe is co-founder and co-artistic director of New York's legendary music collective Bang on a Can. Her music is published by Red Poppy Music (ASCAP) and is distributed worldwide by G. Schirmer, Inc.
Here's More from Julia Wolfe's Red Poppy Music Soundcloud: redpoppymusic