Super Commuters: Nearly a Third of Super Bowl Attendees Took NJ Transit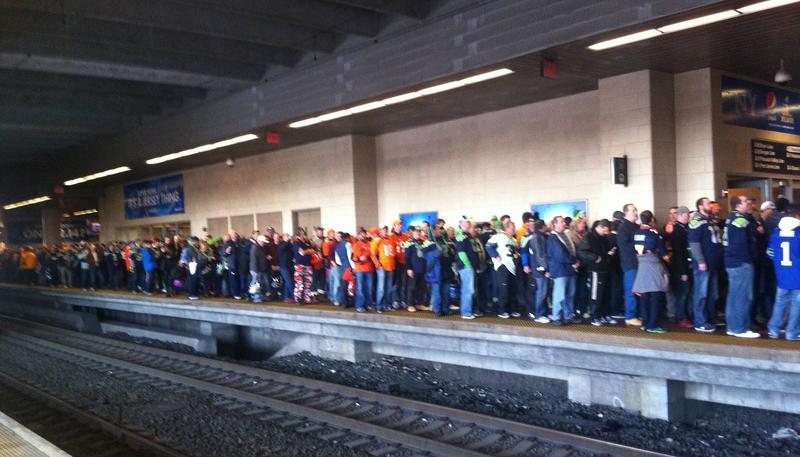 (UPDATED FEB. 3) More than 28,000 football fans took New Jersey Transit to the Meadowlands for the Super Bowl between the Denver Broncos and Seattle's Seahawks—and over 33,000 took the return trip.
According to a NJ Transit spokesman, that's nearly double what the National Football League told the authority to expect for what had been touted as the first mass transit Super Bowl.
Attendance at MetLife Stadium was 82,529 meaning a third of ticket holders relied upon the train to the Meadowlands—and 40 percent took it home.
And on the way to the stadium, that meant crowded platforms, standing-room only cars and long lines to get through enhanced security. At Secaucus Junction, fans were stuck in a tight, slow-moving mass waiting to make it past metal detectors and bomb-sniffing dogs and on to the train headed for the stadium.
"@seahawksnet: Stuck not moving in train transfer junction... ... @NJTRANSIT is failing pic.twitter.com/msb3kAWDId" cc @RobBartenstein

— Phil Pearlman (@ppearlman) February 2, 2014
"I arrived here and there's been no trains. So I've been here for an hour and a half," said Joe Hughes, 34, who made the trip from Australia to see the game. "So the commute hasn't been so good."
Despite reports that some passengers collapsed due to a combination of overcrowding and overdressing (many came prepared for cold weather), NJ Transit tweeted: "there have been no confirmed reports of fans passing out in the station." A NJ Transit spokesman said that medical attention was mainly confined to handing out bottled water.
But things were bumpier on the return trip, when fans exited the stadium in a swarm.
NJ State Police holding back masses along chutes to train. #what pic.twitter.com/aUDXUcN3Jc

— Amy S. Rosenberg (@amysrosenberg) February 3, 2014
NJ Transit said it took two-and-a-half to three hours to load passengers onto trains after the game, and the agency ultimately pressed 20 buses into service, which brought over a thousand people to the Port Authority Bus Terminal in Manhattan.
NJ Transit said it finished moving passengers around 12:40am.
The night set an all-time record for NJ Transit's MetLife service. Previously, its highest ridership to the stadium was 22,000, during a 2009 U2 concert.