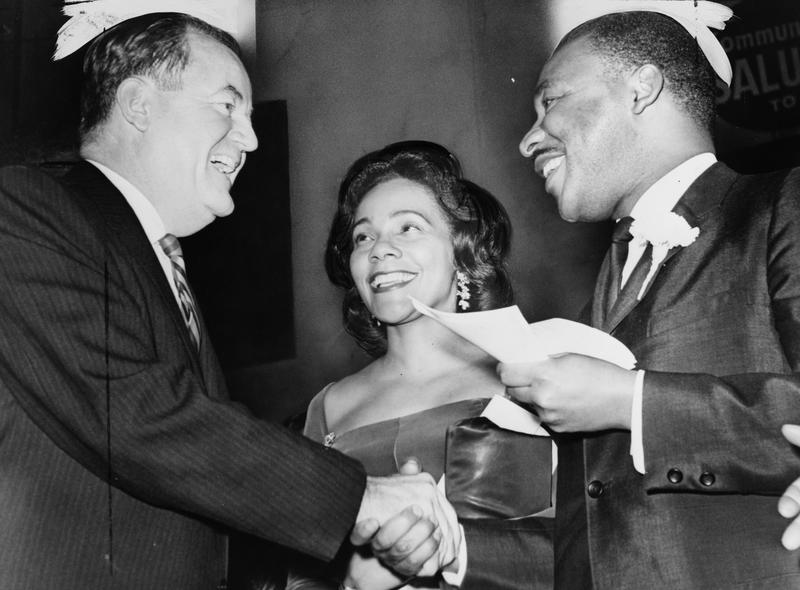 This episode is from the WNYC archives. It may contain language which is no longer politically or socially appropriate.
Master of ceremonies William Rowe introduces singer David Dunson to entertain the audience before the ceremony begins. Dunson is followed by a performance by the LaRocque Bey Dancers and drummers from the Colonial Black Association.
Rowe next introduces, "for the ladies," Brock Peters, who sings and plays guitar.

Rowe next welcomes comedian Skolky Mitchell to entertain the crowd. Mitchell makes jokes related to the civil rights movement and race issues.

Billie Poole sings Ain't Gonna Play No Second Fiddle. The Haryou Cadet's Band performs, though levels are very low at open.

Cleveland Robinson introduces Janette Brown to lead the audience in the singing of the National Anthem and Monsignor Gregory L. Mooney in the invocation.

Robinson then introduces the event's Chairman A. Philip Randolph. Randolph speaks briefly, opening the event then introduces Reverend William E. Gardner, president Baptist Ministers Conference of Greater N.Y. and Vicinity. Gardner gives moving speech about King's work in Birmingham, Alabama.
Next, Rabbi William Berkowitz, Chairman of the Executive Committee of the New York Board of Rabbis gives brief Talmudic teaching and speech.

Randolph next welcomes Vice President-elect Hubert H. Humphrey to speak. Humphrey recalls the 1963 March on Washington and the great works of Dr. King. He says that since the March we have broken the power of racism in American society. Humphrey speaks of his own role in the civil rights movement - and his his reasons for promoting racial equality. He says he got "mixed up in the civil rights movement because I wanted to be able to look at myself in my own eyes - I wanted to be at peace!" He calls the movement a "coalition of conscious." He also commends Dr. King for his promotion of a non-violent movement.

Randolph gives a short but powerful speech and introduces National Director of Core, James Farmer, though he does not speak. He then introduces Nathan Schwerner, father of Michael Schwerner, one of the three CORE members killed in Philadelphia, Mississippi on June 21, 1964.

The Faith Temple Choir soloist Joe Williams sings.

Roy Wilkins, executive secretary of the NAACP speaks. He notes that like Hubert Humphrey, he grew up in Minnesota and considers himself at least 1/4 Scandinavian. He goes on to take a more somber tone and speaks of the struggle for racial equality and says that all who fought share a small piece of Dr. King's Nobel Prize.

Governor Rockefeller speaks next, followed by Whitney Young, Jr., executive director of the National Urban League, who pays tribute to Dr. King.

Camilla Williams sings the Battle Hymn of the Republic.

Ossie Davis and Ruby Dee perform a dramatic presentation.

Ralph Beaton of HARYOU-ACT represents the Youth of Harlem speaks.

Next, John Lewis, chairman of the Student Non-Violent Coordinating Committee (SNCC) speaks. He says that when we salute Dr. King we salute all who have made a stand for equality - all who participated in the bus strike in Alabama and all who marched on Washington. He speaks eloquently of King's works.

Randolph reads a list of organizations that will be receiving portions of King's Nobel prize money. $17,000 to be divided between members of the Unity Council including CORE, NAACP, NAACP Legal Defense, National Council of Negro Women, National Urban League, and SNCC; $12,000 to the Southern Christian Leadership Conference, and $25,000 fund devoted to the furtherance in the realm of non-violence education.

Jimmy Randolph sings I Believe (For Every Drop Of Rain That Falls).

The Bugle Drum Corp of Precinct 28 performs. Precinct 28 is home of Captain Lloyd George Sealy, the first African American police captain in New York City.

Randolph presents Mayor Robert F. Wagner, who notes that this is the third even at which he has spoken today honoring Dr. King. Wagner calls King an honorary "son of the city."

King's family is presented to the audience, including his father, brother and sister, as well as his closest associate Reverence Abernathy and Mrs. Abernathy.

Dorothy Height, president of the the National Council of Negro Women presents King with an award, a sculpture titled the "Praying Hand."

Martin Luther King, Jr. then thanks all who have spoken and the audience for their attendance. He thanks the people of Harlem for their continued support through the years of struggle for equal rights. He says he hopes that he never becomes so egotistical as to view the Nobel Peace prize as a tribute to him personally, rather he sees it as something larger - an award to the whole United States Civil Rights Movement and its leaders. King tells a story about waiting for a flight in Chicago and taking note of the ground crew preparing the plane for departure. He compares these hardworking crew members to all those in Montgomery - whose names may not be remembered, but without whom King would have never received the international recognition of the Nobel prize. He specifically mentions Rose Parks and Sister Pollard and he mentions the names of some who gave their lives in the struggle: Medgar Evers, Mickey Schwerner, Andy Goodman, and James Chaney. He says he his convinced that segregation "is evil ... nothing but a new form of slavery covered up with some niceties of complexion."
King speaks of the 'invisible poor' and he tells the parable of Lazarus and Dives. He speaks of economic disparity and our responsibility to help rid the nation of poverty. He says we must fight a war against poverty, and that in this battle there can be no conscientious objectors.

He speaks of the contrast of his experience in Europe - where he met Kings and Prime Ministers, where people say nice things about him and his experience in the United States - where his life is threatened by those who oppose the movement. He says he can note stay on this mountain top, but must go back down to the valley where the African Americans of Mississippi still cannot vote.

The benediction is then offered by Father M. Moran Weston, event closes with the singing of "We Shall Overcome."
Rundown: Community Salute to
DR. MARTIN LUTHER KING, IR.
Nobel Peace Prize Winner
369th Regiment Armory, 142nd St. & Fifth Ave.
New York City
Thursday, December 17, 1964 at 8:30 P.M.
Chairman Treasurer Coordinator
MR. A. PHILIP RANDOLPH MR. JACKIE ROBINSON COMM. CLEVELAND ROBINSON
Pres. Brotherhood of Chairman of the Board Secretary-Treasurer
Sleeping Car Porters Freedom Nat'l Bank District 65
Entertainment
7:30 P.M.
Lionel Hampton & Orchestra Billy Rowe
Master of Ceremonies
David Dunson Jim Randolph
Joe Williams Brock Peters
Billie Poole Haryou Cadet's Band
Piano Courtesy Baldwin Piano Co.
Sponsors
Associated Community Teams Nat'l Council of Negro
Business and Professional
AME Ministers Association Women's Clubs
Baptist Ministers Conference of
Greater N. Y. and Vic.
Beauty Culturists League,
State of New York
Brotherhood of Sleeping Car
Porters, AFL-CIO
Congress of Racial Equality
Guardians Association
Harlem Youth Opportunities
Unlimited-ACT
Most Worshipful Prince Hall
Grand Lodge of F. & A.M.
N. Y. State Jurisdiction
N.A.A.C.P.
Nat'l Council of Negro Women
Negro American Labor Council
Protestant Council of City of
New York (Upper Manhattan)
The Grand Lodge of t he
I.B.P.O.E. of W.
The Grand Temple of the
I.B.P.O.E. of W.
United Catholic Parishes and
Organizations of Harlem
United Council of Harlem
Organizations
Uptown Chamber of Commerce
Urban League of Greater
New York
NATIONAL ANTHEM Miss Janette Brown
Faith Temple Choir
INVOCATION The Very Rev. Monsgr. Gregory L. Mooney
Director Kennedy Community Center
INTRODUCTION OF CHAIRMAN . . . . . . . . . Commissioner Cleveland Robinson
Secy.Treas.Dist. 65 AFL-CIO
OPENING REMARKS BY CHAIRMAN . Phillip Randolph
Pres. Brotherhood of Sleeping Car Porters AFL-CIO
Nat'l President Negro Amer. Labor Council
REMARKS Rev. William E. Gardiner
Pres. Baptist Ministers Conference of
Greater N. Y. and Vicinity
REMARKS Rabbi Max Schenk
Pres. N. Y. Board of Rabbis
REMARKS Hon. Robert F. Wagner
Mayor, New York City
SELECTION Faith Temple Choir
Conductor"" Prof. Herman Stevens
REMARKS Roy Wilkins
Exec. Secy. N.A.A.C.P.
REMARKS Jackie Robinson
Chairman of the Board, Freedom Nat'l Bank
REMARKS . Whitney Young
Exec. Dir. Nat'l Urban League
SOLOIST Camilla Williams, Concert Artist
DRAMATIC PRESENTATION Ossie Davis & Ruby Dee
Stars of Stage & TV
REMARKS i Ralph Beaton, representing Youth of the
Community and HARYOU-ACT
REMARKS James Farmer, Nat'l Director
Congress of Racial Equality
REMARKS . Hon. Nelson Rockefeller
Governor, State of New York
SELECTION .Faith Temple Choir
INTRODUCTION OF HONOREE Hon. Hubert H. Humphrey
Vice President-elect of the U. S.
HONOREE Dr. Martin Luther King, Jr.
Nobel Peace Prize Winner
Pres. Southern Christian Leadership Conference
PRESENTATION TO HONOREE - Miss Dorothy Height
Pres. Nat'l Council of Negro Women
'WE SHALL NOT BE MOVED' Lead by Faith Temple Choir
BENEDICTION Father M. Moran Weston, St. Philips Church
Coordinator, Commissioner Cleveland Robinson
Audio courtesy of the NYC Municipal Archives WNYC Collection
WNYC archives id: 70567
Municipal archives id: T839