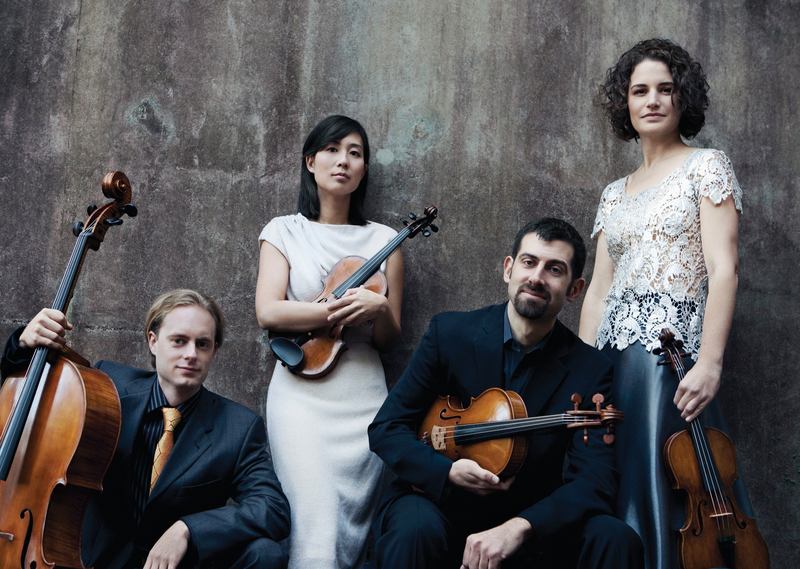 A concert coming up in Williamsburg next week features the Chiara String Quartet playing by heart - that is, without the score. To memorize, or not to memorize? asks WNYC's Sara Fishko, in this edition of Fishko Files.
The Chiara String Quartet performs "Bartók by Heart" at National Sawdust in Brooklyn, August 30th and 31st.
Tickets available online at nationalsawdust.org/
Their new album, "Bartók by Heart," is available on Amazon and iTunes.
Music:
Edvard Grieg
Lyrics Pieces, Book 1, Op. 12: I. Arietta
Stephen Hough, piano

Johannes Brahms
Quartet No. 2 in A minor, Op. 51 No. 2: I. Allegro non troppo
Chiara String Quartet: Rebecca Fischer, first violin; Hyeyung Julie Yoon, second violin; Jonah Sirota, viola; Gregory Beaver, cello

Johannes Brahms
Quartet No. 2 in A minor, Op. 51 No. 2: IV. Finale: Allegro non assai
Chiara String Quartet

Béla Bartók
Quartet 1, II. Allegretto
Chiara String Quartet
(Musical example by Jonah Sirota, viola)

Béla Bartók
Quartet 3, Seconda parte
Chiara String Quartet

Franz Liszt
Légendes, S 175 - 2. St. François De Paule Marchant Sur Les Flots
WNYC Production Credits
Executive Producer: Sara Fishko
Assistant Producer: Olivia Briley
Mix Engineer: Wayne Shulmister
Managing Editor, WNYC News: Karen Frillmann