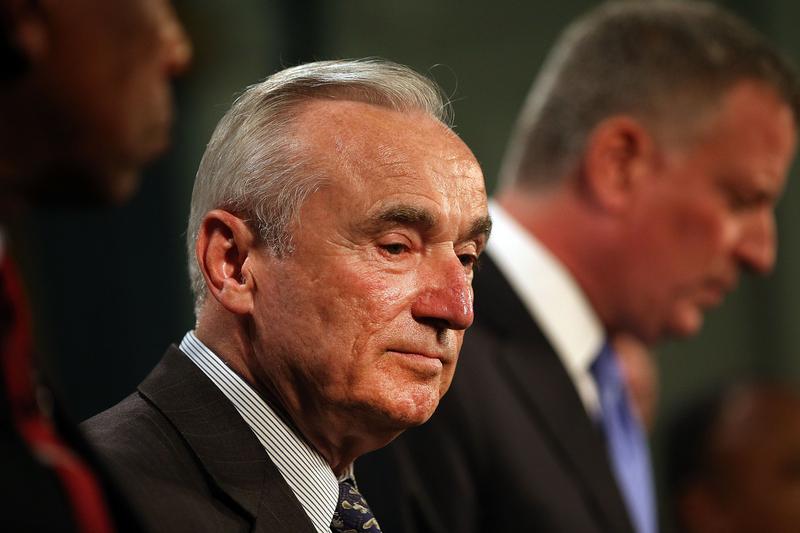 "The vast majority of what we do is in response to community concerns," says NYPD Commissioner Bill Bratton. He discusses the death of Eric Garner, the nature of community policing, and how he sees the role of the NYPD in going after low-level offences (known as the "broken windows" approach.) Bratton says that there is a "fundamental difference between Stop, Question and Frisk and quality of life offenses. One is a reasonable suspicion... and quality of life types of offences -- those are in fact are criminal acts witnessed by a police officer, or violations of city ordinances, whether it's traffic violations, littering...that's what police are expected to do, which is enforce the law." Nevertheless, Bratton admitted that Stop, Question, and Frisk "is a basic element of community policing... it is not over. The idea is that you do it legally."
Transcript of Highlights
On Stop and Frisk
Stop, Question and Frisk has not gone away, it has not been discontinued, it has not ended. It's not over…  The idea is that you do it legally and lawfully… That's the challenge of policing, to conform to the law. To do the right thing at the right place at the right time.
On Differences Between 'Stop and Frisk' and 'Broken Windows'
There are two distinct differences between 'Stop, Question and Frisk' and 'Quality of Life' offenses. One is a reasonable suspicion and I think it was clearly understood by both the federal court decision, the reaction of many political leaders in the city – and indeed myself as I commented on it – and the union leadership of the rank and file, the NYPD. The belief that their officers were being pushed…  We have dropped that level of activity down dramatically with no significant result increase in crime with one single exception and that's in the areas of shootings. Other than that, crime is down in every other category that we measure.

In terms of quality of life types of offenses, those are in fact actual criminal acts witnessed by a police officer or violates of city ordinances – traffic offenses, littering, all these things are in fact against the law... If people would obey the law, then they would not draw the attention of the police.
On the Challenge for Police
Commissioner Bratton: We're showing significant decreases in summons activity, in marijuana arrests for example. The department is always engaged in trying to provide balance. The idea being that a significant part of what we do is in response to citizens. If we were to stop responding to 911 emergency or 311 quality of life calls there would be a phenomenal hew and cry that we were neglecting the minorities of the city because unfortunately for many minorities the neighborhoods they live in, some of the circumstances they find themselves incumbent with in their neighborhoods unfortunately... They want something done about that.

The challenge for police -- and this goes to the heart of the recent mayoral election, to Mayor de Blasio's campaign --  the challenge for him as mayor and the challenge now for me as police commissioner --  is to insure that in our supervision of our police officers, in our training of them, and our guidance of them, that they are always reminded of the need to police constitutionally. That you can't break the law to enforce it. And secondly, that to the greatest degree possible, try to do it in a way that we build relationships rather than worsen them.

Brian Lehrer: So since you're emphasizing 911 calls, 311 calls – do you think preventive policing a la 'Broken Windows' is a trade-off that most black and Latino residents of the neighborhoods of New York are actually willing to make -- but they're not the ones who grab microphones, denounce the police and get media attention?

Commissioner Bratton: That's correct. There's no denying that the law-abiding residents of even some of the high-crime neighborhoods of this city are concerned about police behavior when dealing with the criminal elements or the violators in their community. And that's the challenge for the police.