Coming Jan 2015: NYC Municipal ID Card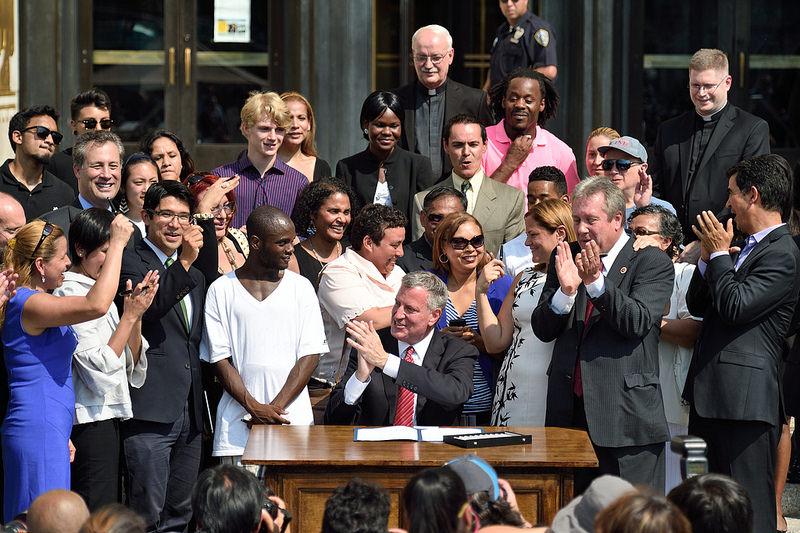 New York City Mayor Bill de Blasio is one step closer to making good on a commitment he made in his State of the City speech this year, officially signing a law that will create a municipal identification card for city residents, regardless of immigration status, beginning in January 2015.
"We know of course that there a number of people who do have ID, but for those who don't, they live a different life," de Blasio said at Thursday's bill signing ceremony, adding, "It's not just bad for the individuals, it's bad for the whole city when people don't have that kind of inclusion. Today we're going to change that."
The municipal ID card is intended to help people to access city services and enter city buildings.
Officials are also negotiating with banks, stores, restaurants and cultural institutions to also recognize the municipal ID cards, but offered few examples Thursday about where the card would be accepted. It's also not clear what the card will look like.
The program will be run by the city's Human Resources agency. Applications for the card will be available online as well as at enrollments sites around the city, like the Brooklyn Public Library.
Led by City Council Speaker Melissa Mark-Viverito, the municipal ID legislation was a top priority for city lawmakers this year. The speaker said she plans to sign up for a card as soon as it becomes available.
One of the bill's co-sponsors, Councilmember Daniel Dromm, echoed the speaker and said he, too, would sign up for a card.
"It's going to become the must-have accessory for all New Yorkers," Dromm quipped.