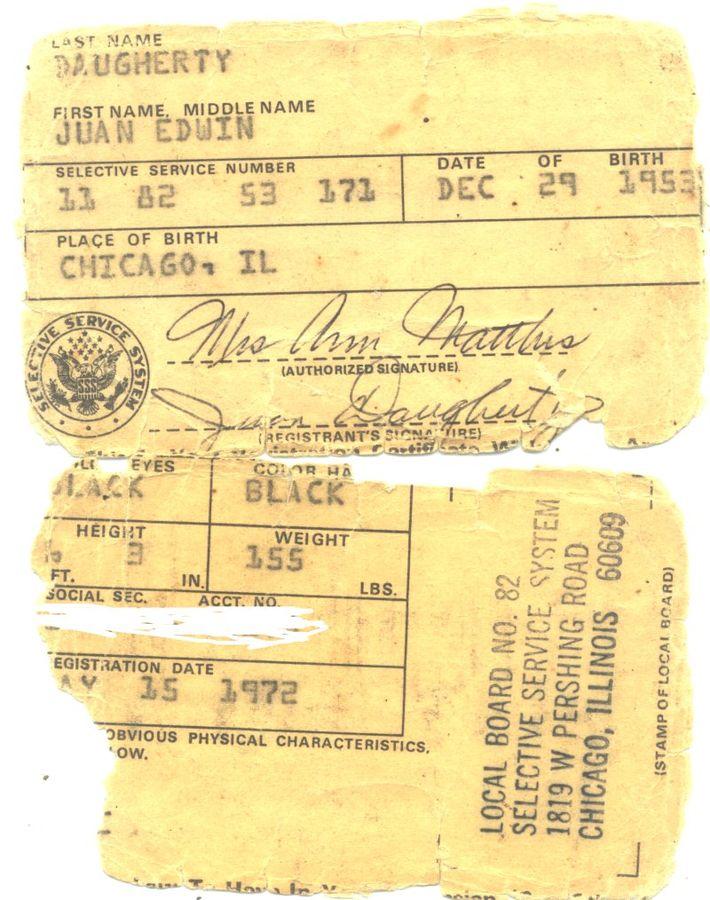 Summary
This episode is from the WNYC archives. It may contain language which is no longer politically or socially appropriate.
Frank Titus moderates.
Guest is Colonel Paul Akst,USAP, New York City Director of Selective Service System discusses "New York Youth and the draft."
Panelists include Bernice Brown, Charles Rosema, Michael B. Wall.
Titus opens the discussion by reviewing current draft laws and quoting various military leaders and politicians about their views on the draft.
Questions.
Despite the 1960's being the decade of "missile warfare" there remains a need for 2.5 million men in military service, which means a draft is necessary.
The threat of draft, in Akst's opinion, does not deter young men from pursuing their bachelor's degree.
Akst doesn't believe anyone can "beat the draft." None get to age 26 if they are classified as 1A without being called up.
The Navy and Marines have not used the draft in the same way as the Army.
A volunteer service would be more desirable than a draft, however at this point it doesn't seem likely that enough men would volunteer.
Audio courtesy of the NYC Municipal Archives WNYC Collection
WNYC archives id: 72092
Municipal archives id: LT8990
Transcript
This is a machine-generated transcript. Text is unformatted and may contain errors.
Do we need manpower in the age of the missile is draft and a necessary evil does the draft discriminate against college students for the answers to these and other questions listen to your city stations campus press conference and this transcribed discussion the editors of college newspapers question a prominent personality in the new Frank Titus W I N Y C News editor and reporter is the moderator to introduce the panel on tonight's guest here is Mr Frank Titus Good evening welcome to Compass press conference tonight our guest is Colonel Paul axed director of New York City's Selective Service headquarters the members of our college news panel asking the questions are Michael B. wall N.Y.U. square Journal Charles Rosina Columbia Daily Spectator and Bernie's Brown Fordham Law School are topic New York youth and the Dr it all male Americans must register for the draft when they reach the age of eighteen the actual draft liability does not begin for another six months or at age eighteen and a half However according to present practices they'll be another five year wait before draft eligible young men are actually called into service this then would be at the age of twenty three the draft liability remains until the age of twenty six except for draft deferred young men who can still be called up to the age of thirty five. The April fourth issue of Newsweek quotes Pentagon officials as saying that the chances of missing the draft are ninety nine to one against Newsweek notes that the temptation to play draft Roulette to lie low say nothing and hope to reach the magic age of twenty six before ones number comes up is a game that plays havoc with nerves and self-respect However the Newsweek report also says that most employers don't want to hire a one A and that employment agencies are still more outspoken many college graduates say there is almost no chance of getting a good job between the time of graduation and the old familiar greetings there is at least some uncertainty in the draft campus press conference tonight hopes to guide our New York youth I'm all those interested in them on how they can best serve their nation and at the same time intelligently plan their own careers according to Newsweek Here's how some of the presidential hopefuls feel about the draft Senator Hubert Humphrey the program should be reviewed and revised Sen Stuart signing to the draft could be eliminated Vice President Nixon the draft is indispensable to a national security Lieutenant General Louis Hershey and national draft directors speaking of the uncertainty of the draft says we can't tell a man when he will be drafted and give them a number and a date on the calendar there are too many variables as the scientists say it depends upon the needs of the services how many volunteer how many are deferred General her she adds Every young man is obligated for a total of six years military service active and reserve that's it our job is to count them sort them and deliver them our campus press guest Colonel Paul axed Our first question from Michael B. wall Colonel X. This is one nine hundred sixty you were entering the decade of the sixty's when the standard weapon will be the missile and the missile firing a nuclear powered submarine do we need a draft. In this era when you say do we need a draft I assume you mean do we need two and a half million men in the armed forces as has been prescribed are they joined Steve chief of staff. I doubt very much whether we can get two and a half million men as volunteers in any other way but the draft and the present scheme of things and whether or not the missile will replace the man on man behind the gun of course remains to be seen with the Messel and with the various new and and most reliable weapons that we have we still need two and a half million men no other way of getting him except through the draft well in the age of the missile What do you need them for what are they going to do someone has to bring the muscle to the place and someone has to push the buttons and someone has to take over the area which has to be taken if we we conquer the new country which has been our enemy and we need to want to half a million men from button pushing across courting corners of the draft according to the Pentagon officials at the moment. It's absolutely necessary that in order to be able to keep our child free throughout the country and to consider our obligations to our allies throughout the world we must have two and a half million birdies from Colonel axed do you think the threat of the draft discourages many boys from further educational pursuits On the contrary it has been my experience that people. All go for their first degree if they are so inclined it has been my policy throughout the many years I've been here as a New York City director of the Selective Service System to advocate that a man go for his first degree and and in any sort of education and in many types of endeavor even go towards the Master's and quite a few tours P H D. OK Thank you Charles resume don't you think though that you would get better results under the present military set up if your service were comprised completely of volunteers instead of people who are just marking time for two years well I I just wonder what what we mean when we say volunteers we have we have almost fifty percent of the people who are and doctored into the city in the arc today have have accelerated their induction by voluntary and if you mean that that type of pairing I doubt very much whether any one of those that group and there are about twenty five hundred in the last year who volunteered and would have volunteered had there not been a draft in existence at the time the group I am particularly concerned with is the college student who received his first degree for example and then because of employer discrimination can't get a good job and then is drafted and merely is marking time for two years don't you think that if you could attract these college people by making the service itself more attractive you would get better results from them and I think the service if it could be made Marc practive certainly would get better type of people and secondly I believe that the armed forces would be very happy to get a volunteer who would volunteer not only for six months as they have been dying in the immediate past often two years through the Selective Service System but for three and four and five years like they would like to have them. Colonel. We mentioned a while ago that the odds of missing the draft are ninety nine to one against those seem like short odds for anyone to try however in a country as large as ours that can be a considerable number of people that may not ever be called for military service on the other hand we can have someone registering and seeking a college deferment. Is libel on to call on till the age of thirty five am I correct yes correct the one who does miss the draft by whatever means is free of his obligation twenty six exactly is that fair. Is FAIR up to this to this extent I don't know of any man and I don't know where the one percent is I don't know of anyone who has ever beaten the direct I know of any man who has gotten to the twenty sixth birthday in New York City or anywhere else in the country and is still a one a classified man therefore upon reaching the age about twenty three or twenty four right here in New York City of a man who want to he must be inducted he never gets to reach the age of twenty five as a matter of fact so this article which you are quoting the ninety nine to one I would say it's one hundred to one hundred to one against him as I say there is no man that I have known and the many years I've been with the Selective Service System who has ever beaten a draft if he HAS want to I think we might have a stronger lens in New York but in other places well as I say it's over here and I doubt whether whether same thing doesn't apply anywhere else in the country Michael B. will again Colonel axed on this problem of the increase of science and technology with time. They draft bring the person into the army for two years in the crease then tech technical army can a person learn enough and be of value to the army in this two years well as I indicated a few minutes ago Mike that the armed forces would rather have a man for three and four or five years now the purpose for that three or four or five years is not so they can hold onto him for any other reason but to educate him and make him a very practiced technician in whatever military occupational specialty may be taught. And of course. The law at the moment is for two years the Air Force hasn't bought it we haven't inducted a man the Air Force since the beginning of this act we haven't but we do. We do end up men in the Army for two years and they would rather have a trade but unfortunately the law only permitted for two year time the Navy and the Marine Corps on various occasions of called upon us to to induct men into their services. But again they try to drop that as quickly as they can because they can train a man for. A year and eighteen months no use their education for a pair of six months thereafter so they prefer a three or four year man too so don't you think it might be a better idea to offer a small professional army with higher salaries and make the military more desirable as a career rather than something which you're forced into yes I think we all agree that the volunteers we were discussing a few minutes ago are Charlie here that the volunteer is as much more desirable because he would stay first a longer period of time and he'd have what we call in the armed forces motivation which perhaps many of the young men going in the armed forces they don't have those two things or a combination that can't be beat and that's what we're looking for but up to that point I think. If we don't get. Any better men than just that we'll just have to get what we can. In other words with the draft you have people who are not motivated and therefore almost useless although not cars at the moment I would like. People to understand this that at the moment I think we've got the best and most highly trained and most educated that the United States has ever had and I say that because of the draft has done just that we have taken a cross-section of all the people living it throughout the United States those who graduated universities and colleges and high schools in business and out of business and of course the other side to that which ordinarily would never have gone end of the armed forces under General conditions and because we have that group that group. Has made the armed forces I think the finest fighting finest fighting force and also the most educated fighting force the world has ever seen. Colonel before we go to Bernie's Brown's question I heard you say just a minute or so ago that the volunteer is more desirable than. The draft one when we say volunteer as I we we got that discussion a few months ago which I meant I volunteer goes on for three years that's no list to me now though time is used interchangeably unfortunately but the man who goes in for three years is the man that I call it the enlistee and which people have been calling to volunteer so I say you know we look forward we look to get to get a man who's in for three years rather than a man is going in for two years it's just a matter of time there's no. Prejudice of any sort on the part of the military commanders Absolutely not absolutely none as evidenced by a recent survey made out in Europe to show that and further answer to Mike's question that the motivation of some of these men to go on for two years as absolute admirable. Bernie this Colonel axed do you think the age for eligibility to draft namely eighteen should be changed to twenty one well the eligibility I believe Bernie's. You mean registration the man it registers when he is eighteen and he is not inducted until we reach him and for a moment I'd like to. Get it get on to that point a man is inducted. According to the law we start with the oldest man for us work backwards we start with a twenty six year olds and work back down to eighteen and a half and as it were aren't right throughout the country today we have gone back to twenty three and about four to five months and I doubt very much whether we'll get down to eighteen years unless we do have a real emergency so any man who gets to be around twenty three years of age today in New York City or anywhere else in the country is getting pretty warm and I think he better start worrying about what service he's going to go into well Colonel axed the reason I asked the question is I just wanted your opinion on the fact that since a boy is. Registered at eighteen for the draft What do you think of his ability to vote at eighteen well or of course. I like to be put in the position of an expert on all questions I doubt very much what I am in that particular direction. We always felt the armed forces there one of the best soldiers the man between the ages of eighteen and twenty one. The man is the best soldier between the eighteen and twenty one you have my vote for a man who can vote at eighteen years of age thank. You Jersey's liberal anti-discrimination law covers liability for military service and says that no one will refuse you a job as a result of your liability for military service would you favor an extension of such laws to other states well I certainly would as a matter of fact. The Department of Labor has a department in and called. Re employment. Service. Which goes into these questions where a man is denied a job perhaps because of military service are does not get his old job back once again after he gets out of military service and they're doing a very fine job in. Educating the companies and the people who are the empires in this country towards that end can you expect though the average employer to without such a law on a statewide basis can you expect such an employer to hire a man who he fears he will lose within three months or so. I doubt very much well we can expect it from a law from my employer unless there was a penalty provision in the law which we don't have at the moment we don't have a lot of power provision but if a man is about to be inducted it's a question of three to five to six months I don't think it's as serious a problem as some of these magazines make it out to be. If a man is going to be inducted in three to six months and he knows he's going to be inducted we have a very fine way of accelerating this man's induction all he has to do is go down to his local board and sign a form and we accelerated within thirty days will be in and therefore when any question about somebody denying him the right to work here get out so much quicker but the most college graduates are most college graduates somewhat unsure o