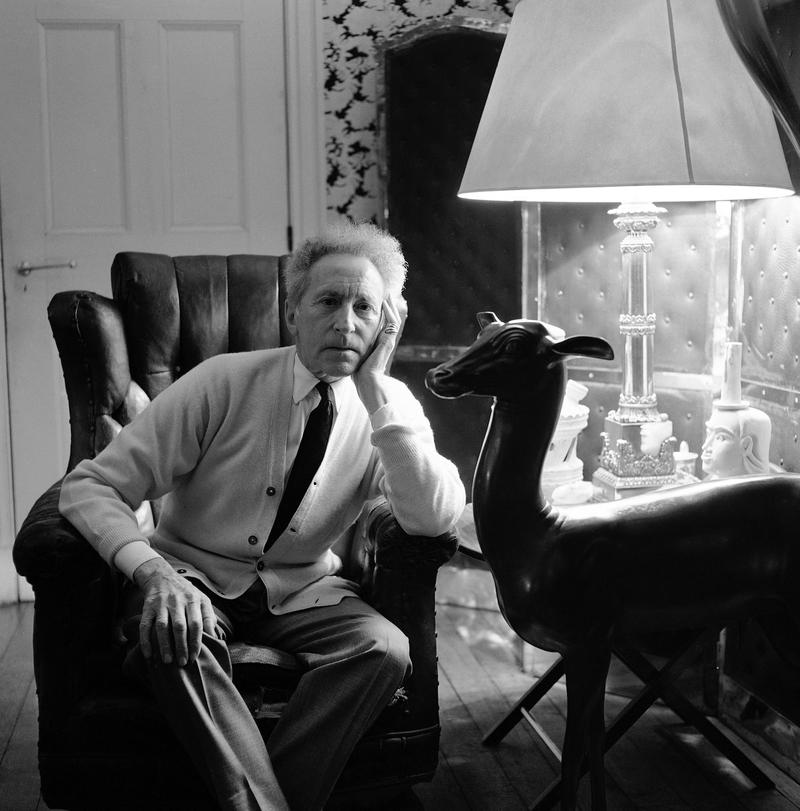 Summary
"Just in case you are basking in your own knowledge of your own language, expecting to communicate satisfactorily always in that language, expecting others like myself to talk that language to you for communication, and expecting in all cases of other languages to have that ultra-modern convenience--the simultaneous translation--in which the original language is discretely faded into the background or all together out in favor of the English, in case this is your confident feeling about English, well here's something to make you pause for a minute."

In this program Canby features two recordings sans-translation:

- Jean Cocteau reading from a short collection of poems, including one poem about Picasso, on a record released in 1963 on the Caedmon label.

- A reading from Chaucer's Canterbury Tales in untranslated Middle English, in which we hear from the Knight, the Nun, the Landlord, and others.
Audio courtesy of the NYC Municipal Archives WNYC Collection
WNYC archives id: 58598
Transcript
This is a machine-generated transcript. Text is unformatted and may contain errors.
The. The and. The was the was. Hello this is every time I can be I'm back with another half hour of music and a commentary concerning things of interest on our people records and as always my comments will be illustrated for you directly from the actual records themselves just in case you are basking in your own knowledge of your own language expecting to communicate satisfactorily always in that language expecting others like myself to talk that language to you for communication and expecting in all cases of other languages to have that ultra modern convenience they simultaneous translation in which the original languages discreetly faded into the background are altogether out in favor of the English in case this is your confident feeling about English Well here's something to make you pause a bit records from right here at home a New York record company run by New Yorkers who certainly speak English relatively speaking right around the corner from you and here is what this company is now offering along with its English recordings first this. No translation on the record or with the record just the sound of a great French poet and artist you do the translating if necessary Better still you do the translated understanding. Of what. I've read that well be that of bar. Of the Blue Note I did not remain. The sole guardian of do you seek it is your backup that. Morning that you. The glass the moment the deferred it. I don't. Know. To be said don't go on. The he did. I could if he may don't want to know where you. Are going if. So you're going to. From. This it doctor. You know it long as I said. I was a lot closer look and I do feel I think was a survey. Of the what was. It. The author. You know a soul machine. I see only donate don't produce Sheen. No no simultaneous translation here somehow I rather doubt that great poetry could be successfully subjected to that sort of treatment not even a line by line translation I could manage to do that myself if I had the time but there again one does not translate carefully written poetry on the whole so to speak it takes a great deal of thought for work and working over and over and over to do more than hack your way through a poem as beautifully rot as these points are and turn them into English from the original movies confined space Demar. The day could you DON'T WE SHOULD of what he did a few. I mean actually nearly so much. Good don't really read best as you. Saw fail to but we. Know. You are now. It's your city. Dr. Who are you. For the WHO How are you so much. Fit additional bit of. It you point to sure vital car you should value some he. Did. Because of. An impact on me quite a few I'd be going to. Go. Like gave you a C.V. and was on the on me a book remove. It you know it. No present don't overplay them or no I don't have any don't. So. This act of a Sony Sony will not work or I do it. But got put P.F. uni reads delayed to even see the hundred watt he says limit on it showerhead a construction of WA is more distant. Just said that they're true or that he saw block if a stone whenever he met the other order. Said. And you know it or you are only some a the I seen. I don't watch. Gal don't apply here. The door. Or that is that they got of soufflé risk I'm. Just going to say I want to do is who that they. Are and where you are not extra. Just to this. Bar not too long and they don't. Want part of exam on the. Need to do so. We do it I don't pay it in a pay you so made is you still want to. I mean we don't have a strong plan for a very come on the Oscars a dollar made I managed to move on Shahrzad I'm no. Force Mo require you. To. Miss A good on face if I want it to fail may permit it or. The source is disparate don't forget he's only gone. Enough. It is after. I don't don't fit for. The. Big bike bush where the tradition moved. In. He has no more difficult poetry to translate than the involved poetry of intimate love and death for every language has its own ways and customs of expression in this fashion and to render those from one language to another is almost a superhuman task unless there are explanations on route smiles gestures of the hands looks of fierceness or agony or of humor these help a lot but on the printed translated page they don't show nor even in a record though much can be applied by the sheer tone of voice even in a strange language this Cocteau reading his own plan shot it Ass very sharp eyes on the losses don't know if. That there is. This you don't know if you don't so the part. So that I. Don't. I am to see other preset of that you just said there are some gaps and if. His eyes his ass. The museum said service so. Good I was using. It because so. I don't know what. Property. Off or to modernity. I don't own the. Book. Or does all I've done. That one was a short poem about Picasso's work the Muses have directed his hand so that he could upon the adorable dis order of the world impose a human order see how silly it sounds and my rough translation. Sort of food Christophe what. She shook so we could avert a space ya'll Doc song was really to occur. To. The dick. I know how. Do we know who live what I live what. I preach that. If he don't just read a valet may require you. Relay to have to don't try to phone it off at a place you. Already want to deal with C.P.S.. And he tied the. Screw day. If. This commercial you saw. In the last cruise is so young did you fear you don't want to feel I don't want to. Talk to to a brute so reluctant is a. Day You don't have many times. You know. The. Folks who. Don't want it don't. Move don't the muses the fates fate is so strong a force that if he were to die in one minute Cocteau says he would die content is all cooked so the shark collection of points called Clash on the record is from Cadman here in New York and I say English well take this this is English and when you look at it on the page you will catch a number of words that otherwise might pass you by in the same way when you listen to this English spoken out loud you catch many more words that look very strange and unfamiliar on paper between the two between the listening and the looking the stories here and recounted really make surprisingly easy sense considering that after all they are English Middle English take the description of a kind of man who was spelled K N Y G H T Well trade the Y. in for an eye and you have night and night in armor but in this tale the character who was spelled K N Y G H T is pronounce commish and when the storyteller speaks of himself with the printed letter I just as we all do he pronounces it. Well it's not too different from some sorts of English English that still exists today where one speaks of oneself as. I think so. Here's the account they were the cleanest not something to eat but a night and night in armor this is a chance or a can each there was and that award of a man but for the team of that he finished begun to read in. Chivalry yet through the time I first began to write out he loved chivalry full of they was he and his lord as well and they're taught how to be written no man felt up as well in Christendom as in heaven S. and ever on water it was his worth a mess up the only Saundra they were US when it was one fell off the team they had the board of begun above in our last looms and producer and let all heart here I stood and in groups nor Kristen Mon soft of his degree. In get a nod at the sage. These are all the places he was in and what are you guys was he subtly when they were one and in the greater say that many are normal I'm a bad. At Martell but titles had a bane fifth Taina and forked in for out of faith a tram I say in list is three S. and IRAs slain his four. Wall of the can each to bay now saw some team up with a lot of polity I got in another head and in. Under a more he had a saw that I increase and thought that what was of the day was weak and of his part as make as a maid Hey I never yet know an aside in our own his beef. We He was of that I part of it gentle me. But what the teller knew of his ally his horse or Golda But hey was not a guy. He were to pawn our business model read with his habit of John for he was logic come from his V.R.D. and went to a fourth of dawn his people very much are with him there was his son and young Square. With Locke as cruel as they were lied in press lusty bachelor and to yell about which he was this is the son of his death was of even a length and wonderfully delivered and of great strength and he had been some team and shivered in flung groups and not toys and pick out a D. and born in Wales as of so little sparser in hope to start in his law to get us a. Bruited was as it were a major are full of fresh air floored us we turned red. Singing He was sort of lighting the day hey it was as fresh as the month of my short was as gone with slave us long and we did well called he set on horse and fair reader called a song a smock and well indeed jaws and a darn well put try and return. Haughty love and that Benito Tyler has slapped no more than doth and he didn't. He was lovely I'm sort of his arm and Mr Canal gala is a night Gale dislike and night I am on holiday and so out of office and I'm all at the team for in the night sun didn't slink neighbors and I didn't get bored and thought of grain as sheriff of pickpocket I was but he didn't care you know under his belt he bought a full thriftily. Dresses tackle your name on his arm was drop in Oct with that there was a lawyer under his heart and the bottom he bought. Or not hey hey with the broom bizarre chip of wood a craft well called Hey Ali was off. On his arm it bought a gay but I'll say. It in the book about all the receipt a guy get up and I said well I'm shot up as point of spatter a crystal from his prey. Hall and he bar the border it was a Grade A forced or was he sold as a guess having disposed of the night and his son the commish too and they squealed are the squire now just goes on to describe the nun This is the motley company of pilgrims which forms the basis for the Canterbury Tales they are all on route to Canterbury no doubt to visit the very cathedral that I myself was taking pictures of in color not so very far back it must have been at least mostly finished by this time if I guess right some of it was older than just and it's still right there in Canterbury now solid as ever just as these words we're hearing are still solid in print whether this is the actual pronunciation of the time or a somewhat modern accent and version like say an American reading German more or less correctly or reading French more or less with an American accent but roughly correctly Well we can't be sure except that just as in music when in one thousand nine hundred twentieth century musical mannerism intrudes upon an authentic performance of say Bach or earlier music one knows that at least that is wrong because it is an acronym stick though one may not know what is right to take its place just as in that case this man does occasionally fall into a few words of very definite present day accent especially those words which evidently were pronounced and then more or less as they are now one that I remember was on his breast breast at least they didn't say breached. Don't ask me exactly how the experts figure out all of the Middle English pronunciation and so very definite away as we have on this record but some things are easy enough after all right and rhythms that gives a great deal away so many beats so many syllables to a line and the lines neatly rhymed at the ends there you have many answers to pronunciation merely by putting sort of speak to and two together and. I suppose just as in music there are fourteen Zinn seventeen's and twenty nine S. to be put together also more subtle much more complex inferring from a wider range of sources but still the same kind of logical reassembling of study of the internal evidence and the contemporary evidence that might lead to to some conclusion as to how the pronunciation could have been though no one left an exact record it's an interesting job this kind of thing is reconstruction of Lost ways of doing things by detective work whether in music or in just listen online to the description of the nun I have you notice Speaking of singing and music that this lady is described as singing for well in her nose that as far as I'm concerned is merely one more confirmation from the side so to speak of the idea that in older times vocal production right up until one hundred years or so ago must have been primarily nasal Obo like through the nose. It still is of course in many other cultures than ours in music and in many sorts of folk music our round the polished wobbly ritual Okola tones our professional vocal times are in the long history of music relatively freakish there's no question about it but here is the nun who could speak French as well as produce fine sounds through her nose she was called Madam Egland teen but was also unknown a pretty obvious but obvious was simple and. Her greatest offer was what the sign did boy and she was collected again and. Well well she's on the service if you know and tune in to her gnaws for same really and French She's back before you fire and effectively after the school of Stratford at a bar for French of patters the last two here on can our that's very ingenious you know that she spoke French after the school of Stratford on something or another because Paris in French was to her unknown So the question is did she sing seemly tunes through her nose actually or is he just making fun of her listen again. Well well she's on the service if you know and Dunedin her gnaws for same really and French She's back before you fire and effectively after the school struck for an attaboy for French of patters it was to hear on can are at major what I talked with share with our share Laird no morsel from her lip this fall or know what her fingers in her solace a day but she had good table manners well cool She car you're more subtle and well K. but that not dropping a feel upon her breast in court I say was that for your last. There offered if we pitch a so clean that in her cup there was no fairer thing saying of grace when she drank and hot here dropped down there maybe she didn't leave any grease on or a cup and some drink and made sure our deck and securely she was a great disport and for a place aunt and. Port and painted her to contradict the chatter of court and of any stoppage of my nap on the brain Halden dean of reverence. Of water to spec and of her consequence a share was so chatty Tabal I'm so proud to share Waldo Wait I thought she saw a move cocked in a trap if it were a mouse click on a trap of small Of whom does say that she fed up with rosted flesh or milk and Westwood brain a small hand saw it wept shave all of them what a day had a lot of men smart it with a yet it does matter. And it was consequence and tend to have the. Same really had we improved pinch it was it an all could tease her dry as glass removed full smile and there too soft under a maid but security she had a fair forehead it was almost a span abroad to trowel but hardly She was not on the grower for Fetters was there crock as he was why our of smile Caroll about her arm she bought a pair of bade us God a dollar with grain or under there on in a barrage of gold for Shayna on which there was first rate a cruel need. And after. We've been chewed on. I'm all ventured the are in the modern Italian pronunciation I suppose that's correct love conquers all that's what was written on her brooch of gold you know it's really surprising how much of that you can catch on to when you begin to find a few simple charts or rules for yourself like the i sound which is always easy a fine lady I suppose would be a fiend lady and the sea ages and the G.H. is and such which we don't pronounce they were all pronounced at that time and the vowels for excellent reason the Norman Conquest were a bit closer to French than ours how on there a dog was a hole in this and that mouse caught in a trap was a moose caught caught caught you see the G.H. is pronounced in a trap then a great many words are more or less French straight French Norman French like her port her port was the way she carried herself for a carriage the word was port which is French for carry if this sort of Chaucer intrigues you by all means try cabmen's Chaucer according because when you follow the text as well with the original spellings you find that a great deal more is understandable than with the text alone or even with the spoken word alone no translation none is really needed as Cadman knows very well it's so much more interesting to follow Chaucer this way in the original as well as we know the original than to read a semi translation in a modern English where the words don't rhyme anymore and the rhythms of the old English with its many weak syllables and strong consonants like only English they are very much lost in the modern translation this is the way to learn Chaucer no doubt about it. Well most of this record goes to the general prologue which simply describes each member of the Pilgrim company a jolly cool if there ever was one they finally landed an in and the landlord likes them all so much that he announces he's going to go along to act as guide and that to keep everybody happy and the not bored during the trip each member must tell two tales on the way and two more on the way back and the winner of this contest that's what it shapes up to be we'll get a free meal a free supper off him at his cost on the return so you see just there is off for fair here's the landlord's speech about the Jets the voyage or the trip Loring squad Hey new haircloth for the best but talk at nor to pry your interest dine this is the point does bacon short and plain but of you to short or with. In this very odd shell tell it tallest twelve to come to body why he made it so and homeward Hey shall tell in all the ritual. That will him one be father and which of you but there are thin best of alla lot is to sign that tell it in this cost talers of Best some tens and more last so last shall have a supporter Oliver cost here in this plaza Sitting be this past one that we call for accountability. It will resolve ungodly with your reader reached out mean all in a cost and Bay your game. Will be judgment with so I shall pay all of what we spend and be though why I know if you have all just off that it be Saw tell me and on with open water to small and early shop I may therefore. This thing was granted under water with forward here on prior to Miles all but Hayward of all just off what to dos all about he was the brain or governor of work taught us George and report to. Priests and way were really at his Davies and all those be all and I sent away been accorded to his judgment and to that upon the wean was fed on way drunk and under arrest I went with. And thereupon the wine was set on we drank and to rest when each one without any longer tearing one last thought and occurs to me that this man who reads here seems to have a rather Scot checks and as well as American did Chaucer by any chance sound like Scotch he might have well I made an anachronistic guess myself this reader to my ear sounded Canadian just are not I just looked at the record album His name is J B best singer junior of the University of Toronto there is your anachronism for you or is it and so until next week this isn't written all can basing a good buy.