SchoolBook
Final Round of Bloomberg Co-Locations Incites Bitter Opposition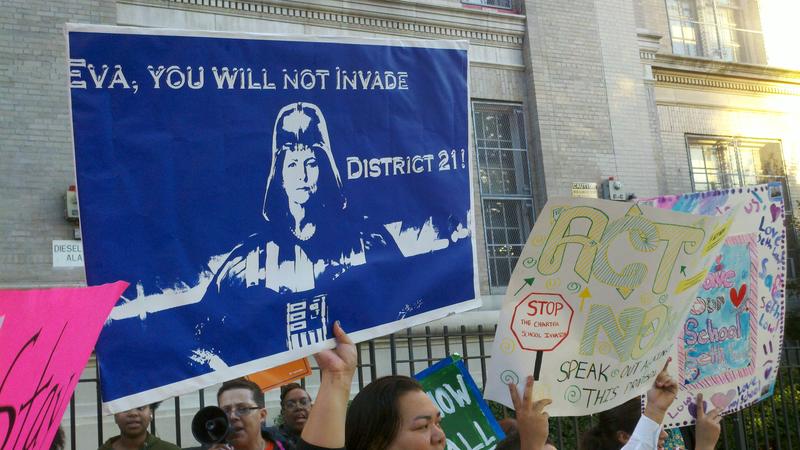 In the first of two meetings scheduled for October, the city's Panel for Educational Policy on Tuesday night approved 17 new proposals to co-locate schools in existing school buildings, including opening 12 new schools. The proposals, set to take effect next school year, are some of the last moves by Mayor Michael Bloomberg to shape the school system before he leaves office.
In what has become a routine display, the meeting drew vehement opposition from those who criticize the timing of the proposals as the Bloomberg administration winds down. Opponents also attacked the Department of Education's community engagement strategy around the school changes, saying parents and community leaders are only consulted after the fact, and they questioned the formula for calculating available space in schools.
"There's no space," said Laurine Berry, a member of the Community Education Council for District 8 in the Bronx. "They come and they look and they say, 'oh, we have space.' We got children sitting in closets learning. We got children sitting in hallways learning."
Christina Lorenzo attended the meeting to protest a proposed co-location of a new Success Academy charter school with her son's school, I.S. 96 Seth Low in Brooklyn. 
"It just creates too much separation in a school that's public and it's supposed to be a community and it's supposed to be unified," she said.
The crowd at the Prospect Heights High School campus was, by and large, made up of opponents of the school proposals. They took the microphone on Tuesday night to consistently lambast the Department of Education's judgement and question its logic.
But supporters of the policies do exist and recently rallied around increased school choice and in support of charter schools. In a reversal, supporters of Bloomberg's agenda may be put on the defensive under the next administration. 
Democrat Bill de Blasio has distanced himself from Bloomberg's policies, saying that he would consider a temporary moratorium on all school co-locations in order to examine which ones work and which don't. He has said that his administration would work with charter schools, but would not "favor" them.
Republican Joe Lhota has been a friend to the school choice camp. Lhota has said he would like to double the number of charter schools, and criticized his opponent for proposing to charge rent to some charter networks on a sliding scale.
The debate over co-locations and charter schools picks up again in just over two weeks. The Panel for Educational Policy will vote on another round of two dozen co-location proposals, including opening 18 new schools, on Oct. 30.