Close Rikers? There's An App For That.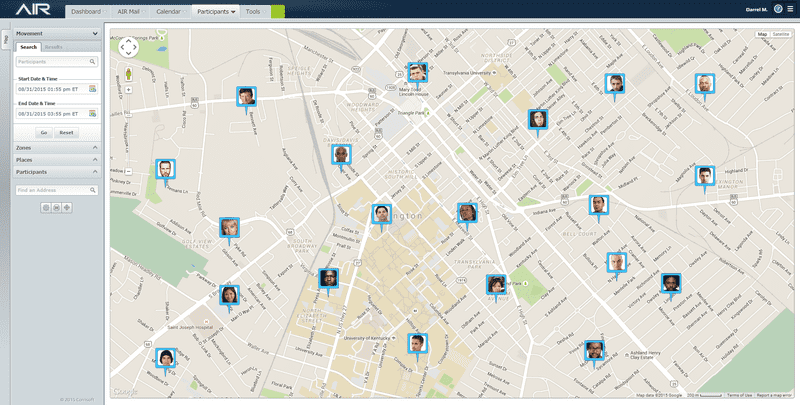 In September last year, police arrested a 17-year-old girl for snatching a wallet in Manhattan. It was her third arrest in two months and prosecutors charged her with second degree robbery — a violent felony.
A judge set bail at $7,500, which is the same as a jail sentence for New Yorkers like this girl, whose family was too poor to post the funds. But instead of sitting on Rikers Island awaiting trial or upstate in prison, she's out on the street — her every move tracked with a GPS-enabled smartphone and Bluetooth-equipped ankle band as part of the first real test of a new generation of technology for electronic monitoring in the city courts. It's the brainchild of the Manhattan District Attorney's Office.
While the pilot project is designed to keep young people out of jail, if successful, the technology could help with the broader push to reduce mass incarceration in the city and maybe even close Rikers Island.
Public defender Natasha Lapiner-Giresi from the New York County Defender Services represents the 17-year-old girl. Her client is one of three teenagers currently in the monitoring pilot, which should grow to include about 20 participants ages 16 to 23. (Project organizers say it's so early it's more accurate to call it a pre-pilot project.)
Lapiner-Giresi said she was hesitant when the Manhattan DA's Office first approached her about getting the girl into the program.
"I think [for] every defense attorney, the last thing they want is their client's movements, every single one of them, monitored. It's too Big Brother," she said.
But Lapiner-Giresi also realized it would be hard to convince a judge to let her client — with multiple arrests including a violent felony — into a counseling program as an alternative to incarceration. And even if she could convince the judge, it might take six months, during which time the girl would sit on Rikers.
"As the days were clicking by we knew that it might be the only way to get the client out quickly," Lapiner-Giresi said.
So ultimately they agreed. The girl pleaded guilty to robbery. In exchange, she was released from jail in early November and given a program to follow, including family counseling and various treatment services. She has to go to school, make her court dates and be home by curfew. An ankle bracelet and smartphone with GPS ensure she follows through with the program and allows case workers to communicate with her.
WNYC is not naming the girl because she's a minor and if she successfully completes the program, after about six months, she would be released from electronic monitoring and her case will be sealed.
The impetus for this experiment was the story of Kalief Browder, the 16-year-old Bronx boy who was accused of stealing a backpack and spent three years on Rikers Island awaiting trial before his case was dismissed. The New Yorker chronicled his case in October 2014.
Veteran prosecutor Karen Friedman Agnifilo was in charge of the Manhattan District Attorney's trial division at the time. She said the story rocked her.
"When you look back at your life and you look at junior year, senior year it means something and you can remember all those parts of your life and they're extremely formative years. And you remember the music that was playing and the movies that were out and what you did that summer," Agnifilo said. "Now that I'm in my late 40's I couldn't tell you if something was a year ago, five years ago or 10 years ago. So it was partly his age that was shocking. That he spent all of his formative adolescent years at Rikers waiting, just waiting for justice, waiting for his day in court."
Agnifilo, now the number two in the DA's office, said she had trouble sleeping after reading the article and she reached out to Herb Sturz, a senior advisor at the Open Society Foundations and former deputy mayor, who in the early 1960's helped design the Manhattan Bail Project, which reformed the use of cash bail nationwide.
They started brainstorming, thinking about ways to get young people off of Rikers. In particular they wanted to work with people accused of more serious crimes than ones handled by the usual diversion programs, which often target people who commit misdemeanors or are addicted to drugs.
They came up with what they now say was an obvious idea, one that might minimize the risk of releasing possible felons: electronic monitoring. And they assembled a team to help.
"This pilot is an attempt to see if our well thought-out models of intervening with these young people that have been proven to be successful…can also be effective with another population that many deem as more risky," said Jethro Antoine, technology director at the Center for Court Innovation, which is running the day-to-day operations of the pilot with the staff of the Midtown Community Court. The court helped pioneer special programs to keep people accused of low-level crimes out of jail.
In addition to the Center for Court Innovation, representatives from the City University of New York's Institute for State and Local Governance, the Robin Hood Foundation and others have been meeting every Thursday for months trying to develop the electronic monitoring and supervision program.
They've tested out a host of technologies — often wearing various ankle bracelets themselves for extended periods of time to see how it feels. Currently, the pilot is using software and hardware from a Kentucky company, Corrisoft.
Kwaku Driskell is a senior program officer on the early childhood and youth team at the Robin Hood Foundation, which helps fund poverty fighting programs. He said Robin Hood is interested in such projects in the belief that ending mass incarceration and recidivism can break the cycle of poverty.
"I think there's...a recognition that there's a fair amount of interest in this work right now and sort of a 'strike while the iron is hot' mentality that we should address these issues," Driskell said.
Program organizers wouldn't speculate on how many people electronic monitoring might be able to get off Rikers Island. The pilot project comes as some officials and reform advocates are looking at ways to reduce the population at Rikers to make closing the facility feasible. There are close to 10,000 people housed at the complex daily and some experts estimate that the population needs to be cut in half before the city could transfer inmates to community facilities.
Programs aimed at pretrial detainees, such as supervised release, would appear to affect a significantly larger number of people incarcerated at Rikers. Some people involved in the current experiment have discussed it in that context, but as it's designed now, defendants have to plead guilty to get into the program.
"If the impetus behind this program was to say no more Kalief Browder's, this program does nothing to address that, because Kalief Browder maintained his innocence for over three years. So if you're maintaining your innocence, you're still sitting in jail on $3,000 bail," said Stan German, the New York County Defender Services' executive director.
He added that in some cases, defense attorneys will advise clients against pleading guilty to get into a diversion program. That's because they often face stiffer penalties if they fail out of a program than if they plea bargain from the start.
"So rather than a year in jail, you end up doing three years in jail," German said.
Organizers say this is just a test, and if it works it can be tried on a broader population.
"Everything for me is a jumping off point. You learn. You test. It's experiential," said Sturz, of the Open Society Foundations. He's one of the leading backers of the movement to close Rikers, and earlier this month he was named to a new commission studying the issue.