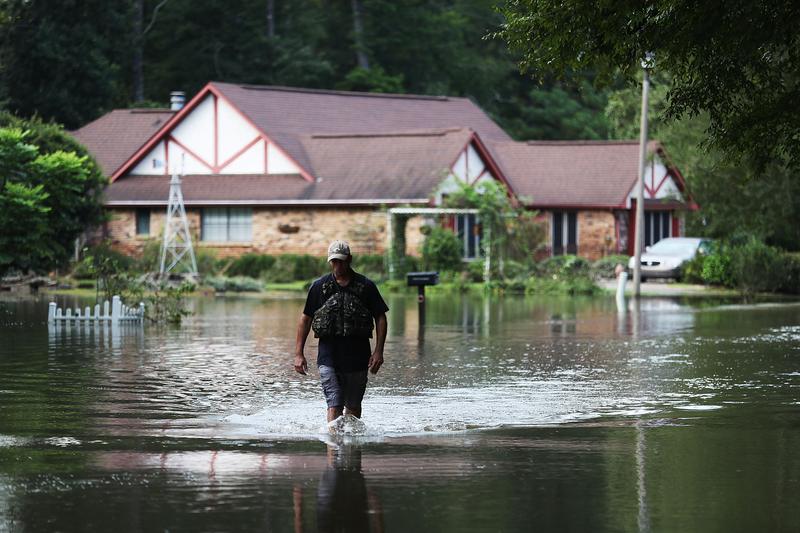 Summary
The Red Cross estimates that the recent Louisiana flooding is the worst natural disaster in the US since Superstorm Sandy in 2012. Yet Louisiana journalists noticed a distinct lack of coverage of the historically damaging rainfall for days after the devastation was clear. Even the public editor of The New York Times called the paper out for failing to give Louisiana the attention it deserved. 
Andrew Revkin agrees. He writes for the Dot Earth blog at the Times, teaches at Pace University, and co-hosts the Warm Regards podcast about climate change. He talks to Brooke about the peculiarities of the story (the rainstorm didn't get a name, for instance) and how it fits into a bigger pattern of disastrous weather that accompanies climate change.
Transcript
BROOKE GLADSTONE: This is On the Media. I'm Brooke Gladstone.
BOB GARFIELD: And I'm Bob Garfield. It's been hot. Last month, according to NASA, was the hottest month recorded on Earth since 1880. But don't focus on July. There's June and May and April. In fact, NASA has reported a new record global high temperature for the past 15 months. And, even if you haven't read the numbers, perhaps you've seen the symptoms of a feverish planet.
[CLIP]:
FEMALE CORRESPONDENT: According to CAL FIRE, there have been about 4,000 wildfires in California this year.
MALE CORRESPONDENT: The vegetation is in credibly dry because of our drought.
MALE CORRESPONDENT: Wildfires now burning in New Mexico, Arizona and California, and parts of the region expected to get hit with a major heatwave.
[END CLIP]
BOB GARFIELD: There's no denying that we've been enduring a summer of climate change and a string of unusually calamitous calamities. On Tuesday, President Obama visited Baton Rouge, Louisiana, where flooding left 13 people dead and more than 60,000 homes damaged, in what the Red Cross has said is likely the worst natural disaster in the country since Superstorm Sandy in 2012.
[CLIP]:
PRESIDENT OBAMA: Even after the TV cameras leave, the whole country is going to continue to support you and help you, until we get folks back in their homes and lives are rebuilt.
[END CLIP]
BOB GARFIELD: The President, fresh off a Martha's Vineyard vacation, was slammed for not coming sooner. But those TV cameras he mentioned were slow to arrive too.
BROOKE GLADSTONE: New York Times Public Editor Liz Spayd called the paper out for not devoting enough resources to cover the disaster. And FEMA Administrator Craig Fugate said, quote, "You had the Olympics, you got the election. If you look at the national news, you're probably on the third or fourth page." Andrew Revkin writes for The New York Times blog Dot Earth and cohosts the Warm Regards podcast about climate change. He noticed the gap in coverage too and found it kind of shocking, given the spectacular rainfall.
ANDREW REVKIN: Close to 4 inches an hour, and not just for an hour, over a period of 72 hours you had 30 inches of rain. It was historic. The storm was stationary. That's why it just kept pouring and pouring and pouring. And there's probably some element of climate change in there.
BROOKE GLADSTONE: Because hot air holds more water?
ANDREW REVKIN: Every degree rise in temperature gives about 4 percent more water vapor in that body of air, so when a storm comes in then there's more rain there to precipitate. If you're a climate campaigner, for sure, you look at an event like this as an opportunity to make your point. But that then allows anyone who wants to maintain the status quo politically to jump in and say, hey, you know, for rainfall events it's still murky. To me, the attribution arguments around events like this distract because there is a lot of uncertainty.
BROOKE GLADSTONE: So you don't want to consume a lot of media time on whether it's climate change, when you should be focusing on the fact that a disaster has just happened.
ANDREW REVKIN: Yeah, and populations have quadrupled in the last 40 years in places that are vulnerable to hazard. If you're poor, you don't really have a choice of where to live, so for poor people who were in this flood zone, it's a true epic disaster.
And this gets back to the overarching issue, the ungoverned unwise, building practices and development practices in places with implicit threats and flood zones, tornado zones, oh, earthquakes [LAUGHS], as well. Since 2008, I – I'd been writing about that Cascadia quake and the fact that there are a thousand schools where students go every day that are known to be likely or very likely to fall down when that quake happens. So this is not just a weather issue either, and this is where the media can play an important role in clarifying what can we do policy-wise? And you rarely see this. You'll see coverage fire by fire out in the West, you know, oh, it's another fire, it's spreading, its raging.
BROOKE GLADSTONE: Mm-hmm.
ANDREW REVKIN: You're not asking, should those firefighters have been trying to save that house? If that house didn't follow protocols for clearing brush, if I were a firefighter, I would say, that's indefensible. Those background issues are vital.
BROOKE GLADSTONE: The rain started August 11th, a Thursday. One New Orleans journalist noted that CNN, usually so keen on disasters, barely mentioned the flooding until Sunday. All this just a case of bad news timing?
ANDREW REVKIN: Unless you're in one of those houses in the fire zone or in the flood zone, this isn't really news for you. Many papers I know don't really have active weather journalists. The Washington Post has a great blog, the Capital Weather Gang, that I rely on. There are others. The Mashable has Andrew Freedman, and they were very actively on this storm early. But their editors, you know how you play that, like it's on the homepage, this is a whole different thing.
Here's what I would like to see. There's a meteorologist in the Hudson Valley, Alex Marra. He created Hudson Valley Weather. Well, it's hvweather.com. And he provides, through Facebook, particularly, a, a real service to the micro community in our part of the Hudson Valley. He's kind of reading the odds in a more granular way that serves a very specific audience. I –
[BOTH SPEAK/OVERLAP]
BROOKE GLADSTONE: He's the Nate Silver of weather of the Hudson Valley.
ANDREW REVKIN: Of the Hudson Valley, right. [LAUGHS] But he's – has tens of thousands of followers. And I would have to look for the Louisiana region.
BROOKE GLADSTONE: Mm-hmm.
ANDREW REVKIN: And hopefully, there's a – an Alex Marra, so that there's someone people can migrate to who can give you that real-time advice.
BROOKE GLADSTONE: But you think there was something really unusual in the lack of coverage here that doesn't relate to the fact that it was a, a busy news summer, what with an election and an Olympics. You think that there's something about this storm that didn't lend itself to big headlines.
ANDREW REVKIN: Well, for one thing, there was no build up. NHC.Miller.gov, the national hurricane center, go there and you can track tropical systems as they come across from Africa, and as it builds there's a whole warning system set up. The protocols are all based around tropical systems like that. And this one built on its own. It was hard to get out in front of that. Two days ahead of time, there's nothing there to say that this particular system was capable of that epic of flood.
BROOKE GLADSTONE: This storm didn't have a name. Why didn't it have a name?
ANDREW REVKIN: Because the protocols are not there. The National Hurricane Center deals with hurricanes. [LAUGHS]
BROOKE GLADSTONE: But a rainstorm doesn't get a name.
ANDREW REVKIN: Not yet. I've been in touch with people at NOAA, the National Oceanic and Atmospheric Administration, about, you know, how to shift protocols going forward. The fires all have names now, out West.
BROOKE GLADSTONE: Do they?
ANDREW REVKIN: Yes, those are developed for the firefighting community. The California newspapers mention the fire by name. Blue Cut Fire was this really raging fire just a week ago, just east of LA.
BROOKE GLADSTONE: Could you have a Category 3 rainstorm?
ANDREW REVKIN: Stay tuned. By the way, I'm doing some reporting right now on hurricanes. There's pretty solid science pointing to us having to add a, a category or two there, late this century -
BROOKE GLADSTONE: Wow!
ANDREW REVKIN: - Category 6, even Category 7, in the sense of fundamentally new kinds of ferocity in hurricanes.
BROOKE GLADSTONE: With all the schools that are currently at risk and the thousands of people on floodplains in parts of the world where they will have no escape and the dislocation of poor people in this country, I just wonder, how are you sleepin'?
ANDREW REVKIN: [LAUGHS] I, I'm pretty excited these days
[BROOKE LAUGHS]
What I've seen in many, many places, the, the capacity to build things from the bottom-up, to create your own network. Journalism is a shrinking wedge of this explosively growing pie of ways to share ideas and knowledge and be responsive. And that's where there's a lot of opportunity. And the media that persist will recognize that and facilitate it and drawn on it as much as they will create it themselves.
BROOKE GLADSTONE: Andy, thank you very much.
ANDREW REVKIN: It's my pleasure to be with you.
BROOKE GLADSTONE: Andrew Revkin teaches at Pace University, writes for The New York Times blog Dot Earth and is cohost of the Warm Regards podcast about climate change.