Can Chris Christie Keep His State From Sinking?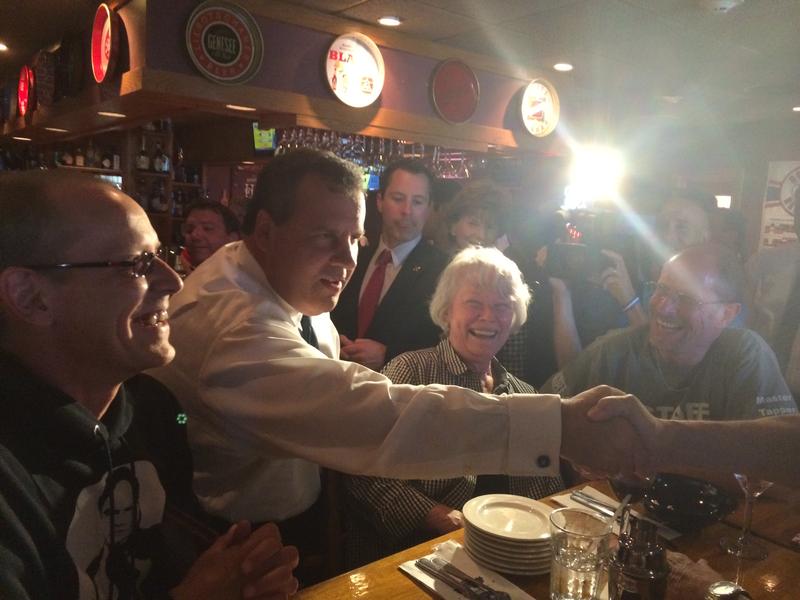 David Robinson, New Jersey's state climatologist, went for a run recently on the Raritan River towpath, just outside of New Brunswick. Robinson noticed that the dirt lane had been all torn up — by another flood. What had once been a gentle path became an uneven surface of large gravel stones.
On May 1, it had rained, enough to raise up the Raritan River 17 feet, rushing over the path and lifting off the soft covering. This is what life is like these days in New Jersey. Even an ordinary rainstorm that nobody remembers can disrupt routines.
"We have records all the way back to the 1930s," Robinson said. "It's rather remarkable that seven of the eight highest floods have all been since 1999."
This new normal was just confirmed by a White House report that found that "climate change, once considered an issue for a distant future, has moved firmly into the present."  In New Jersey, it's worse. Records show the state is growing hotter and wetter and is sinking faster into the sea than almost any other state in the nation. But it's a topic the most powerful man in New Jersey does not like to talk about.
When my colleague Matt Katz tried to ask him about the report, Gov. Chris Christie snapped back, as he will do: "Matt, we really going down the climate change road again? I mean, don't you have enough sound bites from me on climate change?" 
Eyes rolling, sighing deeply, Christie rushed through his answer as if to a stupid child. "There was nothing in that report that changed my opinion: that I believe climate change is real, that I do believe that human beings contribute to it, but that I have concerns in other areas like global warming. So. There. I said it for you again. You got that now?"
Not really. Christie comes from a state with a long environmentalist history. Woodbury, N.J., was the first town in America to pass a mandatory recycling law. New Jersey has sent two Environmental Protection Administrators to Washington, one of them a former Republican governor. But Christie's demeanor on the issue has been one of a man on a wire - with a long balancing rod.
In one of his early acts as governor, Christie stepped forward to say that yes, he believed in reducing the causes of climate change — in theory. He then withdrew the state from a 10-state cap-and-trade agreement that stretches from Maine to Maryland, calling it "not effective in reducing greenhouse gases."
Environmentalists called the move "a disaster." The Regional Greenhouse Gas Initiative had been thought up by Republicans as a market-based approach to reducing carbon emissions. But David and Charles Koch, who own a fossil fuel empire, spent millions in the 2010 elections to defeat pro-cap-and-trade candidates. By 2011, when Christie killed the New Jersey program, it had fallen out of favor with the national GOP. 

Indeed, in a private speech 2,000 miles from Trenton to a Koch brothers conference in the Rockies, David Koch praised Christie for pulling out of RGGI. The crowd applauded wildly, far more loudly than while hearing about Christie's work on pension funds.
But in Trenton, Christie was assuring his blue-state residents that he was still pro-climate action, even as he withdrew from the program to cut greenhouse gases. "Our commitment continues to combating climate change and looking for new and cleaner energy sources for New Jersey. We're committing to putting in place policies that actively work."
There's scant evidence he delivered on that promise. You can find on the state's official web page a section called "What is New Jersey doing about Global Warming?"  Christie's name sits at the top, but that's the only thing that's been updated since Gov. Jon Corzine left office five years ago. 
That's when Christie dismantled the state's Office of Climate Change and Energy, shipped the scientists there to Rutgers and brought in a coterie of businessmen and lawyers to run the state's Department of Environmental Protection. One of them is Bob Marshall, a former assistant attorney general and now the Assistant DEP Commissioner for sustainability and green energy.
Continuing his boss's tone of patient explanation, Marshall said in an interview, "New Jersey has a good story to tell. New Jersey has one of the cleanest power sectors in the country." Even without cap-and-trade, Marshall carefully points out, New Jersey has outpaced the other states in the compact. "The carbon emission rates rank among the lowest eight states in the entire country," he said.
That's because New Jersey relies largely on nuclear power, which is carbon free and supplies 52 percent of New Jersey's energy — and because the global warming response act enacted under Corzine had already yielded results by the time Christie took over, as Inside Climate News reported in this terrific takeout of the state's climate record. 
As for renewable energy: Wind power has not advanced in New Jersey. Too expensive, Marshall said. The state has pulled back on its subsidies for solar. They were too generous, he said. And New Jersey has just 120 electric-car charging stations - because, Marshall said, "the automotive alliance has advised" no one is interested in electric cars.
Unlike other states struck hard by Sandy, New Jersey requires that buildings be raised one foot, not two. The Georgetown Climate Center notes that all the states from Maine to Virginia have or are actively putting together a climate change adaptation plan. Not New Jersey.
About a year ago, we asked Christie if he thought his state had done enough to prepare for extreme storms like Sandy, which are likely to become increasingly frequent as the planet warms. Christie all but reared up at what had been a celebratory press conference to re-open a Lavallete, N.J., boardwalk.
"Well, first of all, I don't believe in the premise of your question because I don't believe there's been any proof thus far that Sandy was caused by climate change," he said as the crowd applauded. "But I would absolutely expect that that's exactly what WNYC would say because, you know, liberal public radio always has an agenda. Since I disagree with the premise of your question, I don't feel I have to answer it."
You can say this for Christie: unlike some Republicans, like Florida Sen. Marco Rubio, also a possible 2016 contender, Christie doesn't deny that climate change exists. While climate change denial may appeal to deep red conservative primary voters, Rubio's experience shows it doesn't sell on a national level, according to Anthony Leiserowitz of the Yale Project on Climate Change Communication. 
"Many other Republicans are looking at his experience and say, 'I don't want to go through that, because it's painting me as anti-science and anti-reality,'" Leiserowitz said. "And we are beginning to see indications that at least some leaders in the Republican Party are now changing their language."
So that puts Christie ahead of the GOP curve. He believes climate change is real, but he isn't doing much of anything about it. That may be the right formula to win a national election. It might not be enough to keep his home state above water.