It's a Public Space — But Trump Tower Tries to Kick Activists Out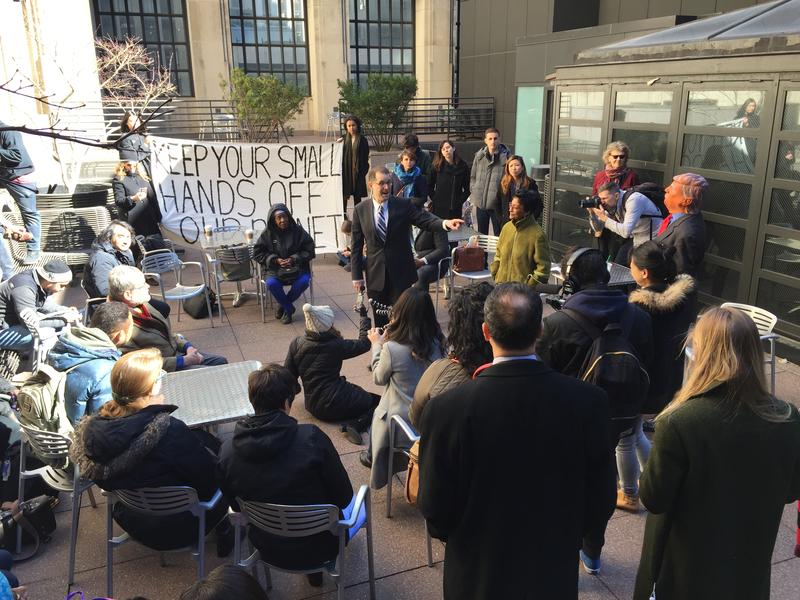 On Thursday, activists organized by the pro-labor and sustainability group Align Climate Works for All traveled past security in pairs up the escalators at Trump Tower. After a few dozen had amassed at the Tower's privately-owned public garden space, a protester began reading from a script.
"New York City buildings account for 70 percent of New York City's carbon footprint," said Peggy Shepard, executive director of WE Act for Environment Justice.
A security guard interrupted the protest, telling a reporter with a microphone, "You can't use this here" and telling Shepard, "Ma'am you can't do this here."
But according to city zoning law, Shepard can do that at Trump Tower's public garden.
"This is a public space, as defined in an agreement the Trump Organization signed when they got permission to build [an additional] 20 stories — a value of half a billion dollars as currently assessed — and they cannot prevent the public from being part of this space," said New York City Councilman Mark Levine, who chairs the Council Committee on Parks and Recreation.
Yet several security officials kept some protesters out of the garden space.
"I specificially said, 'This is public space, why am I not being allowed in?'" said Josh Kellermann, a senior policy and research analyst with Align, an environmental and economic justice group. "They said, 'Space is closed, area's closed,' and they pushed us downstairs."  
The battle over public space at Trump Tower is ongoing. Last year, the city fined the Trump Organization $14,000 for replacing a public bench in the lobby with counters selling Trump-branded merchandise. The bench has since been returned.
The City Council introduced a set of bills Wednesday that would raise fines for violations to public space ordinances to  $10,000 for first offenses and $20,000 for subsequent violations.
The Trump Organization did not immediately respond to a request for comment about the protest or the public garden space.
The climate groups want Trump Tower to reduce its carbon emissions. Align has called the building one of the most polluting in the city.