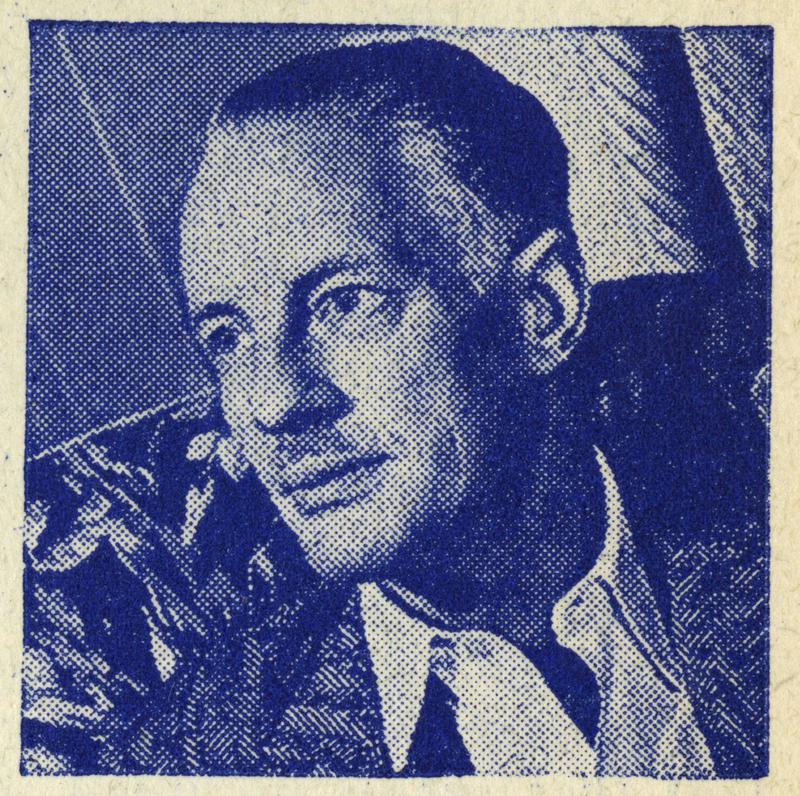 From the October, 1944 WQXR Program Guide:

The success which has attended the presentation on Broadway of new forms of music of great composers such as Bizet, Johann Strauss and Grieg has aroused a certain amount of resentment among music purists. As one of them remarked about Carmen Jones: "The orchestration of Bizet's music was expert and adequate, but I still prefer my Bizet straight, if you don't mind."

This led us to go to the sources and ask first hand from one of the successful adapters of the music of great composers what he had in mind and how he handled the score which he transformed. Mr. Robert Russell Bennett prepared the score for Carmen Jones. He is famous both as a composer and as an orchestrator. While much of his work has been with so-called "popular music," he is equally distinguished in classical music.
When we reported to him that he had been charged with changing the score of Bizet's Carmen he replied emphatically the entire score of Carmen Jones is played from the original photostat copy of Bizet's own orchestration. "Although I was not in any sense of the word, a transcriber of Bizet's music in the score of Carmen Jones," he said, "the charge that I had tampered with it sent me back to re-examine my treatment of the wonderful music. Bar by bar, I had tried to find where I had inadvertently might have altered Bizet's colors of his orchestral intentions. After and honest search, I am unable to accuse myself of any infidelity to his brilliant and highly dramatic instrumentation. 
"The only changes I made, and which I am led to suppose were the basis of the purists' criticism, had but one purpose: to enhance the musical effect in relation to the libretto, the scenery, the lights, the number of people on the stage, and to all the other elements which create the total effect of opera.
"The recitative passages were eliminated. But that isn't as great a liberty as may be supposed. Carmen was originally written with spoken dialogue scenes between the arias that were sung. The work was not converted to a 'grand opera' till after Bizet's death. The music set to dialogue is not his music, but that of Ernest Guiraud. Next, the Gypsy Dance of Scene Three was turned into a drum dance, which enabled us to feature Cosy Cole's magnificent drumming on the stage. In this intense, using all the devices at my command , I tried faithfully to retain every effect of Bizet's original sound, amplifying and high-pointing all such passages as would have been simply submerged by the excitement of drums and dancers on the stage without some further instrumental strength in the orchestra. In the original, at the end of the last act, the trumpets, trombones and percussion players are sent on the stage to make a brass band in the bull fight arena. The difference in staging Carmen Jones made it possible to leave the full brass choir in the pit, thereby improving the orchestral unity and sonority immensely."
We asked Mr. Bennett how old the practice was of altering and transcribing music by great composers.
"The custom is so old that it would be hard to trace its origin," he replied. "Johann Sebastian Bach himself was a prolific transcriber of his own and others works. He cut, changed and altered at will, and often made the original sources quite unrecognizable. Add to this the fact that when he lived, the art of music was largely improvisatory, and you knock out the purists' last prop. Yet, today, even the most reverential subscriber of Bach's music automatically courts adverse critical opinion. The Don't-Touch-Bach boys even object to some of Stokowski's orchestral arrangements of Bach's fugues and chorales. Incidentally, the score of the opera Boris Godunoff, by Mussorgsky, was substantially changed and rewritten by his friend Rimsky-Korsakoff, and more recently by Shostakovich.
"I need hardly remind you that, in other fields, Mr. William Shakespeare was accused of having done little more than rewrite plays which some of
his contemporaries or predecessors had attempted to produce."
"is it true," we asked Mr. Bennett, "that Carmen Jones has been performed more often than Bizet's original opera of Carmen?"
"Certainly that is true here in New York," he replied. "One can argue all night as to whether this is good or bad. But theater is theater, and music is music, and twain at least attempt to meet , sometimes rather curiously dressed in the effort to create an intelligible art-form in which drama and music are both understandable.
"As a matter of fact, that is one of the services which a serious transcriber renders. He is able to make a masterpiece more valuable by setting it beautifully for another medium than the one for which it was written. When this is well done, it is an important function in popularizing good music. I don't mean to suggest that it is necessary to renovate or modernize the presentation of all classical music, but I do maintain that good adaptations successfully carried out so as to have a wide popular appeal have an important part in the development of musical appreciation in this country."
Handbill for the December, 1943 Broadway production of "CARMEN JONES" at the Broadway Theatre where it ran for 502 performances. (WQXR Archive Collections)