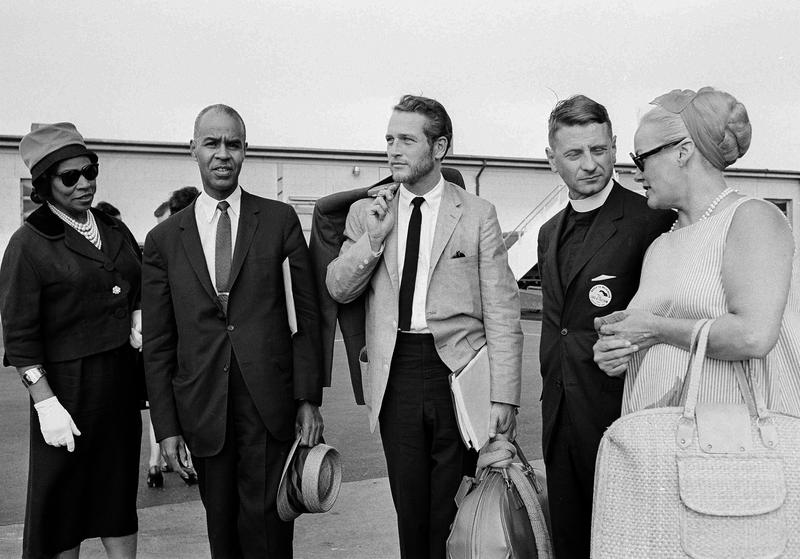 Summary
This episode is from the WNYC archives. It may contain language which is no longer politically or socially appropriate.
Introduced by Barrett McGurn. Opens with reference the the murder of three Congress of Racial Equality (CORE) field workers: Andrew Goodman, James Chaney and Michael Schwerner in Mississippi by members of the Ku Klux Klan. The young men, all in their early twenties, had just finished a week-long training trained course run by the National Council of Churches in Oxford, Ohio and were in Mississippi to help register African Americans to vote. Though the men had been missing since June 21, 1964, their bodies were not discovered until August 4, 1964 - the day before this recording. The bodies were found in a grave near Philadelphia, Miss.

Dr. Robert Spike, Executive Director of the National Council of Churches' Commission on Religion and Race, discusses the Civil Rights training school in Oxford, Ohio (the same that Goodman, Chaney, and Schwerner attended) and their work in Mississippi. He says that it is difficult to quantify the successes of the program, but he mentions some particular successes in the number of white voters, he also notes that the work is far from over and that the work of the Summer Project must continue past September.

Question and answer session follows - in particular are questions related to the role of local churches in the movement. Spike specifically notes the hostility of the Southern Baptist church. Questions also made related to the political climate, intimidation of the press, church burnings, and the attitude of the Federal Government in Mississippi.
Audio courtesy of the NYC Municipal Archives WNYC Collection
WNYC archives id: 70389
Municipal archives id: T200
Transcript
This is a machine-generated transcript. Text is unformatted and may contain errors.
I have your attention please. We have a program today. Which is tragically and on happily very timely all of your Read the headlines in the paper today about what appears to be the final chapter in a story of three young men who were. Working for American. Racial Justice and Peace as they as they saw a proper and who had been trained in the National Council of Churches school in Oxford Ohio we have with us today Dr Robert Spike who is the executive director of the Commission on race and religion of the National Council of Churches of Christ in the United States the group. Which among other duties was in charge of running that school in Oxford Ohio where the three young men were students as you well know the school that had the task of training five hundred young men to go to Mississippi this summer completed that training course in June and and the young men were sent to Mississippi three of them giving their lives also with us is the Reverend author Thomas who is the assistant director of the Commission on race and religion and who has come up today from Mississippi where he is in. Overall charge of the work inside the state of Mississippi it's my great pleasure to introduce Dr spike. I thought it might be important to begin with to give a very brief context of. Why the National Council of Churches involved not only in Mississippi but deeply in the heart of the current struggle some reasons are very obvious but I've discovered that even the most obvious reasons need repetition for for all of our say. A year ago in June the General Board of the National Council of Churches established a special commission commission on religion and race and charged it to go directly into the heart of the current struggle there to take risks if necessary to take direct action if necessary in order that the Ministry of the Christian church might be aligned and alive with all overs in the current struggle for justice and also to try to bring about the kind of reconciliation that is necessary and this that is tearing our country apart is not that this is the first time the churches have been concerned about race relations they have a long history of statements and pronouncements on justice and other good works and race relations they've done a lot of educational work in this and many other very courageous things on the local level but there seem to come a time and this was a time right after Birmingham when the conscience of this country was awakened in a way that had not been before and to. The great shame of churchmen it was realized that the real strength and resources that that the churches represent had not really been in the heart of the struggle so in this past year that's what we've been about in our commission to try to work with the denominations that make up the National Council to become an effective instrument for justice and reconciliation in the midst of the struggle to that end we were responsible. In a large part for our cooperation in the March on Washington and bringing about forty thousand white Americans into that march. And to give it the kind of broad based support that made of it the great testimony to justice that it became we've been deeply involved at many other communities both north and south working at the job of relating the indigenous Negro leadership to the church leadership of the community to work toward solutions. Since last summer we have been busy in Mississippi trying to find a way to work in that tragic state where quite a negro interests are so polarized and where the government and the mobs up until very recently have been in very great collusion to prevent any achievements in civil rights. We stood right alongside the Council on Federated organizations which is the agency that coordinates civil rights activities there and when it became apparent that there were going to be hundreds of young college people working at voter registration and freedom schools this summer we decided that it was very important that these young people be given some training some preparation for what they would face in Mississippi if someone didn't do what they would because there were no funds to do it any place they would simply have been plunked down off a bus or an airline in that state and all our training and preparation would have had to be on the spot was because of that that we established the summer program in Oxford to give them as practical and pragmatic an introduction to what it was like in Mississippi what the issues were what they would be doing in skills how to act nonviolently how to respond to hostility in the in the most nonviolent matter and I am pleased to say that after visits to Mississippi this summer I think that it has been a spectacular success the deaths of these young men which we have all anticipated from the knowledge of from the moment that their disappearance was announced is only a tragic reminder of the kind of terror that exists behind the scenes for anybody who works for civil rights in Mississippi a great many more detail things that I could say but I'll leave those for Arthur since he's on the spot there all the time let me say however that we have signed up two hundred minister counselors for this summer many of whom at Bennett work and who will be at work through the rest of August striving to stand alongside of these courageous young people and the courageous native people of Mississippi who are working for civil rights. We've believe that their presence there and the presence of the lawyers that we've helped provide have gone a long way to stabilize the situation and to bring the kind of aid that is necessary I would not want of to stop without saying that it's it's a mistake to think. In either of one or two extremes one that to the danger is exaggerated and that this is all something stirred up by invasions of Northern agitators and it's just as great a mistake I think to think of the white community is a totally monolithic situation in Mississippi behind the scenes there are a great many white people who are torn with guilt and shame and many of whom are now beginning to move last week Dr Martin Luther King and I happened to meet in Jackson and compared notes on various parts of the state in which we've been visiting and we both agree that despite the horror of it and the almost unbelievable nature of this going on in our own country it's underlined by the discovery of these bodies last night that despite this one has to say that there is progress in Mississippi and it is progress precisely because there is a determination to go on until death itself may call for the fundamental liberties that belong to all Americans we're very proud to have a have a stake and an important share in that struggle there. You know it's my pleasure going to those the Reverend author C. Thomas the assistant director of the Commission on race and religion of the Mesnil Council of Churches who is on the scene directing all operations of the commission in the state of Mississippi Mississippi including the operations of which the three young men were part. If I could from a theological point of view added to me or to the statement that the final chapter in these three men is lives is over. The final chapter is not over the grave is not the end these people live their spirits live their determination lives if you go to milestone in the northern part of the state or if you're going to McComb in the southern part of the state you know that the spirit in the determination of these three men continues and will have its effect for years to come I think they have served as an atoning factor in the summer that is their blood has saved the blood of other people for which we are grateful for. Which we appreciate their sacrifice. One of the most difficult questions to deal with that the press likes to ask is how effective is this summer program and it's hard to say in terms of twenty people have now registered and such and such award or one hundred people are going to school and such and such a community there are statistics of course there are the hundreds of people who have been registered on the regular rolls there are the thousands who have registered now on the rolls of the Mississippi Freedom Democratic Party there are the twenty thousand of children who are in freedom schools and forty one schools. These are tremendous statistics but the real effectiveness of the program is indicated in the community such as harmony which is not even on the map it's north east of Jackson very close to the new show but county line close to Philadelphia and in this rural area there are about one hundred Negro families who set up their own program in a dissipate in the summer and then turn to call for the civil rights groups and said OK Sundays now the staff to make this program function and they've been functioning beautifully in this community the farmers have come together an association they're in the process of attempting to raise fourteen hundred dollars to pay for the lumber that they already have that they're already using to build a community center. And you go into harmony and you discover a young white northern student discussing Edward L.B.'s plays with the young negro residents of that community or you are you discover a minister from South Dakota teaching the local adults plumbing sisters who plumbing but still of these in this community and when you begin to multiply these experiences the people in milestone building the largest building now that will be in milestones a community center for their activities then you begin to discover the effectiveness of the summer program this race crisis has provided a cutting edge for many of us a chance for many of us to come to terms with our life in community both north and south one of the questions that I wish the press would ask us some time is what does this mean for the church and we we couldn't really answer I think and would would ask you to observe and discover your own answers. But I think in the church we're discovering that our institutions have become somewhat outmoded and the race crisis is providing us with an opportunity to come to terms once again with ourselves our faith in our community there are as Dr Spike has indicated approximately two hundred ministers who have served or continue to serve with the students as counselor chaplains there are another two hundred perhaps more who have come to Mississippi to work side by side in voter registration in special projects at the National Council of Churches sponsors we anticipate that by the end of this month five hundred ministers rabbis lay men and lay women will have come to the state to work in voter registration and education these people are coming back to the north to the Midwest to the Far West and revitalizing their own communities in addition to the services they're providing in Mississippi and I think one one disturbing fact about about a city such as New York is that there has been a failure to recognize the deep hold still of the Christian faith and other faiths in the lives of the people in some of the so-called ghettos and we've seen the rise of cynical leaders trying to to work these groups for their own benefits when if an address of these problems on the basis of the faith that these people still maintain could achieve somewhat different results I think it's recognized too in the white community both north and south we haven't come to terms really with our own faith on these questions and we're we're lost we don't know the route to take and we're hopeful that our involvement the National Council of Churches the laymen in the laywoman will help provide us with some of the insights that are necessary to tackle these problems wherever we may live. I think that. This is also happening with some of the other civil rights organizations as well as other institutions some of the the older organizations are having to come to terms with their programs because of the cutting edge that exists in situations such as Mississippi where the requirement is to be on the line with your body and be relevant and be effective yesterday we had a meeting of the representatives from the churches who advise us on our strategy in Mississippi and most of us have been concerned with August coming to an end and what will happen based on the response of the ministers and lay people who have been in the state and based on our observations. Of their work and the work of the civil rights organizations we are going to recommend tomorrow to the National Council of Churches that some modified form of continued presence in that state will be essential I think that most of the civil rights groups are now coming to this realization that it as of September first we cannot cancel all of this program and we look forward to being in Mississippi for a long time and this is another difficulty that I think it's been reflected in the press there has been not a general understanding of the aims of this program some columnists saw fit to interpret this as a provocative program designed to confront the white community with the result that federal troops would be necessary in the state of Mississippi to preserve law and order this was not the purpose of the program the purpose of this program has been long term education and stimulation if you know Bob Moses if you talk with him the program director of Kofod who is responsible this for this program. Bob Moses doesn't think in terms of days or weeks he thinks in terms of months and years so we anticipate in the fall for example thousands of students having had the experience of the summer thousands of Mississippi students knowing about the world as they never known it before continuing then through the year to perpetuate this kind of stimulation in their own in their own school rooms so that when the when the question is asked how effective is this program we say really come back next year or the year after and we'll see Thank you. Thank you Mr Thomas I will ask him Sheldon the chairman of our of our open house committee to take the question for. Thank you Barry while you're getting your questions ready I just want to note here this is really an ecumenical question and here's who don't know if the club's president who has just been presiding was to MCGURN was for the greater part of his life as far as foreign correspondent happen Vatican and his books on the Vatican are I think the best known in that field and it was really an ecumenical matter and now will take questions first from the working press and from other members present plays a dandified yourselves so that I may repeat your names in questions and the mind Mr Melbourne of Religious News Service ask stocks back do you see any indication of interest and activity among the white charities in Mississippi. When you say do you see it requires putting the various kinds of lenses on your glasses