City's New Commuter Benefits Law Means Big Savings on Transit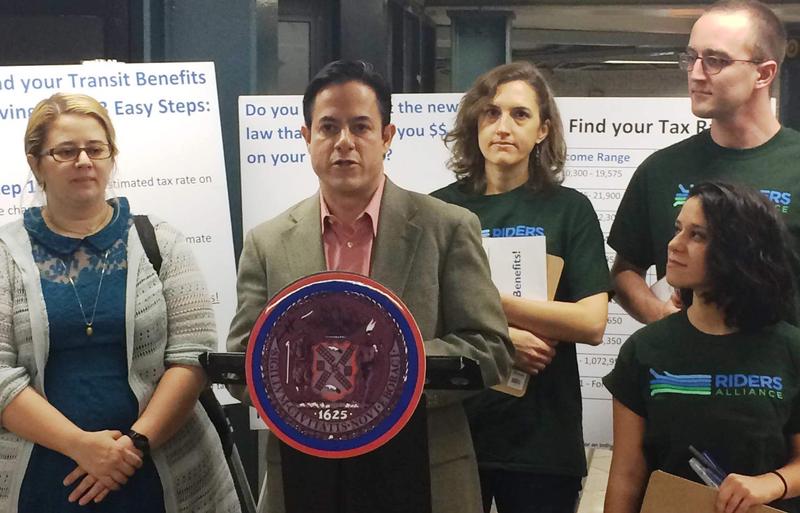 New York City Council Member Dan Garodnick joined transit advocates in Union Square Sunday to tout the new Commuter Benefits Law that goes into effect January 1, 2016.
City employers with 20 or more workers will now be required to offer them the opportunity to use pre-tax dollars to pay for their transit expenses.
Previously that benefit has been optional for employers, who will also be able to reduce their tax liability for every worker they sign up. "We are putting money back into the pockets of 450,000 more New Yorkers," said Garodnick. "By making transit more affordable, this will have a tremendous impact on commuters' bottom line."
"The law will only work if riders know about it. That's why we're talking to riders and helping folks estimate how much they can save with pre-tax transit benefits," said Rebecca Bailin, campaign manager at the Riders Alliance.
Bailin said New Yorkers will save an average of $443 dollars a year off the cost of a $116.50 monthly MetroCard. The benefit is also available to users of other mass transit, including commuter rails, PATH trains, light rails, as well as bus, ferry and van pool services.
The Riders Alliance set up a big pink calculator for passersby in Union Square to estimate their transit savings. Riders can also go to their online calculator to see their savings and then spread the word to others.
"We want riders to post on social media what their savings will be with #mytransitbenefit because you can only take advantage of this if you know about it and if your employer knows about it," Bailin said.