City's High School Grad Rate Edges Up to Nearly 73 Percent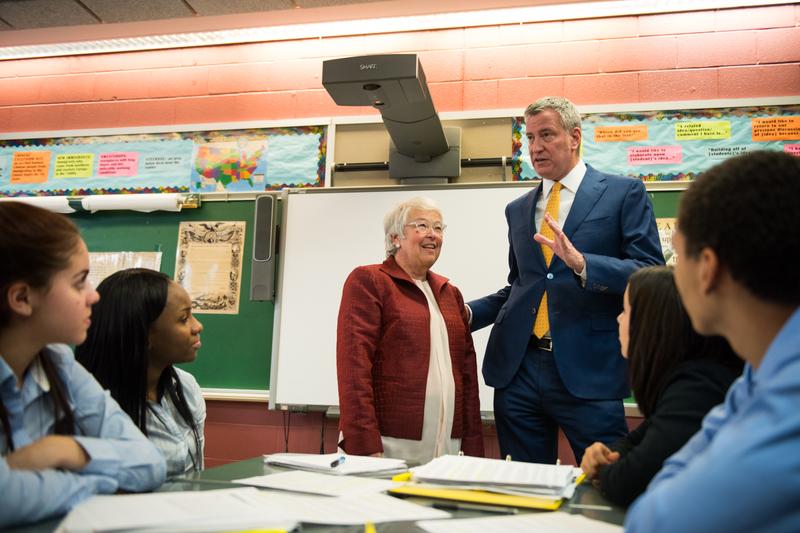 New York City's graduation rate increased by more than 2 percentage points last year, to 72.6 percent. That number represents students who graduated in August after four years of high school. Statewide, the four-year graduation rate increased to 81.4 percent.
The improved graduation numbers include better rates for students with disabilities, after the state eased graduation requirements for these students last June. The state gave students with disabilities more flexibility in earning a diploma by relying less on standardized Regents exams. In New York City, students with disabilities saw an improved graduation rate of 44.8, up from 41.1 percent the year before, though there remains a significant gap between students with disabilities and their general education peers. 
Both city and statewide graduation rates showed gains across most racial groups, but with continued disparities. The statewide graduation rates for black and Latino students were still each more than 20 points behind that of white students. These achievement gaps in New York City were smaller than the statewide numbers.
Black and Latino students also dropped out of high school at higher rates than their white peers. Statewide last year, the dropout rate for black students was 8.8 percent; Latino students dropped out at a rate of 10.5 percent. Meanwhile, 4 percent of white students dropped out.
"We have seen growth, but we're never going to be satisfied until we have every student in New York City graduating — whether it's after college, or post-graduate or just after high school — who's going to have a good paying job and be a productive member of society," said Schools Chancellor Carmen Fariña, speaking at a news conference at the Bronx School for Law, Government and Justice. 
Most glaring in last year's data, perhaps, were numbers for English language learners. In New York City, the proportion of English language learners who started high school in 2012 and graduated in August dropped by nearly 10 percent — from 40.5 percent in 2015 to 30.8 percent last year.
Fariña suggested the drop could be attributed to an increased number of students testing out of the English language learner category. She also said that not all English language learners are equal — during any given year there may be more students who come to the United States in older grades or without adequate literacy skills even in their home language. 
Kim Sweet, who leads the non-profit group Advocates for Children, said she was "alarmed" by the numbers for English language learners.  
"The new data shows that both New York City and New York State urgently need to double down on efforts to improve instruction for English language learners so that they can achieve their potential and graduate with a high school diploma," said Sweet in a statement.
Sweet added that the numbers were particularly troubling since New York City had been working under a corrective action plan imposed by the state in order to improve services for English language learners.
And while overall graduation rates have increased in New York City and statewide over the past few years, those numbers do not mean that students are ready for college after earning a high school diploma. A recent report from New York City comptroller Scott Stringer showed that many New York City high school graduates (currently just under half of high school grads) were not deemed college ready, meaning they would have to take remediation in math or reading before moving on to college level courses.