SchoolBook
City's Eighth Graders Cheer—and Sigh—Over High School Matches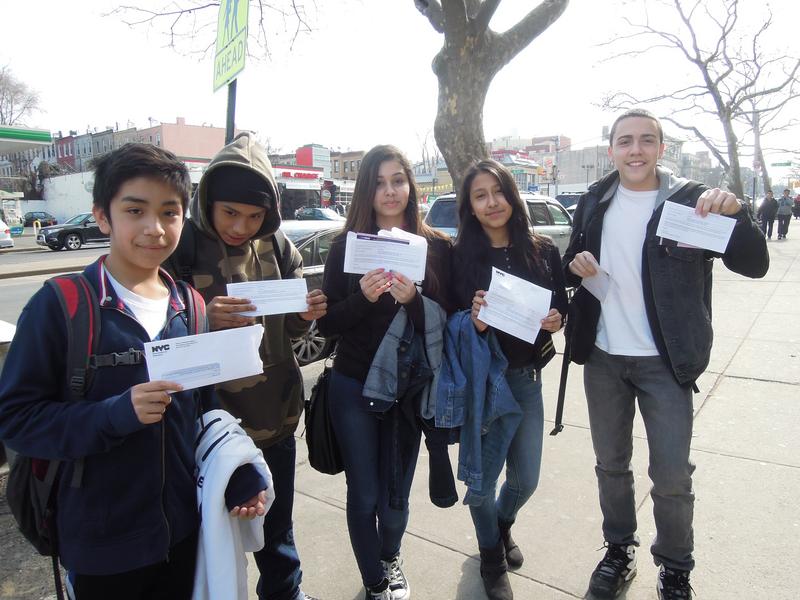 New York City eighth graders began to receive word on Monday about their high school matches, news that can bring a mix of anxiety, dread, disappointment and joy.
Outside Sunset Park Prep and I.S. 136 Charles O. Dewey, which share a building in Brooklyn, students chatted excitedly after dismissal with match letters in hand.
Lenny Jacome, a student at Sunset Park Prep, got a match at his second choice, Millenium Brooklyn High School. His closest friends, he said, got into different schools.
"Now I'm thinking about all my friends that I'm never gonna see again," said Lenny.
Antonio Monclus, who attends Charles Dewey, was all smiles with the news that he got into his first choice, The High School of Telecommunication Arts and Technology.
When school staff passed out the high school match letters, "I was really nervous," he said. "I always thought I was going to go into the second round and that scared me."
Students can rank up to 12 high schools on the applications that they submit in December. The city then uses a system to match students and schools that is similar to the way that medical students are matched to residency programs nationwide.
The Department of Education has not released this year's citywide match results. Last year, about 10 percent of students did not match to any high school in the first round.
Kassandra Reyes, a school counselor at the Global Neighborhood Secondary School in East Harlem, said her school usually pulls aside the small minority of students who do not get an initial match to give them the news ahead of their peers.
"Just so that they can process everything and have a minute before everybody else gets really excited," she said.
Reyes said her school chose to distribute high school match letters at upcoming parent-teacher conferences this week, rather than give them to students on Monday. Out of her 50 eighth graders, she said two did not get a match.
Students who did not match in Round 1, or those who do not like their first-round offer, can apply again during the second round. A Round 2 fair is scheduled for this Saturday and Sunday. Second-round applications are due March 21.