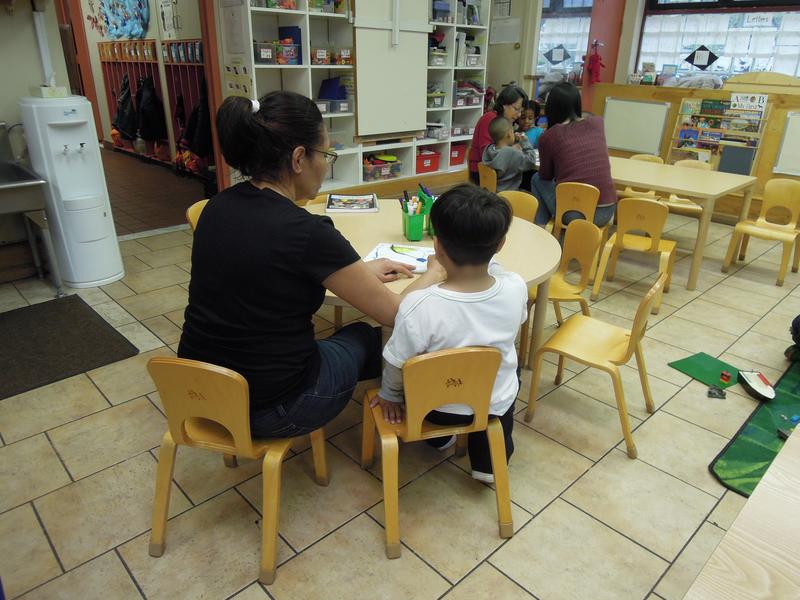 New York City's Department of Education is quickly putting together the pieces of its pre-kindergarten expansion. It's reaching out to parents about new programs, communicating to providers about standards and preparing to announce the first wave of expanded options at community-based organizations — all with an eye toward providing full-day pre-k to more than 53,000 4-year-olds this September.
Plus, the department is working on recruiting, hiring and training teachers who will be able to deliver the high-quality pre-k education that Mayor Bill de Blasio has promised.
The city estimates it will need 1,000 lead teachers for new classes this fall, and will hire another 1,000 teachers for additional programs opening the following year.
The Department of Education is running a subway advertising campaign to recruit more teachers, and is planning three hiring events devoted to pre-k to match candidates with programs. The first hiring event will be scheduled at the end of June, education officials said.
Already, the department said it received more than 1,600 applications from candidates who already hold their certification in early childhood programs, a 38 percent increase compared to this time last year. 
The Department of Education released subway ads recruiting pre-k teachers starting in early May.
The city is also working to expand its applicant pool by recruiting at local universities. One plan is to partner with the City University of New York to both train new teachers and help existing teachers who are working toward early childhood certification earn it more quickly.
CUNY has received at least 800 applications for about 200 spots in the intensive training program that begins this June, said Sherry Cleary, executive director of CUNY's Early Childhood Professional Development Institute. She said the program is targeted at people who are new in the field, or who are career-changers, but who understand "the true nature of 4-year-olds." 
"A teacher of 4-year-olds does not have to be a student of motivation," said Cleary. "The child comes wired completely motivated. But this is a teacher who has to really be adept at assessing where a child is developmentally, and what the child's interests and strengths are."
Trainees in the CUNY program will take courses and begin work with 4-year-olds over the summer. The Department of Education will then work with CUNY to place these teachers in pre-k classrooms starting in September while they continue their coursework throughout the year.