City Takes a Chance on Non-Violent Defendants Struggling to Make Bail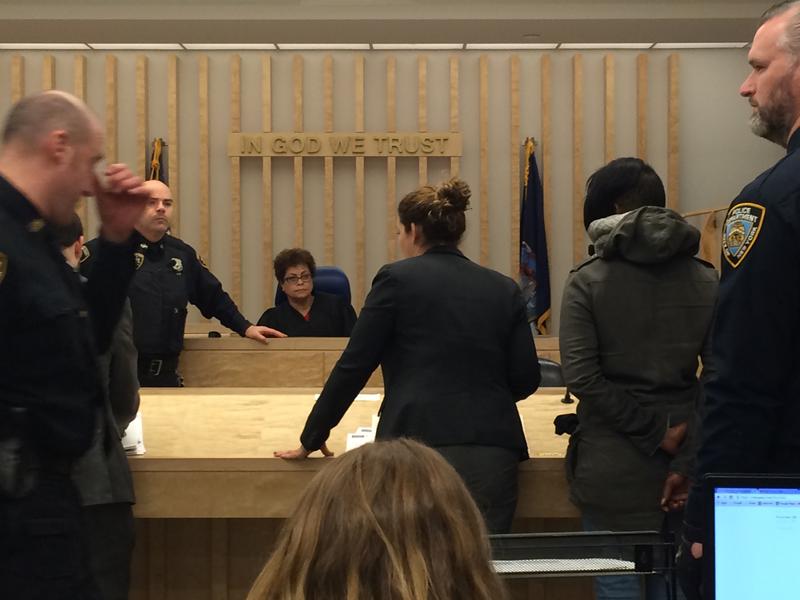 The arraignment court in Manhattan was bustling on a recent Friday afternoon. For hours, the same prosecutor stood at a podium and churned through dozens of cases while a group of men sat on a bench and waited for their name to be called.
Several were being charged with domestic violence. One man reluctantly pleaded guilty to destroying property and he was released with a new criminal conviction on his record. Another was accused of stealing thousands of dollars from a safe at his job. It's a non-violent offense, the kind that's eligible for what's called supervised release, a new program that began March 1 citywide.  
During an arraignment, a judge typically either sets bail or releases someone with the understanding they will return to court on their own. Supervised release allows for another option — a defendant gets released, but only if they agree to regular check-ins with a caseworker who will be monitoring them until their case is resolved.
As of April 1, the city said 771 individuals accused of non-violent felonies and misdemeanors were screened for the program, and out of those, 241 were released under supervision. The program is meant to target poor defendants who the city says land on Rikers Island because they can't pay modest amounts of bail.
"Unfortunately, for a large swath of that population, even what could be considered as a relatively low amount of bail, like $500 or $1,000 bail, could be tantamount to a remand," said Judge George Grasso, supervising judge of arraignments for the city of New York. "Because the person would not be able to have those funds." 
According to a 2014 court report, 85 percent of defendants with bail set at $1,000 or less could not come up with the funds and had to be held in jail. That amounts to just over 15,000 people. Some of them will make bail later, but almost half are stuck in jail until their case is resolved. 
Grasso, a former deputy commissioner with the NYPD, said people who churn through the system on non-violent offenses and who have a history of bench warrants for missing court dates are the types of people who belong in the program. He said past city policies targeted these individuals with stiffer penalties, so they got more jail time — but issues such as drug addiction and mental illness went unaddressed.
"The supervised release program can take that and do a complete flip of that," said Grasso.  "We can look at that individual and use the criminal court process to avoid inappropriate cases, avoid jail altogether...in return for getting the individual to acknowledge that he or she needs some kind of assistance."
When defendants gets released, they are interviewed by a caseworker who assesses whether they need health insurance, drug or mental health treatment, housing assistance or something else. Grasso believes that over the long term, the result will be fewer re-arrests. But taking part in programs is voluntary: Defendants can't be forced to accept services, because at this stage in the process, they haven't been convicted.
What is not voluntary is regular monitoring: To be in the program, individuals must sign a contract and agree to regular check-ins with workers. The frequency of check-ins vary according to the level of risk a person is thought to pose.  
Before this program started, the city experimented with a limited version of it in Brooklyn, Queens and Manhattan. That's how David Medina ended up on supervised release last October. He has been checking in with a caseworker ever since.
"First it's like three times a week, then it's like two times a week, then it's once and then you phone call in every week and then maybe once a month," Medina said. 
The 31-year-old is facing a drug-possession charge that he intends to fight. He said he's been arrested several times before but never convicted. Had he been held at Rikers, he said he probably would've lost his job as a DJ and music producer. And he has two kids to support.  
He said he has not missed a check-in yet and he relies on his caseworker to keep him on top of his case. 
"I definitely do...need it," he said about the reminders from his caseworker. "Because there's a whole bunch of things going and I need Stephanie to be able to tell me, OK, you got this court date...and make sure...you don't miss that."
Each year there are roughly 300,000 arraignments in the city — around 40 percent get dismissed and about 70 percent of the remaining defendants are released on their own recognizance.
Stan German, director of New York County Defender Services, said the program must be careful not to overreach and sweep up people who would otherwise have been released on their own recognizance. But if well-targeted, German said the program could keep many of his indigent clients out of Rikers and help reduce the number of guilty pleas people take to get out of jail. 
"I think my attorneys would embrace the opportunity...to do more trials," German said. "They're not happy when they're taking pleas on cases where they feel that we should have fought that case, we should have won that case, if only the client was willing to wait it out. But at the same time, it's a big ask to tell a client to sit in jail for six months to wait for a trial."
Liz Glazer, director of the Mayor's Office of Criminal Justice, said studies show that the more time someone spends in jail, the more likely he or she is to return.  
"Jail begets jail," Glazer said. "The corrections budget is a billion dollars right now and every day is a cost to the city. There's a human cost also."
The supervised release program is expected to cost $17.8 million, with a good portion of the funds coming from the Manhattan District Attorney's asset forfeiture funds. 
The city is trying to predict which defendants are likely to be re-arrested for a felony offense. In Manhattan, Allison Upton, a psychologist for an organization called CASES, is the person who decides how much of a risk each defendant presents. She screens them for supervised release before they go in front of a judge, who may or may not accept them into the program. So far, a third of people screened have been put on supervised release. 
One defendant had eight prior convictions, including one felony that happened nine years ago. 
"And so he was accused of selling a certain amount of marijuana at the misdemeanor level amount to an undercover officer," she said while reviewing his case file. "He scored a three, which places him in the medium-high range of risk which we are allowed to take into the program," Upton said. 
The city analyzed a year's worth of real-life arrests to determine what factors correlate with a person getting arrested again. Besides a prior criminal history, age is also a factor. Upton said the older a defendant is, the less likely they are to be rearrested. 
If a defendant misses an appointment, caseworkers will search for them. If they can't find them within 48 hours, a judge could issue a warrant for their arrest.   
Upton believes it's enough to ensure public safety isn't compromised, and enough to give people a chance.
"Sometimes people feel like, 'Oh, people are getting a break,' " she said. "If you meet the individuals we're working with and you hear their stories...this is your next-door neighbor, this could be your family member, somebody you know."