SchoolBook
City Strikes Deal With School Safety Agents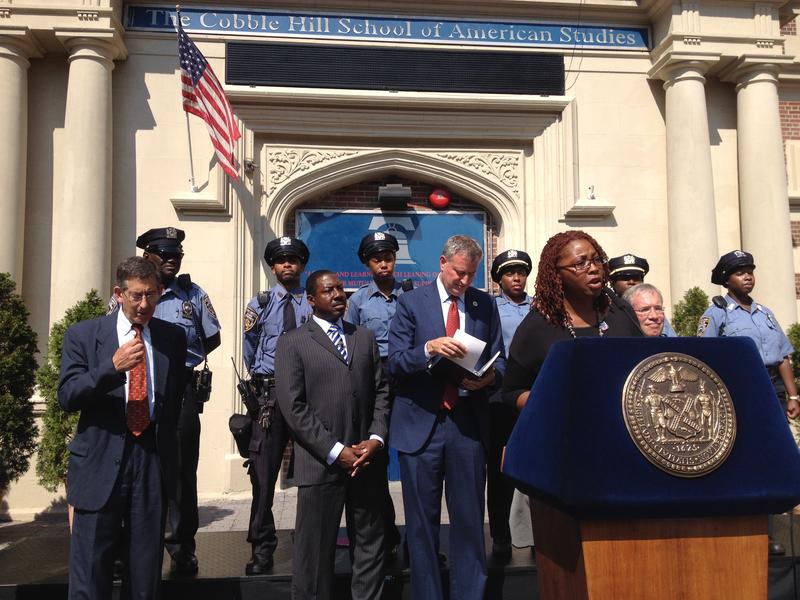 City Hall and the union representing officers who work in city hospitals, homeless shelters and schools have reached a deal on a new labor contract.
The deal provides 10 percent raises over seven years, plus a $1,000 signing bonus. It also may resolve a lawsuit that claims school safety agents — 70 percent of whom are women — have been chronically underpaid.
Kangela Moore, who has worked as school safety agent for more than 22 years, said the settlement and deal send a clear message: "Inequality will not be tolerated in New York City."
Speaking at a press conference outside a Brooklyn school on Tuesday, Moore added, "What this states is that New York City school safety agents are looked at as a vital entity in our New York City public school system and we do a vital job."
The union, Teamsters Local 237, sued the city for pay discrimination in 2010. At a mayoral forum sponsored by the National Organization for Women last year, candidate Bill de Blasio pledged to settle this lawsuit.
At Tuesday's announcement, the mayor said he was keeping his promise.
"The previous policy was wrong. It had to be fixed. Moving forward, we are getting to full parity and that's the right way to do it," said de Blasio.
If the court approves the deal, 5,000 school safety agents would get one-time payments of $7,000 each. The proposed settlement would cost the city $38 million. All union members would then receive salary increases over the length of the contract that would ensure parity between the school safety agents and their mostly male counterparts who work at other public facilities.
The cost of the tentative contract agreement is $145.5 million offset by a mandatory $77.5 million in healthcare savings.
"I am so, so thankful," gushed Moore, the school safety agent. "Because now I am able to put food on my table."