New York's Strongest Are First to Back de Blasio's Reelection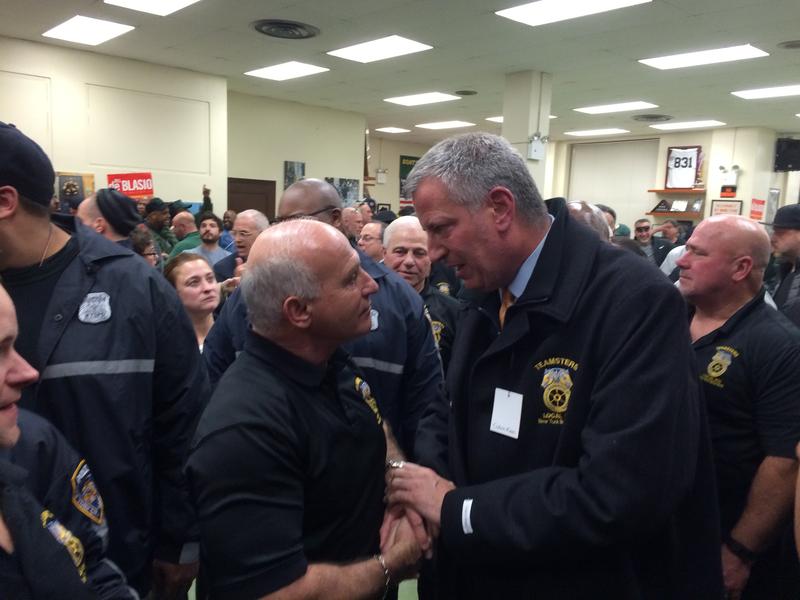 Mayor Bill de Blasio picked up a powerful labor endorsement for his 2017 re-election bid Monday, landing the support of the Uniformed Sanitation Workers Union, Local 831.
"We're going to be the first union to endorse Bill de Blasio for the next four years," union president  Harry Nespoli told the hall, which was packed with Sanitation workers waving campaign signs left over from de Blasio's successful 2013 run.
Nespoli is also head of the Municipal Labor Committee, an association that represents 97 of the city's public sector unions, making him an especially powerful messenger. He pointed to the de Blasio administration's success in reaching deals with more than 90 percent of the city's workforce. When he took office, all city unions were working under expired contracts.
The sanitation workers union reached a deal with the city in May 2015 which gave workers 11 percent raises over seven years in keeping with the pattern set for uniformed workers.
Nespoli also cited a pension settlement that gives workers injured in the line of duty three-quarters of their pension, instead of 50 percent. The city struck the same deal earlier this year with the unions for correction officers and firefighters.
"This is a union-friendly mayor," Nespoli said as he introduced de Blasio.
Not all unions are on board with de Blasio. The Patrolmen's Benevolent Association, which represents rank-and-file police officers, is one of the unions that has been unable to reach a deal with the city.
But at this celebratory event, the mayor praised the Sanitation department's men and women, giving a special nod to their work after Sandy and during last winter's record-breaking blizzard.
He also pledged to continue his fight for working people, calibrating his populist message for the room and never once mentioning the president-elect by name.
"If Washington turns against labor unions..." the mayor started to say.
 "There's gonna be a problem," a worker in the crowd shouted.
"There's gonna be a problem," the mayor echoed.  "Thank you, brother."