City's Sandy Repair Effort Leaves Some Applicants Behind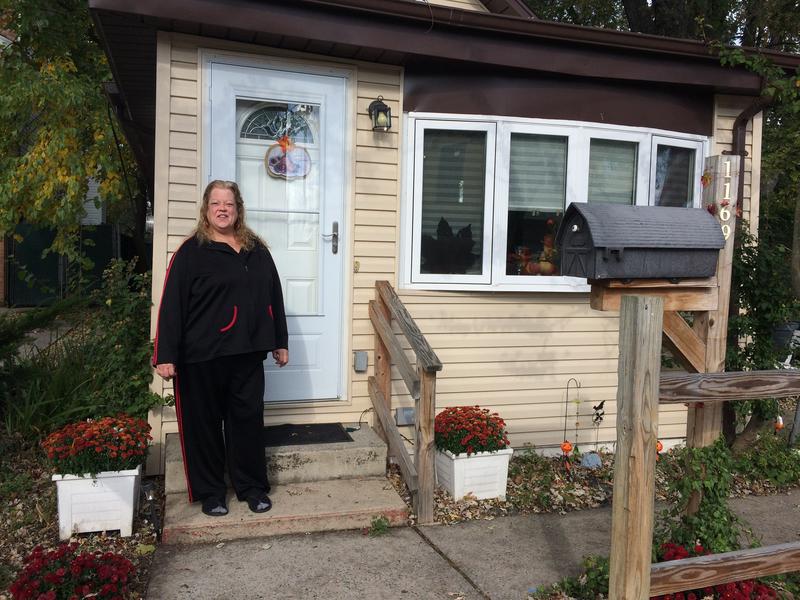 Patricia Sullivan lives with her mother and two daughters in a one-bedroom bungalow just a couple of feet above sea level in Midland Beach, Staten Island. When Sandy hit, the 14-foot storm tide rolled over a barrier road and into their sunken neighborhood like a tidal wave. The family just barely managed to make it to safety.
Sullivan's home was quickly repaired thanks to Amish volunteers. But one thing they didn't do was make it more resilient to future storms by elevating it on stilts. For that part of the recovery, she turned to the city's homeowner recovery program, Build it Back. She signed up when it opened three years ago under then-Mayor Michael Bloomberg and traded paperwork back and forth.
This week, Sullivan received notice that she had been removed from the program. She was one of 900 Build it Back participants who fell off the rolls in the past 12 months, as the city sought to finish construction on all homes by the end of 2016 — a deadline the de Blasio Administration recently said it would not be able to meet.
Back in July, Sullivan was frustrated and confused when the city gave her two weeks to sign a grant agreement. She was unsatisfied with the design of the new elevated house that the city was proposing to build for her.
"They kept just calling me to tell me I had to sign, that they have a deadline," she said. "That's what their priority was: to comply with their deadlines. And they told me: 'That's it.' They aren't doing another blueprint or doing anything else over."
The latest blueprint she had received from the city included a bathroom that could not accommodate her mother's wheelchair. Sullivan had also been asked to bring her mother to the signing. Her mom was unenthusiastic about being put 14 feet in the air and New York was in the middle of heatwave. So Sullivan didn't do anything.
After WNYC inquired about Sullivan's case this week, Build it Back reinstated her.
"If it was an information gap or knowledge gap, we will reconsider," said Build it Back spokesman Matt Viggiano. "We want to make sure that people act with full information."
Over its brief three-year lifespan, Build it Back's caseload has fallen from more than 20,000 cases to approximately 8,500 today. Many applicants dropped out early. Director Amy Peterson said about 5,000 of the original registrants never finished filling out applications. Others may have found other repair options or given up out of frustration.
The fact that 900 people were dropped from Built it Back in the past year alone startled counselors at nonprofits that work with Build it Back clients, because over the past year, the city has ramped up the number of deadlines homeowners must meet.
"They're told they have to do X within 14 days," said Margaret Becker, the director of disaster recovery and community development at Legal Services NYC, a nonprofit legal organization that counsels Build it Back clients. "These 14-day deadlines are being enforced, as if what the program needs is to start kicking these homeowners forward, right? And the consequence is that they are kicking these homeowners out."
The Build it Back program was not able to provide a breakdown of why people left the program's rolls over the last 12 months. It has asked the City University of New York to embark on a study to survey the reasons for the attrition since the program began in 2013.
Peterson, Build it Back's director, said that the program needed to balance the need to move forward with participants' extenuating circumstances.
"Setting deadlines is incredibly important to move people forward," she said. "But we have homeowners who deal with issues, who have financial issue, serious illnesses, and we allow them to pause in their process."      
Becker said her clients sometimes succeed in their appeals, but not always. And she said that without a lawyer or other advocate working for them, Build it Back homeowners have little chance of cutting through the bureaucracy.
She said she recognized the need to accelerate the Build it Back program, whose staff is far more familiar with complaints that it moves too slowly rather than too quickly. But Becker suggested the city should try to complete work on the easy cases, while giving more time to low-income homeowners who have complicated situations, or are having trouble paying back the money they received from other government sources, a prerequisite of Build it Back work.
Another applicant, Amelia Primiani, was removed from the program last August for failing to meet a deadline to provide proof of her income. But her daughter, Emily Primiani, told WNYC she had never heard about the deadline. Instead, she said she later found out program staff had been calling her estranged older brother, who had stopped managing their mother's case two years earlier.
"We received one letter," she said. "And the letter was the one that told us that we were being removed from the program for lack of...any contact."
Her mother appealed to get back into the program, but lost. After WNYC inquired about her case, Emily received a call from Project Uplift, a nonprofit affiliated with the city's recovery efforts that helps eligible property owners elevate their homes above flood level. The program was non-committal, Emily said, but it was a step forward.
UPDATED 11:30 a.m., Oct. 28, 2016, with more complete presentation of Build it Back public notice.