City Promises Housing for All People Displaced by East Harlem Explosion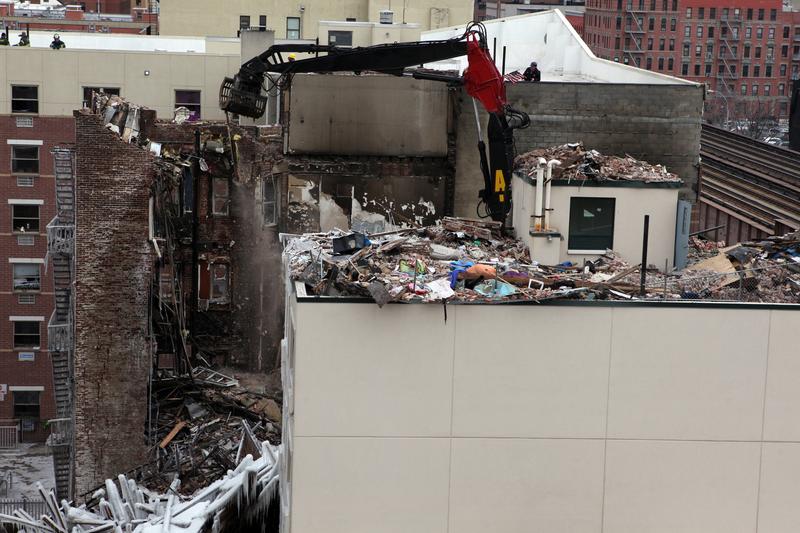 Recovery and cleanup continues in East Harlem after a gas explosion leveled two buildings, leaving eight dead and hundreds displaced.
Mayor Bill de Blasio announced that the Department of Homeless Services will provide 50 apartments to families in private buildings, while the Real Estate Board of New York will offer 34 apartments on the East Side for up to three months.
"You have everything from folks who were displaced from the two buildings destroyed, to people in adjacent buildings who can't get back yet," de Blasio said, speaking outside a temporary shelter for families at the Salvation Army on 125th Street. 
Everyone that was missing has been accounted for, but the FDNY will continue searching the rubble for remains.
Fire Commissioner Sal Cassano said crews will continue to treat the site of the explosion in East Harlem as a rescue and recovery zone. 
The last wall standing at the site of the explosion has been removed and Cassano hopes investigators will be able to get into the basement of the buildings to determine the cause of the explosion.
Over a dozen cats, several turtles and a parakeet named Pepe have been rescued from nearby buildings that were evacuated.
Jennifer Coffey with the Mayors Alliance for New York City Animals said the pets will be returned to their owners once they find permanent housing.
"We are sheltering some of these animals in temporary care, in foster homes for the next few weeks, while families get back on their feet," she said.
City workers check gas mains in East Harlem following a fatal blast that killed 8 and took down two buildings. (Stephen Nessen/WNYC)
On 116th Street, the block remains closed to traffic, and is littered with broken glass, and several holes dug up by officials looking for the source of the gas leak.
Odalys Guzman, 47, is the manager of the New York Glamour Hairdressers and stopped by to see if she could get it in, but was turned away by police. Wiping a tear from her face, she said on a regular Friday, this block would be a hive of activity. "We at this time would've been packed as well as all the other businesses here, it's grim, its very saddening to see this," she said.
The city says the Small Business Administration will be meeting with business owners to see what aid is available.
The last remaining wall is knocked down so fire crews can examine the basement of the destroyed buildings. (Stephen Nessen/WNYC)
City workers shut off water main in East Harlem at site of gas explosion that killed eight and destroyed two buildings. (Stephen Nessen/WNYC)