City Pols Celebrate Jewish Holiday With Influential Orthodox Leaders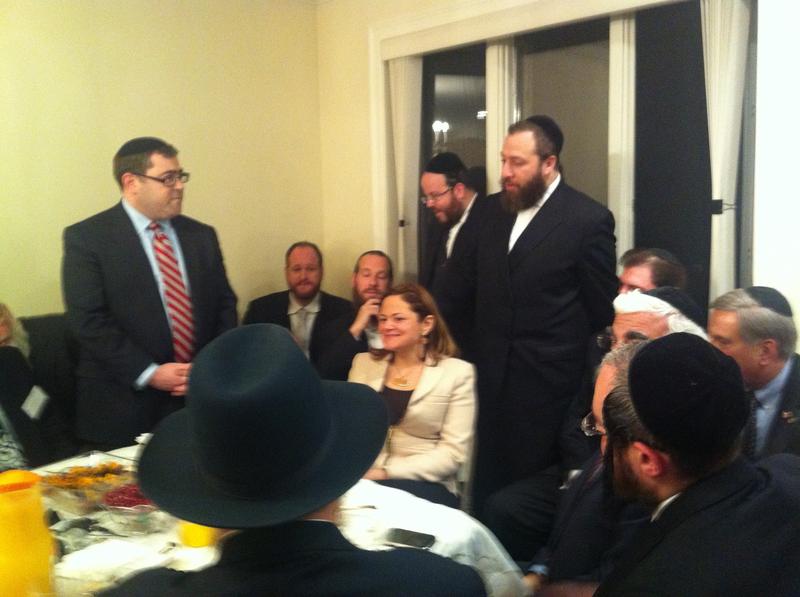 It may only be a minor Jewish holiday but some major New York City political leaders and their proxies visited a Borough Park apartment Wednesday night to celebrate and pay their respect to members of the influential Orthodox Jewish community.
The new City Council Speaker, Melissa Mark-Viverito, Brooklyn Borough President Eric Adams, state Assemblyman David Weprin, three other city council members and a representative of Mayor Bill de Blasio were just some of the heavyweights that packed into the small dining room of Ezra Friedlander, head of a government and public relations firm, to celebrate Tu B'Shevat – a holiday celebrating trees, fruits and rebirth, also called the New Year for Trees.
"They're part of the community. They work for the community. They represent the community. So it's only natural to welcome them, that we celebrate the holiday together and we thank them for what they're doing on our behalf," Friedlander said. "It's one little family."
It was the second year in a row Friedlander held the party allowing prominent members of the city's Orthodox Jewish community to mingle with elected officials.
"I was invited and obviously I have colleagues that are here. There are a lot of important leaders here," said Mark-Viverito. "My responsibility and role is to build relationships and to really learn about other communities and other cultures."
Joseph Stamm, who runs a medical services company, was one of the locals who gathered around the table, which was loaded with fruits and nuts.
Stamm said the evening was a way to build bridges between officials and the neighborhood. He hoped the night would help the new speaker understand the community.
"I want her to understand what we're looking for whether it's in education, whether it's our personal problems, whether it's in transportation or whether it's school," Stamm said.
The Orthodox Jewish community has been a potent political force in the city for years. Experts say its due in part to their high voter turnout and tendency to vote as a bloc.
But Menachem Lubinsky suggested Wednesday night's showing was about more than just electioneering.
"It's not just a question of votes, although I'm sure in the back of every elected official's head there's the question of votes. But I think this community is always at their doorsteps, they're always there with an agenda, they always have things that are important to them. They're very outspoken and it makes sense for them to sort of make a house visit, so to speak, and to go to the source and go to the core and understand," Lubinsky said. "I hope that they're doing the same thing with all the other cultures and I'm sure they are."