SchoolBook
Parents Press for Bigger Voice in School Decisions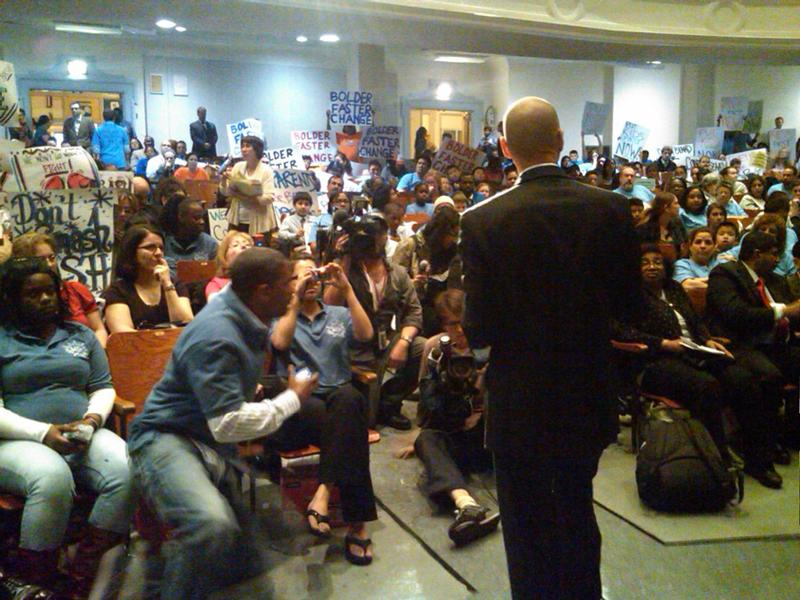 In an unusual display of unity, parent leaders from across the city signed a six page letter to Mayor-elect Bill de Blasio, calling for more involvement in decisions about their schools. The letter was signed by most of the city's 36 Community Education Councils plus representatives from some of the others.
The proposals range from giving parents a greater say on the Panel for Educational Policy, whose appointees are currently controlled by the mayor, to reducing the role of standardized test scores in high-stakes decisions and re-evaluating the implementation of the Common Core standards and curriculum. They also want input selecting the next chancellor.
Getting so many representatives from across the city to sign onto the document wasn't as big a stretch as might be imagined, said organizer Rachel Paster, president of the Community Education Council for District 30, which includes Long Island City and Astoria. She said the parent leaders agreed on major items because so many of their proposals had similar themes.
"Which is how do we interact with the Department of Education as C.E.C.'s and communities so that what we're seeing is real community engagement which we feel that we haven't had in a very long time," she said. 
Transition spokeswoman Lis Smith issued a statement that largely supported the parents' concerns.
"Mayor-elect de Blasio shares many of the same priorities as the councils, including the need to lower the stakes on standardized tests and to consult with parents and the education community to create a more honest and inclusive process when it comes to decisions on co-locations and closures," she said. "The mayor-elect and his team will review the full list of recommendations. He looks forward to working with C.E.C.s to improve our city's schools."
De Blasio has not proposed diluting his control over the Panel for Educational Policy, something the parent leaders would like to see. But he has seemed to back another proposal in the letter, the return to a system in which schools are supported by geographic districts rather than citywide networks.