Trump to Cities: Drop Dead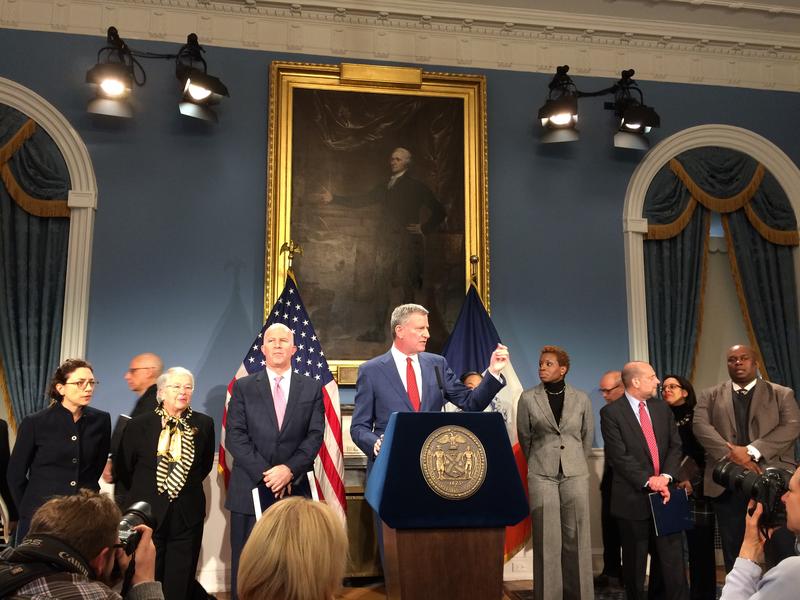 As the Trump Administration proposes massive cuts to everything from housing programs to environmental enforcement, the de Blasio Administration is vowing to fight back and resist a budget proposal that it calls detrimental to New Yorkers.
"This will make New Yorkers less safe," the mayor said. "It will make it harder to get affordable housing, this will hurt our schools, will hurt our hospitals, this budget proposals will undermine the lives of millions of New Yorkers in various ways."
The White House proposal is not a line item budget and doesn't specify exactly where reductions will come from with some exceptions, such us the complete elimination of what's called the Community Development Block Grant. 
Localities use the grant in a variety of ways. In 2017, New York used it to clean up vacant lots, subsidize child care, and fund after-school programs, according to the city's Independent Budget Office. But the vast majority — $130 million — went to the Department of Housing Preservation and Development for the enforcement of housing codes.
Inspectors from the agency are the ones who respond to tenant complaints about a variety of things, including a lack of heat or hot water. The grant also funds the emergency repairs the agency makes when landlords fail to clear up serious violations. The White House says the grant is being cut because it fails to target the poorest communities and it hasn't demonstrated results. Housing advocates argue the funds help hold landlords accountable and improve low income neighborhoods. 
"It does serve a wide range of community needs, but to say it's not targeted isn't fair," said Rachel Fee, Director of the New York Housing Conference, an affordable housing advocacy organization. 
The U.S. Department of Housing and Urban Development stands to be cut by 13 percent. That is certain to mean cuts to the New York City Housing Authority, according to NYCHA chair Shola Olatoye. She says so much has been already cut from the authority that this is likely to mean drastic reductions to repairs and the city's Section 8 housing voucher program. 
The biggest proposed cuts are slated for the Environmental Protection Agency, which is responsible for clean air, water and the clean-up of toxic sites such as Newtown Creek, Gowanus Canal and Newark's Passaic River. Another EPA program that will adversely affect the city is the EPA's environmental justice program, which seeks to clean up pollution in poor neighborhoods. 
For the first time since Trump took office, his Republican ally, New Jersey Governor Chris Christie, said he would fight the president. Cuts to federal transportation funding would be a problem for the Gateway Tunnel project, the new Hudson River tunnel that is meant to replace a tunnel project that Christie scuttled. 
"The Governor has worked hard to develop a project which will ease commuting to New York City without all the practical and fiscal shortcomings of the ARC tunnel project," said a statement released by Brian Murray, spokesman for the governor. "Gateway Tunnel is that project. New Jersey and New York are committed to funding their fair share. He will do all he can to fight any federal funding cut to this project of regional and national importance."
For his part, New York Governor Andrew Cuomo released a sharply worded statement, calling the president's proposal "dangerous, reckless, and contemptuous of American values." Cuomo added: "It should be rejected by Congress out of hand.... It leaves behind the  most vulnerable among us, and puts our environment, our infrastructure, and our future at risk."
President Trump's budget includes an almost 18 percent cut for the Department of Health and Human Services. Among the biggest targets are the National Institutes of Health, which would be cut by $5.8 billion. Training programs for nurses and other health professionals would see reductions of about $400 million.
According to NPR, the proposed elimination of several programs would affect a large swath of the New York metropolitan region. These include the Low Income Home Energy Assistance Program (LIHEAP) which helps people pay utility bills and weatherize their homes, as well as the Community Development Block Grant, a part of HUD which pays for things like Meals on Wheels, a food assistance program for the elderly and home-bound.
Dr. Irwin Redlener, co-founder of the Children's Health Fund and professor of health policy and management and pediatrics at Columbia University, called the proposed health budget a "disaster for kids."
Citing cuts to community block grants, housing assistance and the restructuring of Medicaid, Redlener said he and other child and health advocates were very concerned.
"It would represent probably the most important threat to the health and well-being of vulnerable children in a couple generations," he told WNYC. "I don't think New York as a city can tolerate virtually any cuts in programs that should be increased."