City Admits it Approved 'Poor Door'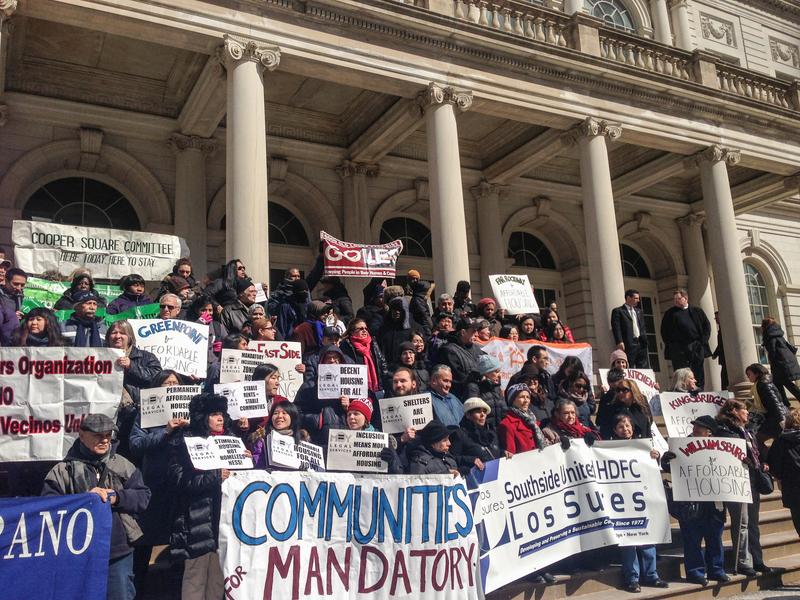 City housing officials approved of a deal to allow a developer to create a separate entrance for low- and moderate-income tenants at a new rental development on the city's west side. But officials blame the prior administration for creating the terms of the deal. The approval was first reported by the New York Post.
The 33-story project at 40 Riverside Boulevard will include 55 units (out of 274 total) of affordable housing for low-income households. It's being developed by Extell Development Company.
The plans were submitted in early 2013 and construction began in 2013, prior to the new mayor being elected. 
"No responsible administration can require somebody retroactively to redesign their entire building. Our focus is what are we doing in the future," said Alicia Glen, deputy mayor for housing and economic development. She added that construction had already commenced "up to about six stories" by the time the separate entrance question came before housing officials.
Developers pointed to the city's zoning laws as the reason they were able to create separate entrances.  
"The two entrances is mandated actually in inclusionary housing, because that's permanently affordable and so they want to be able to — I think that's the logic behind it, I don't know for sure — they want to be able to manage it as a separate building," said Extell founder Gary Barnett.
But the zoning code is more nuanced than that. Previously, developers had relegated affordable units to the less attractive lower floors. The zoning code was meant to change that. The law requires that once affordable and market rate units are located in the same building, the affordable units have to be interspersed with market-rate units. To avoid that requirement, developers can opt to put the affordable units in a separate building, which requires a separate entrance.
But housing advocates equate that interpretation of the zoning law as a loophole.
"There is little argument this [zoning] structure violates the spirit of the new administration's dedication to combating inequality," said Benjamin Dulchin with The Association for Neighborhood & Housing Development (ANHD).
Civil rights advocates said they expected lawsuits to ensue as a result of the separate entrances.
"For a diverse city like New York to enact such a statute or ordinance, or to permit developers or encourage them to create separate and unequal — because by definition it's unequal buildings — and take tax credits and benefits from the city, I think that's a constitutional violation," said civil rights attorney Randolph M. McLaughlin with Newman Ferrara LLP.
Barnett will rent the affordable units for about $15 dollars per square foot, while the market rate rentals will go for five or six times that amount.
"We're in the political silly season, to be blunt. Would you rather not have the affordable housing? Ask any one of the thousands of people who are applying for that, and they don't give a damn [about the separate entrance.] They want to have a beautiful apartment, in a beautiful neighborhood, at a super price," Barnett said.
 Glen said the administration will work to amend the zoning law, but that is a long process that could take a year or more.