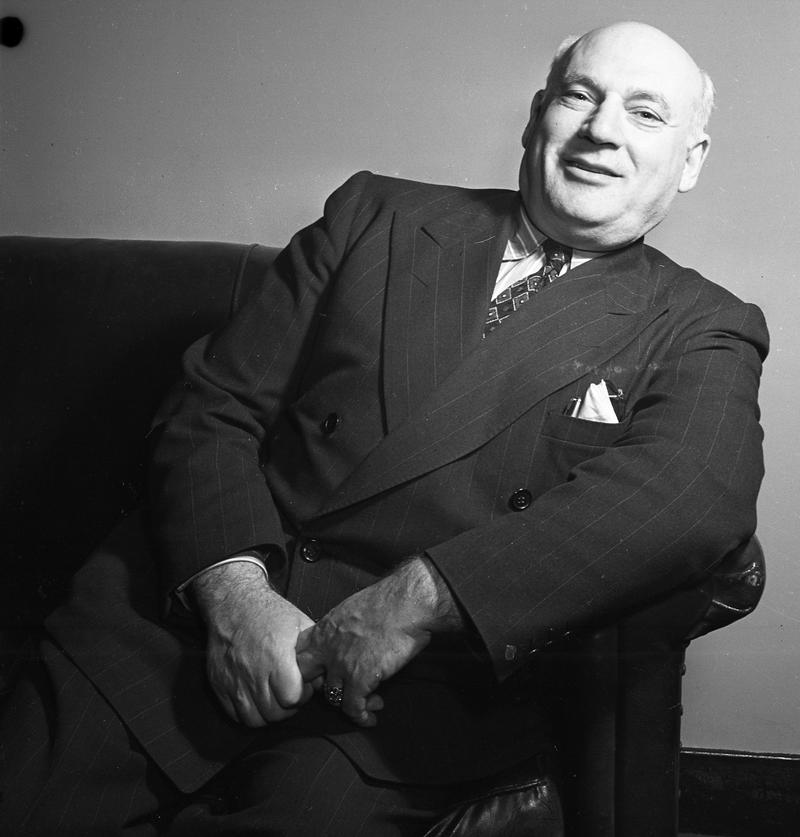 Summary
This episode is from the WNYC archives. It may contain language which is no longer politically or socially appropriate.
An interview at City Center with Sol Hurok. Begins with a discussion of bringing great art to the masses. Talk about what his involvement with opera is. Opera is the most popular it has ever been. As far as ballet is concerned it can be a tougher sell. Discussion of pricing. Week days vs. weekend performances. Laborer's work week is shorter. More leisure time. Interference of television. Who are you bringing to the U.S. Some of the latest? Anything up your sleeve? Always a lot of new things, 600 - 700 artists. In opera, Boris Treister. (?) Spanish soprano. Irish tenor. I believe in international good will. How do you feel about the language question? The good singers you understand in whatever language. I don't think there is any problem. The English language is not adaptable to the interpretation of the great music. English is a great problem with translation. How about new works? I believe that most of the artists I heard all over the world they don't let them develop. (A lot of excess blather by the interviewer) Recounts a San Francisco experience. I believe your institution is so important to New York and the United States. Appeals to the city to support City Center.
Audio courtesy of the NYC Municipal Archives WNYC Collection
WNYC archives id: 37185
Municipal archives id: LT7464
Transcript
This is a machine-generated transcript. Text is unformatted and may contain errors.
In our continued endeavor to bring outstanding personalities of the artistic and cultural life of this country before the microphone of W. N.Y.C. I get it with the greatest of pleasure today Mr Saleh your article I don't think needs any introduction but the mention of his name Welcome Mr Hewitt are. Glad to be here. Mr here or it would be very interesting what I learned from this to. Get your opinions on the subject the chief says almost you have spent a lifetime in bringing grain to large masses of people. Would you tell us first of all about your direct involvement with Opera has been and what your thoughts are on the subject of how to make opera ever more popular. I believe the steps that you have taken on the city center have a think Italy and the less than us about Pearson's an existence of the popularized great using LED operetta proper prices couldn't be a greater dream of mine and the Great Expectations and you have at this moment and I believe that the public and the press should be enthusiastically welcoming this venture in this institution and supported in every way possible because I always been talking about them my dream and my promoting and projecting great music classical music but the collision operator is always on the popular prices and for the masses which I believe this institution is I believe is very unexpected so I don't know how you can afford to give up around this price is it possible Mr York with these two in the expensive psychological. Well I don't know I don't think this is unexpected because opera days more popular than ever before it is now we have found strangely enough and this is why I asked the question that seats that Goo first and good quickest with the greatest regularity are the two seats for our top prize of three eighty and the ones which are most difficult. For the public to take are the one fifteen year plan it's all over the country and all over the seat and all over the world like at this moment during the water where money was marvellous are delivered at the spanners moment to stand the girls and boys husbands or wives or somebody else's wives found they got explain their get their custom the go downstairs instead of abscess climbing it on so that they prefer the by the orchestra seats particular was a popular price if you would have upstairs two dollars or sixty and asked the seven dollars I think you'll find absence with the much better announce that so you would just be a reversal of our form if we asked more for the upstairs and for the dancers it is certainly a new thought and I should pass it on to the powers that be who make. I don't think it's always the case that. The world today is somehow the. Business of the box that was on the stand which are simply played up to them for the last seventy five years only six. Seasons of. The program selection. Has agreed to do with the public's attendance with the public's favor. Times I've found out the company. Very popular that companies. Have a tough job to sell. But. The sad little else company. And I have not troubled. To say that if you announce a saga as well it doesn't matter if you announce any program that has a great show live by the sleeping. On. That. Best known opera. To the general public. And. Telescope. Or some other some of the operas which. This particular house we found. Has agreed to do the same. With exactly the same cost. Not on a Saturday night there might be a difference of as much as fifty percent. Attendance has been running to ninety nine percent of capacity. Explained we have in the States. As a question of the great week long weekend. And Sunday sometimes some of. Those Sunday nights of the. Last week I don't generally. Time to get home Friday night and. Then you have another obstruction of some of the other night weeknights which I had a very strong television show that by some time. In the house. Have to have something. To give the strongest possible. For example in your presentation of the. Difference is that. A matter of fact on Broadway shows most. Sold out for the fight and. That's the evidence of the people come from out of town or they. Have the time to go. To the United States can you tell us some of the most recent discoveries specially in the field of singing. To have a proper opera. I think I'm trying to plug for you. I want to know if you have anything up. Possibly. But. Goes back. Quite. After question my own answers I sit on the fence is the language question I have no hard and fast opinion I'm flexible on it and I'm. Missing. Is not considered in this matter now or don't you find that some. Problems that I don't think there's any problem that. Our American language the English language is not adaptable. I mean. For the average. Russian. For. Some of our. Make absolutely no comment on the music but just. What they're singing. Our song. Comment on the music I cannot comment on the music. But I expressed myself. Well that you could understand. What I have some. Project. And I'm going. To live as I know I know the time. To project to project to and especially. As the project. And the projection of the. Fast suck. Up. Part of completely. I have found this for many years and I'm happy to have. Because Boris kiss is going to sing Boris the Russian that started the whole company rushing. While I said now to have him sing in Italian and the Russian There was not Russian There was a Mexican singing. American singers and a measure take speaks a language one came out about what was the language like you know I think the question. Because the. Title fight with Almighty God You know it's about the same thing that all mixed up in the language. It was. Not understood they're talking about it now. This is one of the. Discussions we have. To thank you. For expressing your very interesting opinion so. I'm quite sure the. Point I was going to express before I went. To the grave and I did state that I believe that many suppose the public should be able to help feel that they have sufficient money. That's. What I want to build audience and. Be comfortable set for the next to build your appetite instead of. Money certainly for this we thank you very much Mr My pleasure to. Three For me personally. I would listen to have with us but with we. Success for sure but. The most happy for Bob welcome tonight. A little over a year. The. Happy Fella. Spoke English. As to speak and sing quite accent. Just. Living in. Speaking with broad. Well I. Having arrived there. You have to get. To sing. Very much yes very much and I. Appreciate. A gentleman with his wife came back. And he. Looked very. Surprised and she said all now I know where you learned to speak that libelous dialect that you speak. And I said Yes I heard her. Speak English with a dialect that. I rarely anyone who has such a secure. Singing technique such as. And who has been. With such uniform excellence of. Excellence not to what do you attribute to Bob Well the Lord was kind to me another night and started out with a good teacher there because I think that is the main idea and. For some people to learn to play the virus now could you talk a little bit about singing because there is no doubt about it my mind that you are one of the outstanding examples and I should like to make a very broad comparison that you are one of the few people compared with the classic Gordon. Camp or Masters because of the of the consistency with which you sing well with the taking only chance of being called little foolish I came along at a time when the life of the singers and teachers of that age to talk about were still singing. And the teachers that taught had been singing I think and I'm saying this I don't care who likes it who doesn't like it. The greatest percentage of our voice teachers today are pianists. Are coaches who play Iran who played a great singer I once said to a lady who brought her son to me to help help him he was a grown man but she had known me years ago and she said I thought of him going to stone shell whom I know as a good coach and I said Suppose your son wanted to play violin would you take him. To any one of the great pianists and say well now you're a fine pianist it's such a simple logic of it doesn't seem to be realised because the common sense in the preparation of singing but. Which I started with. One difficult for some people because some people are more natural and while I don't want to take. Credit from your excellent teacher and probably from the. Spend on studying voice. And way of singing but there are people who have a natural knack to. Place or in a better position and others who can lose what we call the dumpling certain amount. Whatever it. Is that I don't blame it on the people themselves I can take a voice and I'll post because you know some of the artists that you've conducted for that in five or six sessions of almost just suggestion. They have improved people who have come to me and said Bob. Why can I do it I said because you were taught to do just the opposite there is a trend today a young man came to me in our company and said look how can I do this now I have trouble to that. He said Now when I come I do this and he sang beautifully showing how he Croom and I said Now you're saying but he said I'm going to a teacher I said you're not pulling your voice back into the back of your throat you're projecting it forward as it should be but I'm starting with a teacher who tells me that in the old days if you said I'm talking about all days I'm talking about twenty years ago twenty five. The first thought of singing was projection of. Thought as being in the mass of the. Ball or. Not. But everybody approached the ideal. Go back and listen listen to listen to listen to all of these people. Up and nominate Now you were talking of the ones that we know about those that we did not. Last year. And I did my first professional job in a music. Picture house in Baltimore when I was nineteen so that's about thirty four years but I think. I remember last year. I was. But you could. Stop. Learning the lyrics of overcoming these things if your voice is in a position where you can handle it. Well in their presence many times. I wish I didn't have to do this tonight I don't feel well and someone. Approximate of next. Will be. Seven weeks to that out of town and. Obviously. I must say that it is an. Example where you had about. Company that you asked to sing Come to dinner I said I want you to do this every night six to eight I'm sure. But we're doing what we're doing. Certainly much more. Certainly twice. The work. The relevance of our music. I mean I don't I don't want to express our you know nominees or criticism but. Searching there are many people who come and say this is an opera. The consensus of opinion it is far from an upright not an opera. Very well that you do not any more than you pick the type of voice by rain temperature music as music. The only difference between Most Happy Fella and any other good musical comedy is that it is there is a greater percentage of the musical sung than spoken. As one. Writer said to me at an open meeting and some of the drama critic has done something different you don't list the various songs in the play that I said Well suppose we gave a little less than all the areas would that make it not an opera practice is a very good argument. Is only for the information of your public if you feel the public doesn't need information. This. Is a musical it is a musical where in your opinion I mean these boggling things of course very hard to draw now. The state microphone stand there is a crack this is a clear cut line across the table crack now. I found a lot of it but you're talking of. Speaking of form. Of that relationship to Most Happy Fella. In the crack. If this part of the state. Apparatus. Happens. Because it is a development. Moving from. This is what I'm searching for to I'm searching. Works of contemporary. Problems. Such. As. I think if we in some way. Go. Follow the road which Frank Loesser. Following most happy thought. We are going right direction which leads to. Whatever. You want I know of opera Well anyhow I must say. This was more than a conventional interview I think the. Things about. And about opera from a master of singing who has been added. Proudly and unashamedly states that in the best of conditions I think the God of the highest batting average. Which singers can have for good form and for excellence of vocal production. A very nice one about ten years from now one Happy Fella starts running back and. I think that you want to come back much. Thank you very much thank you.