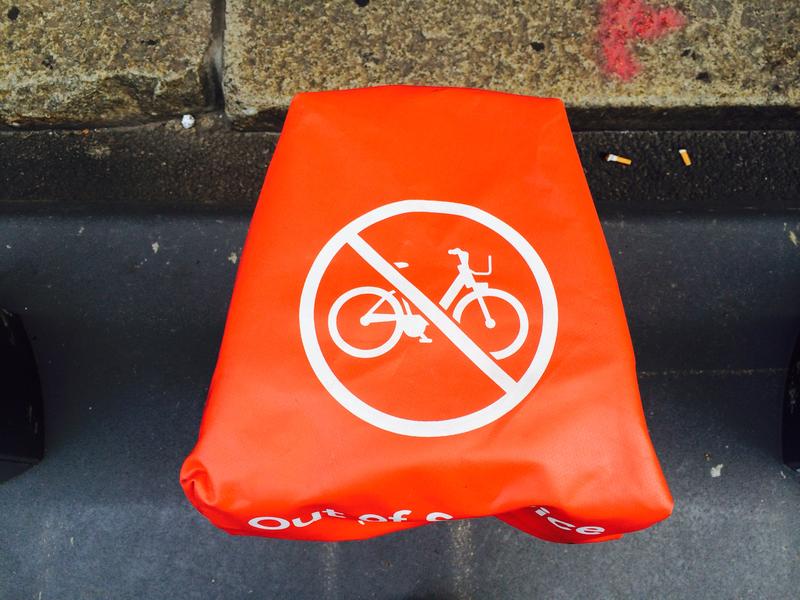 The company managing New York City's bike share program failed to maintain stations and bicycles as required by its contract with New York City, according to a new audit.
"Even as Citi Bike has become part of our transportation network," said New York City Comptroller Scott Stringer, whose office released the audit Friday, "we really found spotty maintenance, poorly cleaned bikes, and badly managed stations."
The audit covered the period from May 2013 to May 2014. Its findings were both scathing — and not unexpected. Its app was only accurate about 73 percent of the time. Complaints about station cleanliness languished, often for months. Stations aren't meeting the required standard for being connected to communications and payment systems.
But more alarming was the dive into maintenance data. Due primarily to staff shortages, New York City Bike Share (NYCBS), the program's operator, completed less than a third of the required station inspections. In November 2013, only 28 percent of the system's bicycles were inspected.
The contract between NYCBS and New York City requires 100 percent of bicycles to undergo a complete maintenance check at least once a month.
"Bikes with flat tires and malfunctioning brakes and gears were still available for use at five stations," said Stringer, "which was troubling."
The audit recommends hiring more staff, adhering to inspection standards, reviewing operating practices, and improving the data used for the Citi Bike mobile app.
NYCBS is owned by Alta Bicycle Share. In October, following a steady drumbeat of bad press about the system's buggy software and dire financial predictions, the company was purchased by a consortium of investors. The reformed Alta is now installing new management, and has announced plans to expand the system.
Jay Walder, the incoming CEO of Alta Bike share, said in a statement: "We agree that while Citi Bike has been hugely popular with New Yorkers, the previous ownership of the company was not able to provide the resources necessary to deliver on its potential. With new ownership and an experienced management team being put in place, we are already beginning the hard work of reinventing Citi Bike. New Yorkers will see a much better service in 2015 and moving forward."
The city's Department of Transportation added: "Bike share is headed in the right direction because the de Blasio administration worked throughout this year to bring in a new operator, fresh leadership, and concrete fixes to address Citi Bike's financial and operational challenges. The Comptroller's audit covers a period predating all those changes. Under our new agreement, Citi Bike has received a $30 million infusion of private funds, and will double its size from the current 330 stations and 6,000 bikes to over 700 stations and 12,000 bikes by the end of 2017. We engaged in lengthy negotiations in which the City made it clear the new operator must update the software, build out the supply of bikes and expand the service area into more boroughs and neighborhoods. DOT's priority is to make sure the operator runs an improved, accountable and efficient privately-funded system and we look forward to its continued expansion."
Stringer said he's optimistic that if his recommendations are followed, the system's prognosis is good. "Commuting to and from Manhattan on bikes has more than doubled since 2005," he said. Meanwhile, Citi Bike demand is strong: in less than 19 months, the system is approaching 15 million trips. "I think that says a lot about people wanting very much to travel by bike," said Stringer.