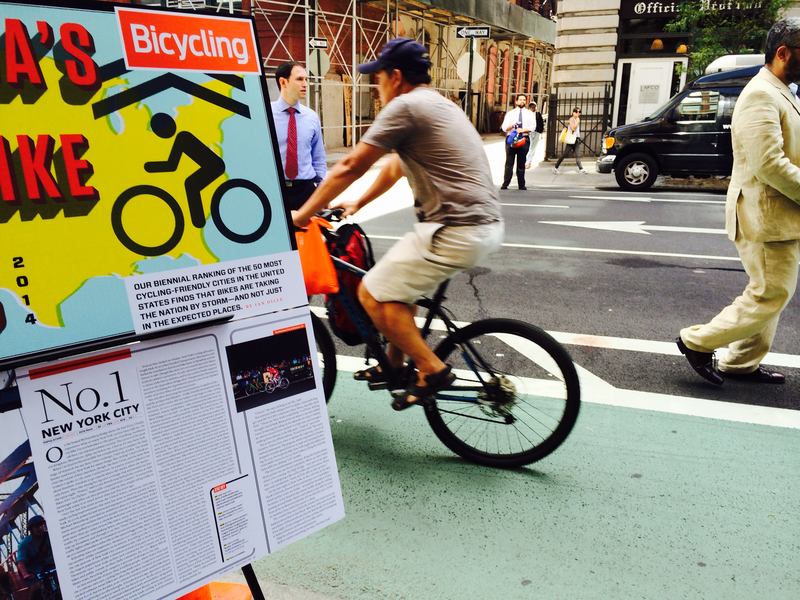 When we last checked in on the deal — in which venture capital firm REQX was negotiating to infuse Citi Bike's ailing bike share operator Alta with much-needed cash — an announcement seemed poised to take place by the end of August.
But at an event Wednesday morning trumpeting New York City's crowning as the most bike-friendly city in the country (according to Bicycling Magazine), there was no update on the talks.
"There will be an announcement. I wish I could tell you exactly when, [but] I still can't," said Polly Trottenberg, the city's transportation commissioner. "The city has made tremendous progress in our part of the deal, and now really REQX and Alta are finalizing their piece of the deal."
What's the holdup — especially since Alta's cash flow problems have been public knowledge since the winter?  "This is a complicated deal," Trottenberg said, adding that it involved not just Alta and New York City, but lead sponsor Citigroup and Goldman Sachs, which is helping to put the deal together. "New York has the largest program in the country and there are a lot of moving parts to it, but I think we will have a deal and we will be seeing Citi Bike expand all over the city."
(Later, in the post-press conference scrum, she told reporters, "Honestly, I think Alta are not the easiest guys in the world to negotiate with. I don't think that's a secret.)
When pressed on the bike-share program's expansion plans, Trottenberg said it would be "premature" to provide details, but confirmed the blue bikes will stretch to the Upper East and Upper West Sides in Manhattan. When? WHEN? "I think I can confidently say 2015 and not get myself in trouble," she said.
Other neighborhoods that will eventually see bike share include Greenpoint, Williamsburg, Astoria, Long Island City, the rest of Bedford-Stuyvesant, Park Slope, Harlem, East Harlem, Sunnyside, Prospect Heights, Carroll Gardens, Red Hook, Prospect/Lefferts Gardens and parts of Crown Heights.
To support the cycling infrastructure in New York, Trottenberg said the city was adding 58 miles of bike lanes this year, including five miles of protected lanes. New York now also has 21,320 bike racks, and has filled 430,000 potholes so far this year.