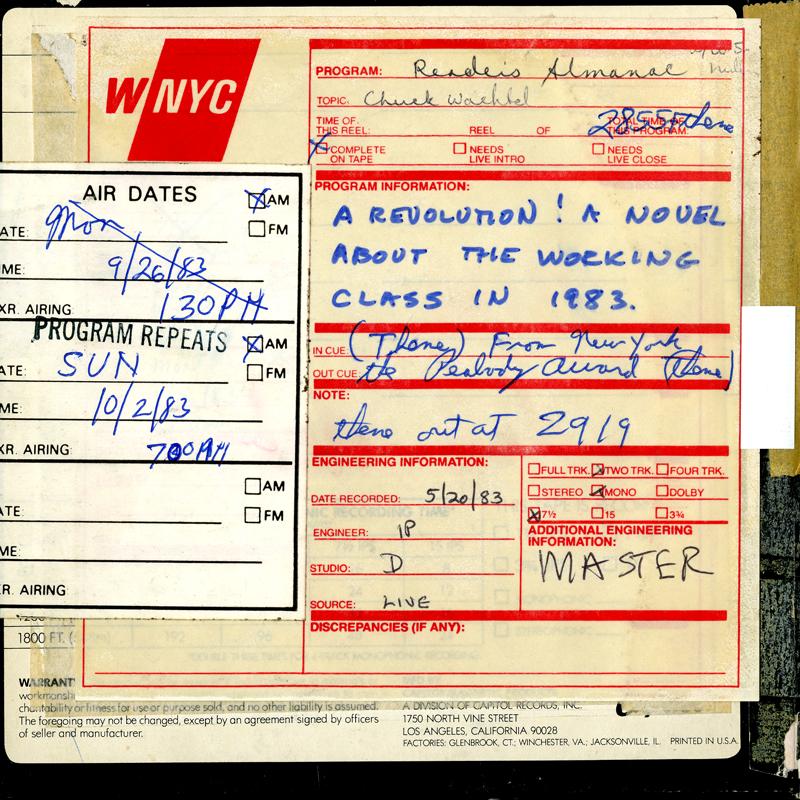 A Revolution! A novel about the working class in 1983.

Chuck Wachtel talks about his third book and first novel, Joe the Engineer. The main character is a Vietnam veteran working as a water meter reader in Richmond Hill, Queens. Wachtel says the story is informed by his own working-class background. He wanted to go beyond prior realist novels about the working class by presenting the thoughts of his title character, not just his actions and reactions. Wachtel reads several brief excerpts from the book. Host Walter James Miller says the passages show the allegories packed inside the prose.

Wachtel cites his characters as his greatest influence, but also lists other creators such as Hubert Selby Jr. (Last Exit to Brooklyn), Earl Thompson (Garden of Sand), Tillie Olsen and filmmaker Louis Bunuel.

In discussing his career as a writing teacher at Mercy College, Wachtel says he encourages his students to write solely in their own voice. Although it makes for slower progress in the long effort to become a published writer, "when you get there... the work is in your voice," he says. His advice is a reaction to what he sees as a "vicious" sectarian climate in American poetry that fosters strict imitation of one's influences.

Wachtel also reads from his previous work, The News, a chapbook of prose poems and discusses the demise of Number Magazine, the poetry journal he co-edited.
WNYC archives id: 72836