Studio 360
Christopher Nolan: My Movies Aren't Puzzles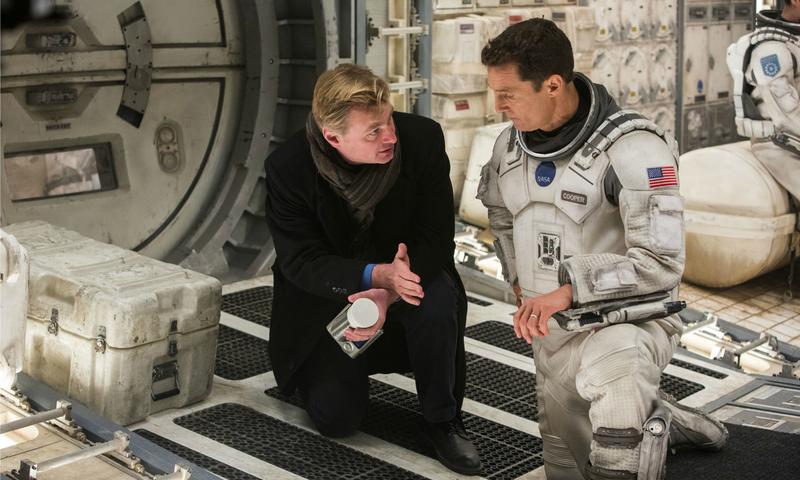 Christopher Nolan has directed some of the splashiest movies of the past decade: Inception, Batman Begins, The Dark Knight, and The Dark Knight Rises. Yes, they're all big, noisy blockbusters, but Nolan's movies always have a few big ideas that keep you thinking while stuff is blowing up. His latest movie, Interstellar, is no exception. A mind-bending sci-fi epic, Interstellar stars Matthew McConaughey and Anne Hathaway as scientists heading beyond the solar system to find a new home for humanity. Jessica Chastain plays McConaughey's daughter, left behind on a ruined planet Earth.
But Interstellar departs from Nolan's previous films by putting family relationships at its center. "The thing that drew me to the project was this contrast between a very intimate story of a father and his children, and the cosmic scale of the test of that relationship," he says. "Being a father myself was the reason I really gravitated toward the material," Nolan continues. "As I get older and I make more films, I find it's the emotional connection with the story that keeps me obsessively interested in the project."
Hear Kurt's full interview with Christopher Nolan below.
One striking thing about Interstellar is how ordinary things look in the future. That was a very deliberate choice, Nolan explains. "From a design point of view, we decided we didn't want the appearance of things to be guessed at, as far as what will people's trousers look like in the future, how will people's hairstyles be, what will a truck look like in the future? We're asking so much of the audience in terms of absorbing a set of ideas, going on a big journey, I wanted everything to be relatable."
The movie also addresses a major theme in Nolan's work: time. Going back to his first film, Following, from 1998, and continuing through Memento, Inception, and now Interstellar, Nolan has always played with multiple — and sometimes reversed or slowed-down — timelines. Nolan explains that interest in complexity comes from growing up in the age of VHS and being able to re-watch movies to pick them apart. "You're making films that are going to be watched more than once," he says. "People are going to watch them in a different way. They're going to have a different relationship to that narrative."
But, he cautions, audiences shouldn't approach his movies like puzzles to be solved. "What I've found with my movies is, people who sit back and relax and try to enjoy them as a ride, they understand and enjoy them much more."
Bonus Track: Kurt's extended conversation with Christopher Nolan

Music Playlist
Final Frontier

Artist: Thomas Bergersen

Album: Sun

Label: Thomas Bergersen

Why Do We Fall

Artist: Hans Zimmer

Album: The Dark Knight Rises: Original Motion Picture Soundtrack

Label: WaterTower Music