A Christmas Carol: A Radio Drama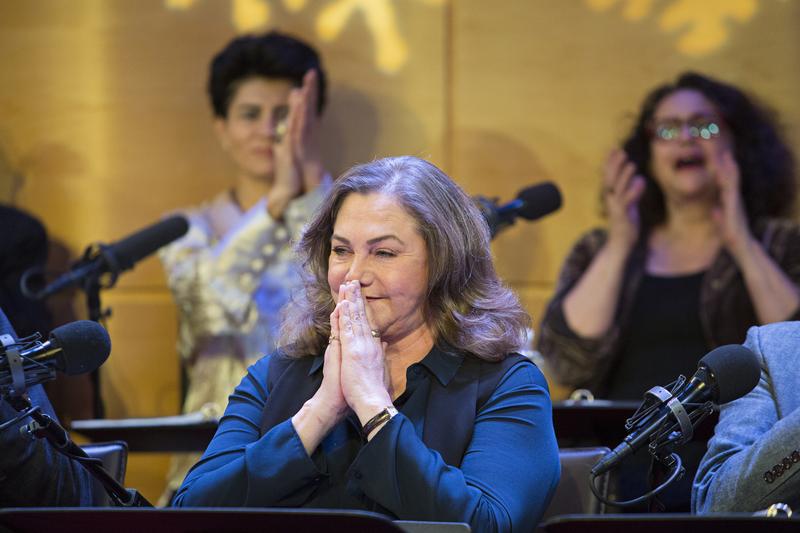 The Greene Space at WNYC and WQXR presents a beloved holiday tradition — a live performance of "A Christmas Carol," presented as a radio drama inspired by the Charles Dickens classic. 
This year, our cast was joined by Golden Globe-winning actor Kathleen Turner, who brought the story to life as our first female Scrooge. Fred Newman of A Prairie Home Companion returned to provide his signature sound effects. 
The rest of the cast is played by some of your favorite hosts and reporters from WNYC and WQXR: Brooke Gladstone of On The Media, WNYC hosts Jami Floyd and Richard Hake, John Schaefer of Soundcheck and New Sounds, and WQXR's Jeff Spurgeon, Terrance McKnight, and Annie Bergen.
Learn about all of WNYC's 2015 holiday programming.
Watch a live video webcast of the performance:
Cast
SCROOGE – Kathleen Turner
NARRATOR – John Schaefer
NEPHEW –  Sean Rameswaram
CRATCHIT – Jeff Spurgeon
COLLECTOR 1 –  Richard Hake
COLLECTOR 2 –  Terrance McKnight
MARLEY –  Julian Fleisher
GHOST OF CHRISTMAS PAST –  Jami Floyd
FEZZIWIG – Ira Flatow
BELLE –  Jessica Gould
GHOST OF CHRISTMAS PRESENT –  Brooke Gladstone
MRS. CRATCHIT – Julian Fleisher
MARTHA - Annie Bergen
TINY TIM – Peyton Lusk
BELINDA CRATCHIT – Jessica Gould
BUSINESSMAN 1 – Terrance McKnight
BUSINESSMAN 2 – Richard Hake
BOY – Peyton Lusk
Sound Effects: Fred Newman
Musicians: John Forster, piano and Martha Mooke, violin
Directed by: Elliott Forrest
---
Get a peek at how Fred Newman performs his signature sound effects:  
---