Christie Accuses 'Black Lives' Movement of Spurring Police Killings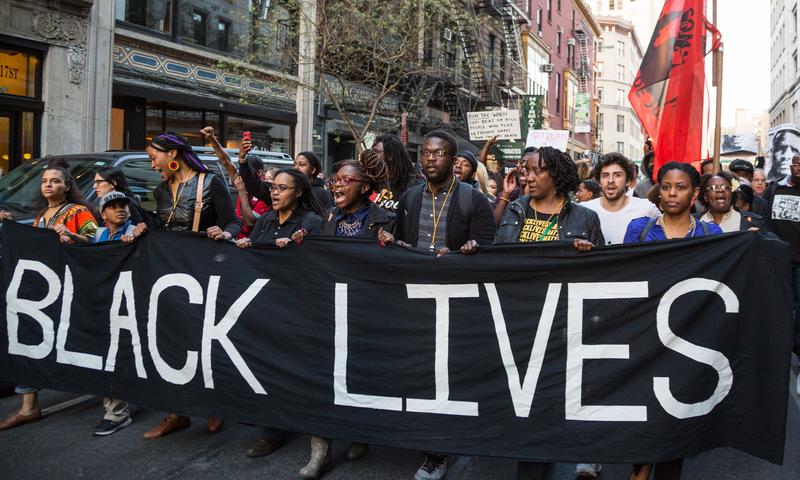 Click the audio player to hear Soterios Johnson interview WNYC's Matt Katz about Gov. Christie's comments and how they fit into a larger political context.
After a week that saw protests against police brutality, as well as the fatal shooting of a police officer in East Harlem, Republican presidential candidate Chris Christie said Sunday the two are connected.
Christie told host John Dickerson of CBS's Face the Nation that organizers of the #BlackLivesMatter are creating an environment that encourages police killings, saying "I don't believe that that movement should be justified."
Dickerson challenged Christie, saying, "But they're not calling for the murder of police officers." Christie replied, "Sure they are... they've been chanting in the streets for the murder of police officers."

Ari Rosmarin, Legal Director of New Jersey's ACLU called Christie's comments irresponsible. He said some cities have actually seen a decline in violence against police.
"Folks are coming together to demand justice in a way that we haven't seen in decades in the United States and that makes people like the governor uncomfortable," he said. "But I think all comments like that do is cause communities, including like those in Newark, to redouble their efforts."
New Jersey's American Civil Liberties Union is calling for a new Civilian Complaint Review Board to hold police accused of wrongdoing more accountable in Newark. Along partners such as the Newark NAACP, the ACLU is holding a community forum in Essex on Monday evening, hoping to build support for a well-funded board that would be the most robust in the nation in condemning police wrongdoing. The board must be approved by the city council.
Rick Robinson, one of the appointees to the prospective board and a member of the Newark NAACP, joined Rosmarin in his criticism of Christie. "Black Lives Matter is not a vigilante organization," he said. "[The Newark NAACP's] position is we want to actually stop any kind of violence, whether it's against police or against residents in the community."
Last week, NYPD officer Randolph Holder was shot and killed by a suspect he was chasing on a pedestrian walkway over the FDR Drive. On Sunday morning, the NYPD said divers had found a gun in the Harlem River that was "consistent" with the weapon used to kill Holder. Tyrone Howard has been charged with murder and robbery in Holder's death. Howard's lawyer has said there are missing details in the case.
Robinson said the Newark NAACP "feels horrible" about Holder's death "but Black Lives Matter is the movement for awareness for the abuses that happened," he said, countering Christie's criticism.
Earlier Sunday, Christie was apparently asked to leave the "quiet car" of an Amtrak train for talking too loudly on his cellphone. Spokeswoman Samantha Smith said after breaking what she called "the cardinal rule of the quiet car," Christie promptly left for the cafe car.