Christie 'Protected' Bridgegate Mastermind Wildstein, and Other Takeaways From Day 4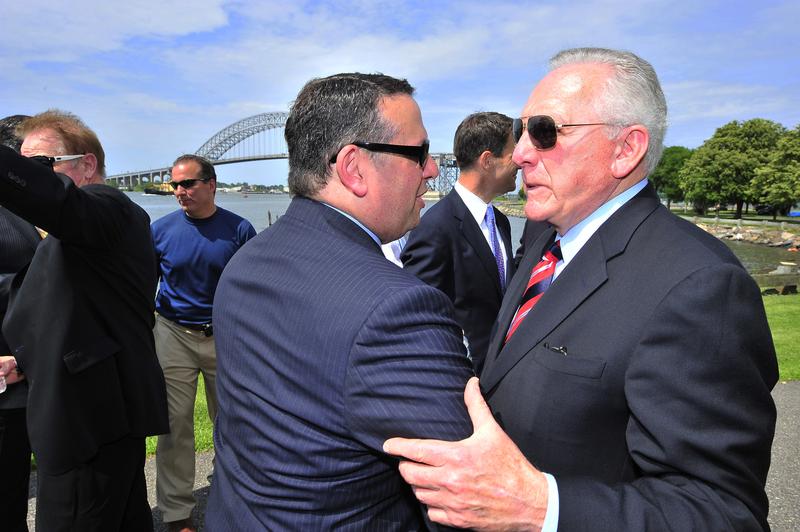 For the first time in three years, Port Authority Executive Director Pat Foye, a Cuomo appointee, has acknowledged that he had no power to stop anything Bridgegate mastermind David Wildstein had done, because Gov. Chris Christie "protected" Wildstein.  But Foye didn't escape his own testimony looking all that great; the defense documented in painstaking detail how Foye, despite knowing from the get-go there was no "traffic study," repeatedly allowed statements to go out to the contrary. Foye, the defense seemed to imply, did his own dirty dealing and this was just standard operating procedure at the Port Authority.
Here are the takeaways from Thursday's testimony.  
1. Christie "protected Wildstein."  It hasn't exactly been a secret that David Wildstein -- who ordered the closures, pleaded guilty to federal crimes, and is cooperating with prosecutors -- was linked in everyone's eyes to Christie. But the people who hinted that have been relatively low-level staffers. Under heavy cross-examination,  Foye acknowledged that a "review" he conducted, which included interviewing the two men who were in charge of the George Washington Bridge in a Hyatt hotel, omitted the main actor in the whole thing: David Wildstein.
"Why did you not interview David Wildstein during your internal review?" Foye was asked by Bridget Anne Kelly's defense attorney, Michael Critchley.
 "I think I told you he was abusive and untrustworthy and I had no reason to think he would tell me the truth," Foye batted back. Critchley, laying it on: "You made no effort to interview him, because you couldn't. He was protected by Chris Christie, correct?" 
Foye nodded. Then said: Yes.
2. David Samson was "closest to Wildstein." After Wildstein was fired, effective December 13, 2013, at the press conference where Christie denied that any of his staff knew anything about the lane closures, Wildstein held on to his communications devices. On December 15, Foye emailed Samson."David I was just informed that Wildstein on Friday told HR last day was 12/31 and that he refused to return I-pad and cellphone. Since you are the closest to him, I demand return of both devices to the nearest PAPD command today...I trust we won't have debate about this demand."
This email links the two Davids much more firmly than they've been in any of the documents released to date. In another email later that day, Foye wrote to Samson: "David, you personally have substantial and irreconcilable conflicts. I will outline separately.I demand you not participate in these investigations. Pat."
"What did you mean by that?" Critchley asked Foye. "I thought that he had conflicts because of his relationship to Wildstein."
3. David Wildstein was "hated by hundreds if not thousands of employees." Wildstein, remember, is the prosecution's star witness, upon whose credibility much of the case depends. For a year, the defense said, Cuomo's Vice Chairman, Scott Rechler was trying to get Wildstein fired. When asked about that, Foye said "I testified yesterday that David Wildstein was abusive and untrustworthy, and hated by hundreds if not thousands of people at the Port Authority." Among other things, Wildstein bought up websites like PatFoye.com. He had a special phone that could listen in on conversations. He took his Port Authority phone and I-Pad with him when he left, and Foye considered him such a threat that he posted a photo of Wildstein in every Port Authority facility after he was fired, warning that no one should let him in.
4. Foye wasn't exactly a hero, though.  After Foye testified, his Chief of Staff, John Ma, was up next. Ma, a Yale-educated lawyer, as the defense made a point of noting, described a scene on the Thursday afternoon, the fourth day of the lane closures, before Foye reopened the lanes.
Ma, who doesn't seem to have a reason for lying, said a press officer told him and Foye about a call from the Bergen Record.  And Ma said that  that Foye knew Baroni and Wildstein were telling the press officer to say there was a traffic study. Ma and Foye decided that Ma would call the Record reporter, John Cichowski, and tell him "off the record" that there was no traffic study and that the whole thing was Wildstein's fault.
The Record didn't immediately do anything with that information, and the next morning, Foye sent out his dramatic "hasty and ill-advised" email.
"Would you agree," Baroni attorney Michael Baldassare asked, "that Pat Foye left the lanes open on purpose so he could sweep in and be the hero of the day?"
"I wouldn't agree with that," Ma replied.
There were no further questions.
5. Foye lied to reporters with seeming nonchalance. After Foye sent out his famous "threat to public safety" email at 7:44 am on the Friday, the fifth day of the closures, Foye at some point, communicated with Howard Glaser, then Gov. Andrew Cuomo's right hand man. The adults apparently swooped in, securing Foye's acquiescence to the New Jersey side in exchange for some goodies for New York, like subsidies for the Red Hook port terminal. 
"Did anybody from Albany tell you [to stand down] from 7:44 am when you are raging like a lion, how upset you are, to 3 pm when you say meek as a lamb 'okay send out false statement'?" asked Michael Critchley on cross-examination. Foye demurred. "I told Bill have Trenton call Albany so I wanted Howard Glaser to have the email," was all he would say. But Critchley went on to outline Foye's repeated submission to the false story that the lane closures were a traffic study, including, insisting, two months later, that there was a "review."
Foye said those lies were "immaterial."
"At the November 13 press gaggle, it's  little different, now Chris Christie has won reelection and the political effect of his running for president is having an effect," Critichley said in his wind-up. "The number of media who attended is expanded dramatically, and they are asking "tell us about Fort Lee, tell us about Fort Lee." The Port Authority says "it's under review." That's called stonewalling, is it not? That review was just a gimmick, was it not, just a charade, correct?
"No," Foye insisted. But Critchley noted that Foye had concluded all his interviews for the investigation "You're still saying it's under review. That was just a mechanism to say we can't answer your questions!"
WNYC was at that press conference.  "Under review," is indeed what was said. Here's Sarah Gonzalez's great story from that day.