Does Chris Christie Owe Hoboken $700,000?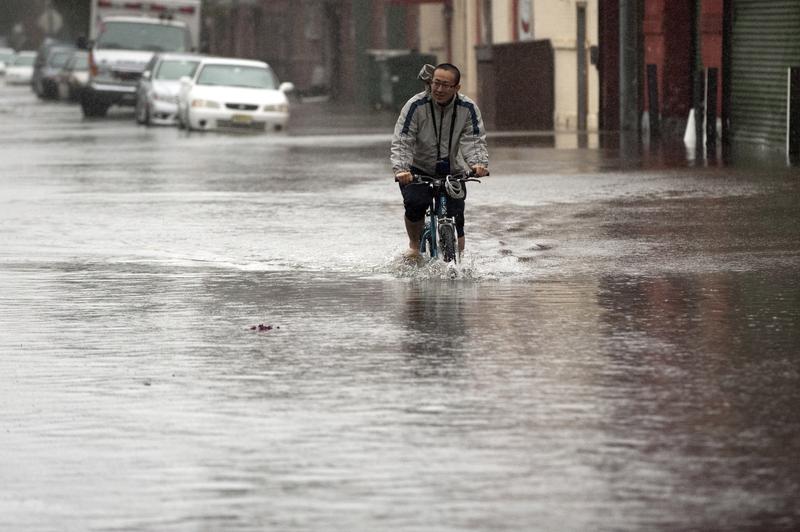 The amount of Sandy aid that's at the heart of Hoboken Mayor Dawn Zimmer's accusation against the Christie administration was initially determined through a faulty selection and scoring process, documents show.
An investigation by WNYC and NJ Spotlight has found that by using the Christie administration's own scoring criteria, seven of Hoboken's requests for backup generators should have been funded instead of just one, making it potentially eligible for up to $700,000 instead of the $142,080 the city was awarded.
Zimmer has claimed her city was shortchanged because she refused to support a redevelopment project favored by a close ally of Governor Christie. Top officials in the governor's office immediately disputed that claim.
The money in the Hazard Mitigation Grant Program Energy Allocation Initiative has yet to be distributed, and when these scoring inaccuracies were brought to the administration's attention, it said it was making adjustments and correcting problems and would take this investigation's findings into consideration.
"While you raise some questions about what you think could be problems with the process, we're still in the process," said Larry Ragonese, spokesman for the N.J. Department of Environmental Protection.
Questions about the integrity of the scoring data, however, appear to extend beyond simply a few errant numbers to more structural issues concerning the methodologies used in the ranking process, and the problems run to many more towns than Hoboken. Some cities were awarded much less than they should have been—and some were awarded more.
For example, a review of the initial scoring shows many municipalities received unequal treatment. Nutley—which had comparatively little damage from Sandy or past storms—got $556,240, while places like Atlantic City and Belmar weren't awarded any funding at all.
"Whenever you see these things, you don't know the subjectivity of who's populating these columns and these boxes," said Mark Mauriello, who worked at the NJ Department of Environmental Protection for three decades until 2010. He reviewed the data before speaking with WNYC and reporting partner, NJ Spotlight.
"And obviously, the more of these columns you have, the more opportunities you have to check off a box and add weight or points to a certain proposal. It just seems to me that this thing by nature creates a lot of opportunity to really make funding decisions that might not be in the best interest of the state."
To be clear, the $25 million Hazard Mitigation Grant Program—the focus of this investigation—is only a small fraction of the overall Sandy aid money.  But it's one of the few grants given directly to local municipalities, and it's also one of the few over which the Christie administration has complete control.
The Christie Administration has declined a request to release data on its funding decisions. But a spreadsheet obtained by the New Jersey chapter of Public Employees for Environmental Responsibility (PEER) was shared with WNYC.
According to that document as well as information supplied by the Governor's Office of Recovery and Rebuilding, applicants were awarded points for a variety of factors including population, density and disaster history. Using those criteria and the ranking system identified by state officials, WNYC and NJ Spotlight conducted its own scoring and found instances of similar grant applications from different municipalities receiving unequal treatment. In multiple cases, applicants were awarded points they never should have gotten, and the scoring methodology appears to have favored a select few applicants at the expense of the majority in several key rankings.
According to documents reviewed by WNYC and NJ Spotlight, Hoboken submitted seven requests totaling about $100 million for HMGP funding, for everything from building a two-mile long floodwall to flood-proofing the city's historic library to turning vacant land into parks to reduce storm water runoff.
It was ambitious, for sure, and after Hoboken's Mayor Zimmer came forward with her allegations that Christie administration officials had threatened withholding Sandy aid money, the governor's office released a press release portraying Hoboken as foolish for ever asking for so much. But it turns out $100 million wasn't the highest request, and it wasn't out of the ballpark of what several other municipalities had requested.
Documents WNYC and NJ Spotlight received in response to public records requests show Brick Township, for example, requested a total of $241 million, and the City of Elizabeth—which, though larger, suffered much less damage than Hoboken—asked for funding for 21 projects totaling $62 million.
As for the energy-related request Hoboken had made—$1.7 million for 12 backup generators at critical facilities like police and fire departments, shelters and the ambulance squad—the city was notified in October that it would receive just $142,080 through the Energy Allocation Initiative, a small fraction of what it had asked for.
For comparison's sake, our investigation looked at the energy requests submitted by Brick Township.
Brick officials bundled their requests for nine different generators into a single letter of intent totaling $1,260,000, and they attached an itemized list to their application, giving a breakdown of how much each generator would cost. Hoboken similarly submitted a single letter of intent for 12 different generators totaling $1,770,000.
But in Brick's case, the state used the itemized list the township had provided to give it a separate line item on the score sheet for eight of the nine generators it had asked for (the ninth request was excluded for reasons that are unclear). This process worked greatly to Brick's advantage and it received an overall allocation totaling $380,000.
In Hoboken's case, rather than getting separate line items for each of its 12 requests, the city inexplicably received just three line items. It also received fewer points than it deserved for having conducted energy audits and for having had a history of flooding.  
Also, Hoboken only received 10 out of 20 points in the population density ranking, despite being the fourth most densely-populated city in both the state and the nation (administration officials defended their scoring methodology, noting that Guttenberg—the city at the top of this ranking—has a density nearly one-and-a half times that of Hoboken).
The bar was set similarly high in the population ranking category, such that Newark and Jersey City—the state's first and second largest municipalities— only received five out of a possible 20 points. Elizabeth, the state's fourth largest city, did not receive any points for its population. Full credit was awarded, however, to a handful of county applicants and statewide agencies, which administration officials said had the effect of prioritizing "regional" projects, as called for by the recommendations of the President's Hurricane Sandy Rebuilding Task Force.
Belmar's request to fund a generator for an emergency evacuation shelter was similarly denied because it didn't receive any credit for its public assistance history, despite having requested more than $2.6 million over the past 15 years (which should have earned it an additional 40 points).
Jersey City's $3.5 million request for 22 generators only received an allocation of $159,840 because the generator request was given just a single line item on the score sheet.  The city also missed an opportunity to get backup power for its traffic lights because that application was shortchanged in the FEMA Public Assistance ranking.
The scoring irregularities also worked to benefit some communities. Morristown and Nutley incorrectly received hundreds of thousands of dollars for backup generators, despite having comparatively little disaster history. Had the scoring been done properly and according to the rules, it appears that none of their requests should have been approved. Likewise for Creskill, Dover, Monroe Township (Middlesex County), Mount Arlington, North Caldwell and Old Tappan.
A spokesman for the city of Hoboken released a statement in response to the WNYC/NJ Spotlight's findings. "This investigation adds to the growing body of evidence that the Christie Administration's process of distributing Sandy funds has been flawed, politicized and subject to abuse," it said.
Briefed on the investigation's findings, State Senator Ray Lesniak—a frequent critic of the administration—called for an independent audit of the state's distribution of Sandy aid money. "We're going to have to just add that to our lengthening list of investigations," he said.
For its part, the state now appear to be back-pedaling.
"As part of the State's ongoing quality control and assurance process," state officials wrote in a letter to grant applicants a few days after a reporter first confronted them with the scoring improprieties, "the cross-agency working group continues to review each data point, confirm accuracy, make any needed adjustments, and ensure that the data is correct before finalizing and submitting project applications to FEMA (no projects have yet been submitted)."
Despite having asked each municipality for a plan on how it would spend its grant, the state is now saying there may be changes.
"We will contact you promptly in the event that any adjustments are required," the letter said.