Christie's No to a Cross-Hudson Tunnel Is Now a Yes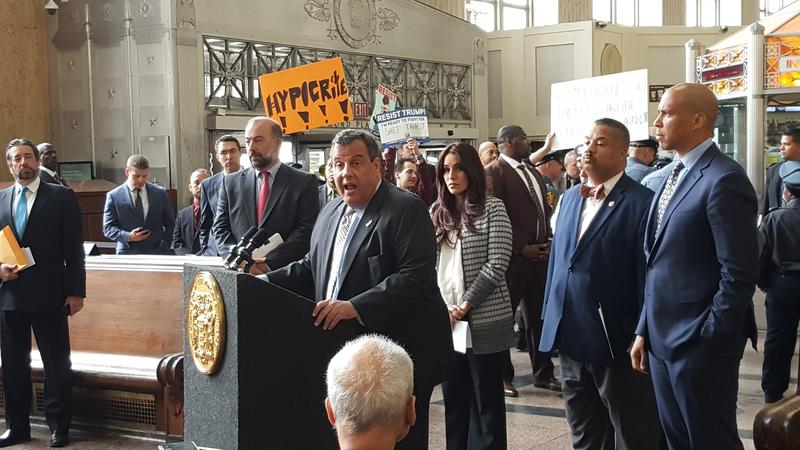 Work had already begun on the ARC Tunnel, a planned cross-Hudson rail tunnel, seven years ago — and then Gov. Chris Christie decided to cancel the project, citing the risk of cost overruns.
Yet on Wednesday, Christie stood with other elected officials in Newark Penn Station and called on the federal government to help fund a new $23 billion tunnel, known as Gateway, linking New Jersey and New York. 
When Sen. Cory Booker, who organized the event, opened the floor to questions, reporters wanted to understand Christie's apparent reversal.
Booker would not allow Christie to respond when a reporter asked whether it would have been better to not cancel the ARC project.
When another reporter asked Christie about taking the case for Gateway directly to President Donald Trump — who is a friend — Christie said he had. "I've already spoken to the president about this. So the president is well aware of my point of view on this project," Christie said. He did not give more details.
Transportation advocates said a new connection is now needed more urgently than ever. The existing tunnels that link Manhattan's Penn Station with New Jersey are over 100 years old and were badly damaged by Sandy. 
Christie said Gateway is superior to ARC because it connects to Penn Station (the ARC would have taken commuters to Herald Square), and because the tunnel would be 50 percent funded by the federal government, though the money has not yet been appropriated. 
Christie and Booker are calling on federal Transportation Secretary Elaine Chao to tour the crumbling transit infrastructure around New York and New Jersey.
"She needs to see the project that we all agreed upon during the Obama administration," Christie said, referring to Gateway.
If it had not been cancelled, the ARC Tunnel could have been completed as early as 2018.