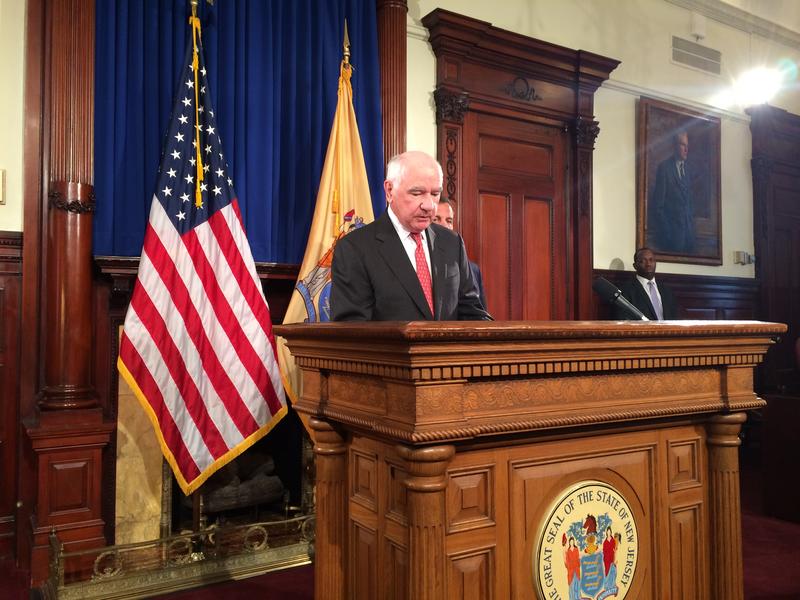 New Jersey Gov. Chris Christie has chosen a retired insurance executive, John Degnan, to serve as chairman of the Port Authority of New York and New Jersey. Degnan has held public office before: he served as New Jersey attorney general under Democrat Brendan Byrne from 1978 to 1981. But he does not have a transportation background.
His selection follows the resignation of David Samson, a lobbyist and close Christie friend who is under investigation by the U.S. Attorney for making decisions as Port Authority chairman that enriched his clients. Samson was in charge of the troubled bi-state authority during the Bridgegate scandal and was in almost daily touch with Bill Baroni, Christie's top staff appointee at the Port Authority during the period of the scandal and its aftermath.
At a Trenton press conference where he did not allow Degnan to take questions, Christie called Degnan a man of "integrity."
In contrast to the highly political Samson, who accompanied Christie on trips paving the way for a possible 2016 presidential bid, Degnan has made few political contributions. He contributed $2,000 to Democrat Jon Corzine in 2009 and $2,500 to Christie in 2013. Degnan ran unsuccessfully in New Jersey's Democratic gubernatorial primary in 1981 and then served as an executive for the Chubb Group of Insurance Companies.
Christie does have ties to Degnan. Degnan's son Phil worked for Christie when he was U.S. Attorney, and Phil Degnan now serves as executive director of the State Commission of Investigation. The chairman of the SCI, Patrick Hobbs, recently resigned when Christie appointed him to the new position of ombudsman in his office.
Christie has turned to Degnan twice before, first appointing him to a judiciary advisory panel after members quit en masse when the governor broke precedent and rejected tenure for Supreme Court Justice John Wallace. And last year, Christie put him on an anti-violence advisory task force in the wake of school shootings in Connecticut.
Christie followed a path forged by governors before him. When former Gov. Jon S. Corzine got into a major car accident, it was Degnan who was tapped to be on a panel recommending changes to the governor's security detail. And when former Gov. Jim McGreevey faced controversies at the Department of Motor Vehicles, it was Degnan who was named to a task force to figure out ways to fix it. 
He was appointed by former Gov. Donald DiFrancesco's attorney general to look at practices of the attorney general's office, and under former Gov. Christie Todd Whitman he served on an advisory panel that recommended pay hikes for legislators, judges and cabinet members.
Another Christie appointee, Richard Bagger, had been rumored as a possible successor to Samson. But Bagger is a former Christie chief of staff and, like Samson, a Christie fundraiser and political ally.
"Frankly, it can't get much worse at the Port Authority, so any change should be beneficial," said Democratic Assemblyman John Wisniewski of Degnan's appointment. Wisniewski is chairing the Bridgegate investigation. He added that Degnan had a "strong resume."
But Democratic State Sen. Ray Lesniak told PolitckerNJ that Degnan "went in the tank when he participated in Christie's chosen group of attorneys to support a replacement for Justice Wallace." Lesniak said Degnan "can't be expected to be an independent watchdog."
Chubb apparently has contracts with the Port Authority, but the value of those contracts could not immediately be determined. 
The position requires confirmation by the New Jersey Senate.