Christie Heckled At Otherwise Breezy Town Hall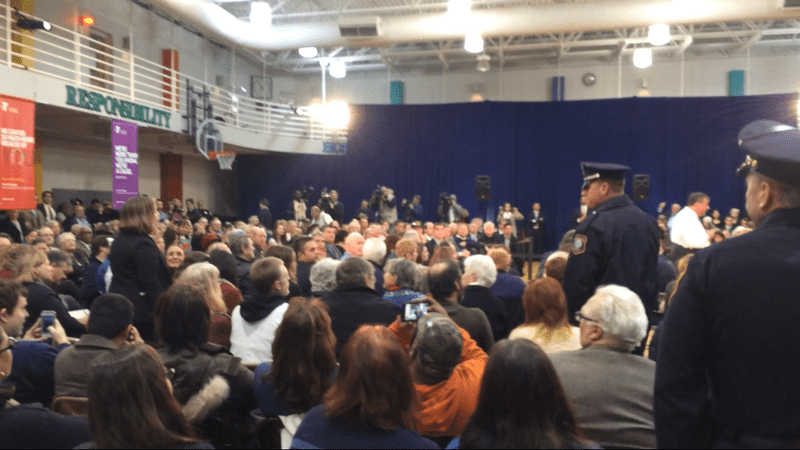 Through 113 town hall meetings over four years, never before has Gov. Chris Christie gotten a reception like this.
Six people, coordinated by the liberal New Jersey Working Families Alliance, stood up at separate moments during Christie's town hall meeting in Mount Laurel Thursday to interrupt as the governor listened to, and tried to answer, questions from constituents who had dutifully raised their hands. 
"Listen, listen...either sit down and be quiet or get out, we're done with you!" Christie said to one heckler.
The crowd in this southern New Jersey town was otherwise mostly on the governor's side as they cheered, for example, his criticism of Obamacare. 
The hecklers seemed to raise several issues but were mostly drowned out by Christie and the questioners, who had microphones, and the crowd, which turned against them. One issue raised: The fact that taxpayers are paying $650-an-hour for an attorney to represent the governor in the various scandals enveloping his administration.
Each of the protesters were removed by police officers. Christie turned the incident into a chance to criticize reporters, several of whom followed the hecklers out to interview them.
"What they want is attention," he said. "And they want partisan political attention from a media that is hungry to give it to them."
This was Christie's fourth town hall meeting since scandals broke involving Bridgegate and the distribution of Sandy aid, yet none of the people whom Christie called on asked about those issues. He has yet to get a formal question about Bridgegate from a constituent at a town hall meeting.