Nightmarish Train Tunnel Delays. Whose Problem Is It?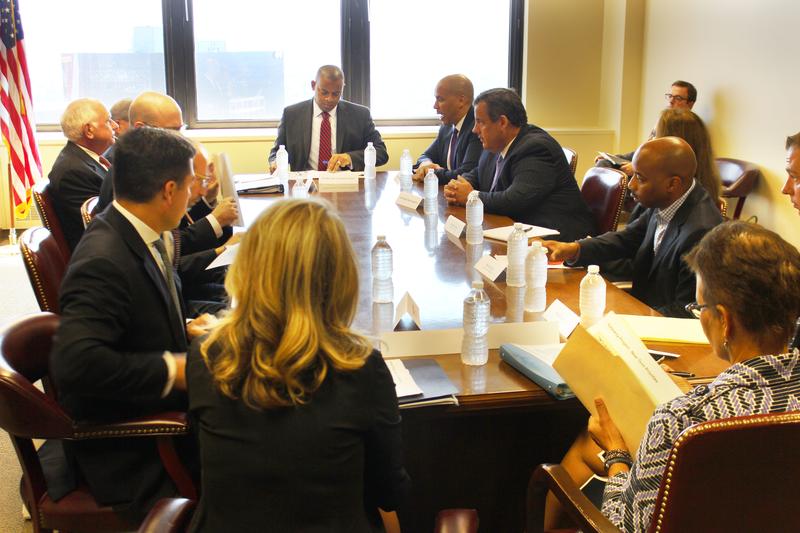 NEWS ANALYSIS — On Monday of this week, tunnels under the Hudson were once again choked with delays. So New Jersey Gov. Chris Christie, who had been in Manhattan for a television interview about his presidential campaign, took a helicopter over the Hudson to return home.
That's not an option for most New Jersey commuters. Take Nina, a bank worker who didn't want to give her last name at Penn Station recently, because her boss is already upset with her for being late to work so many times. 
"It's sickening," she said as she rushed up the escalator after an ultra-long commute. "It's impossible to plan your work week with NJ Transit, because you never know when you are going to get into the city. And I was just thinking about it today and I thought, 'Who's accountable for this?'" 
The list of who's accountable is shamefully long. It includes anti-spending Republicans in Congress and a host of local elected officials, starting with Christie. Five years ago, Christie cancelled an already-in-progress tunnel under the Hudson, clumsily named "Access to Region's Core," or ARC.
The ARC tunnel would have brought commuters to Sixth Avenue, not Penn Station. But it was fully-funded, the price tag was $9 billion, and it would have been finished in 2018. Christie claimed it was badly conceived and that New Jersey would have to pay for any potential overruns. 
"When you max out your credit card, there comes a point...where you say, 'I can't,'" Christie said when he killed the project in October 2010. "I can't do it. And I'm not going to do it. I'm not going to go blindly down the road and have someone else figure it out."
Christie paid lip service to a different project, an Amtrak tunnel called the Gateway. Amtrak shares tracks with NJ Transit, so a governor fully committed to Gateway would have ordered his transit agency to work with Amtrak five years ago.
Five years later, with service delays mounting, Christie has finally started to do something about it, meeting with U.S. Transportation Secretary Anthony Foxx and the state's two U.S. Senators in Newark on Tuesday.
"We had a substantive and productive meeting today and all of us are committed to working together on a path forward on this critical project," the officials said in a joint statement after the meeting.
It has virtually no funding. It's estimated to cost $20 billion. The best-case scenario for completion is 2030.
On the New York side of the Hudson, Governor Andrew Cuomo didn't even attend Tuesday's meeting. In high dudgeon last week, he denied any responsibility for the project.
"It's not my tunnel! Why don't you pay for it?" he said to WNYC reporter Stephen Nessen. 
Cuomo rejects the idea that New York might be obligated for a federal loan.
"There is no moral, legal or ethical reason why the state should be looked at to fund it, or the states, plural, New Jersey and New York."
New York's uber-alpha male governor was so peeved at the idea of a loan that he refused to show up to the meeting with Secretary Foxx. (Officials later claimed this was a New Jersey meeting, even though Foxx had requested a meeting with both governors.)
Cuomo wants a federal grant to pay for the Gateway project. And he praised the officials at Tuesday's meeting for putting that option on the table. But no federal grants get issued until local officials come up with an actual plan and ask for the money. That's how grants work. You apply for them. And to do that, you have to be sitting at the table. 
As for Christie, let's assume that he's finally brought his best self, the "roll-up-your-sleeves-and-get-it-done" self, to the tunnel project. Even if that's true, it's harder now than it would have been five years ago. Because he's running for president.
Just last week, he signed a campaign pledge not to raise the state's gas tax, cutting off a major source of funds to pay off any tunnel loans.
The alternative is to beg Washington for money at a time when Republicans in Congress are downright hostile to federal funding for infrastructure projects. Especially trains.
Another alternative was described by Tom Wright, president of the Regional Plan Association. 
"The worst case scenario is an engineer for Amtrak goes down to inspect the tunnel next week, next month, sees more cracks, sees more damage, and says, 'Sorry, can't run the trains through this tunnel any more.' "
Wright gives that alternative an 85 percent chance of happening before a new tunnel can be built. If it happens to just one of the two tubes through the current tunnel, train traffic gets cut by 75 percent, because a train would need to go in both directions in a single tube.  
"Employment would go down, tax revenue would go down," Wright continued. "People would move away from the state of New Jersey. We would have a mini recession."
And you can't fly over that problem with a helicopter.