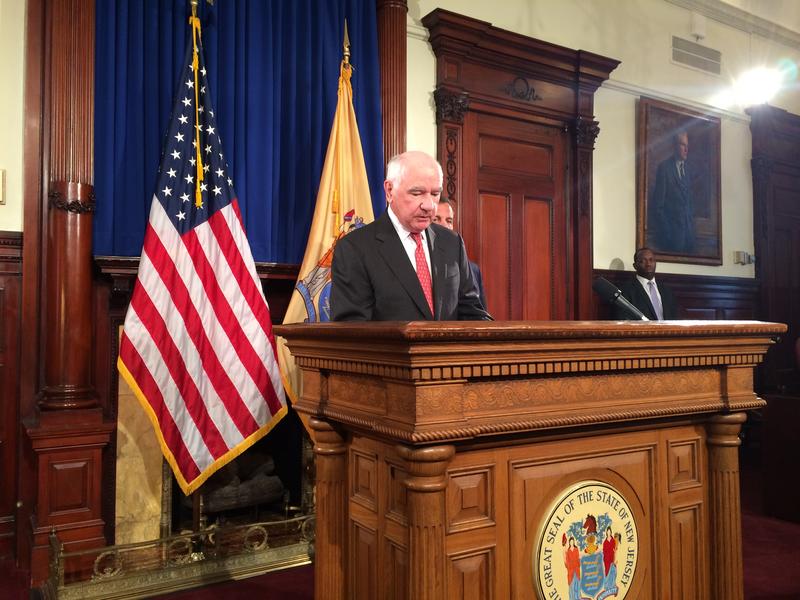 In an implicit rebuke to his predecessor, New Jersey Gov. Chris Christie's nominee to chair the Port Authority of New York and New Jersey says he would have handled Bridgegate differently. 
John Degnan, nominated by Christie to replace David Samson, says he would have  taken immediate action upon learning that lanes had been closed on the George Washington Bridge without notice to local authorities, commuters, or the Port Authority Executive Director, Pat Foye. His comments came in a confirmation hearing before the New Jersey Senate. Samson resigned in March after coming under federal investigation for potential conflicts of interest in his Port Authority Post
Responding to questioning from Senate Majority Leader Loretta Weinberg, Degnan said he would have instructed Foye to fire the individuals who ordered the lane closures and "violated their office."
That's markedly different from the way Samson handled the matter. Upon reading Foye's email, Samson went on the attack, accusing Foye, an appointee of New York Gov. Andrew Cuomo, of "playing in traffic. Bad mistake."
Foye's email, which charged the decision to close the lanes was "hasty and ill-advised" and likely violated federal law and the laws of both states, was also widely circulated at the highest levels of the Christie Administration and by early October, Christie himself was aware of the email, he has said. 
But beyond questioning key Bridgegate figures David Wildstein and Bill Baroni, Christie and his top aides did little to probe the matter further. It took several more months for the Governor to decide Wildstein and Baroni would have to resign. Even when that did happen Christie made sure to thank Wildstein "for his service."
Degnan, a Democrat and former NJ State Attorney General who most recently worked for the Chubb Insurance Group, told Senators: "I would have immediately ordered the cessation of the so-called survey and the closing of the lanes. I would like to think that it would not have come to that if I were there. That I would not have allowed a situation to happen where the executive director isn't aware, simply because he's appointed by New York." Degnan added: "I want him to feel free to call me immediately if he thinks anybody in the organization is abusing their power." 
"Let's assume it did happen," Weinberg pressed. "Because it did happen."
"I would tell him to fire the individuals at the Port Authority who had violated their office and effected that result," Degnan said. 
In other testimony, Degnan said he sees nothing inappropriate about the Authority's funding of repairs to the Pulaski Skyway which has come under scrutiny from local and federal investigators.
"There have been literally scores, if not hundreds of times in its 85-year-old history, that the Port Authority has provided funding for projects that are related to transportation and economic vitality in the region of both states," said Degnan.
A probe led by the Manhattan District Attorney and the federal Securities and Exchange Commission is looking into whether the Christie and the Port Authority violated the law by funding the Skyway by defining it as a "access road" to the Lincoln Tunnel when it actually leads to the Holland Tunnel. The Holland tunnel IS owned by the Port Authority, but it was built before the Port Authority came into being, and so federal law prohibits the Port from funding roads that lead there. 
Degnan also found himself having to repeatedly defend his independence from the governor, after it emerged earlier this month that Christie had hired Degnan's son twice in the past.