Christie Bridgegate Lawyer Poised to Become Top Wall Street Cop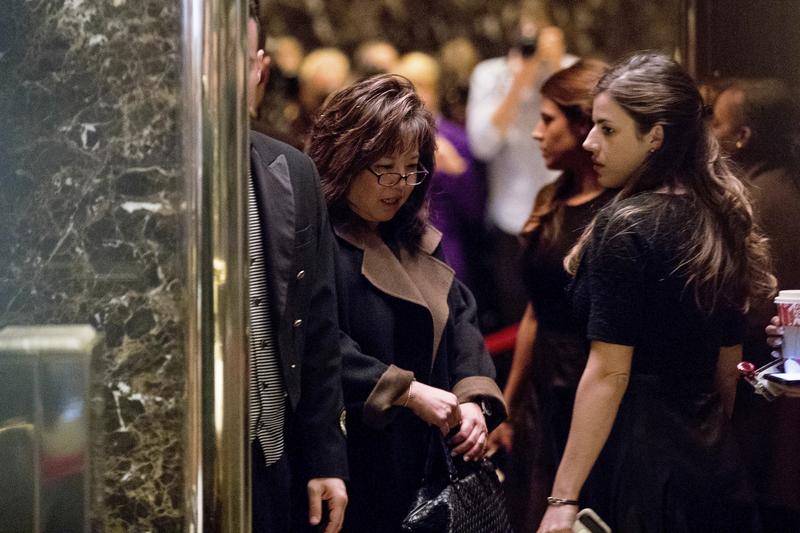 The likely new chair of the Securities Exchange Commission is a politically-connected litigator who served as a lead attorney on the controversial internal investigation of New Jersey Gov. Chris Christie's role in the Bridgegate scandal. To this day, Christie often says that report "exonerated" him.
Debra Wong Yang, who several publications say is in line for the S.E.C. job, is a close friend of Christie's. Their families have gone wild-pig hunting together at a Texas game ranch. Yang received a lucrative contract from Christie when he was U.S. Attorney, her daughter interned for the governor, and she had a coveted ticketed seat for Christie's second inauguration.
On presidential primary night at a hotel in Nashua, NH, last February, Yang was one of the tight-knight group of Christie friends who bore witness to the collapse of his presidential ambitions.
If selected, Yang, who is the head of the "crisis management practice group" at the law firm Gibson Dunn, would be in charge of the regulatory agency that polices Wall Street, once a key target of Trump's ire on the campaign trail. Her nomination has inspired some hand-wringing among financial analysts who look to her term as U.S. Attorney in Los Angeles as a signal she'd be an aggressive monitor.
But her work on the so-called "Mastro Report," named for lead attorney Randy Mastro of Gibson Dunn, suggests otherwise. The report was widely derided as a "whitewash," designed to protect Christie rather than get to the bottom of a conspiracy to close lanes on the George Washington Bridge for political reasons. The Bridgegate judge, Susan Wigenton, even lambasted the report in a court ruling for "opacity and gamesmanship."
Indeed, in a case that hangs on an email "time for some traffic problems in Fort Lee," the Gibson Dunn team didn't search Christie's private email account for 30 months. The governor regularly used a "Chris and Mary Pat Christie" account to communicate with reporters, but the Gibson Dunn team said it didn't see that account as relevant, and didn't find anything interesting when lawyers finally looked at it in June 2016.
Yang declined a request for comment, but in a written statement to WNYC, Mastro defended the investigation, saying its conclusions "were the same in all material respects as those reached by a joint legislative committee and the U.S. Attorney's office," and that that "we found no evidence during our investigation —and none was introduced at the criminal trial by either the prosecution or defense —that Governor Christie knew in advance of any decision to close the GWB lanes as an act of political retribution."
Mastro also said Yang "is an exceptional attorney, a person of highest integrity, and an honorable public servant."
Yang played a major role in the investigation of the Christie administration, billing taxpayers for hundreds of hours of legal work, according to records supplied to WNYC under the state open records law.
At the same time, Yang and her colleagues at the Gibson Dunn law firm raised thousands of dollars for Christie's presidential campaign. The firm was Christie's largest source of funds at the end of 2015 even as it collected $11 million in fees for ongoing legal work related to the Bridgegate investigation, according to state and federal documents. On the day Yang attended Christie's second inaugural address, she billed taxpayers for Bridgegate work.
That work included interviewing her friend Christie personally, as well as high-level Christie aides whom, trial testimony showed, were made aware of key parts of the conspiracy or its cover-up —including top Christie economic aide Michele Brown. Convicted Bridgegate defendant Bridget Kelly said Brown was present when she discussed the lane closures with Christie while they were going on.
In addition, Yang interviewed Christie's chief counsel, Charlie McKenna, chief of staff Kevin O'Dowd and press secretary Michael Drewniak.  And although Yang was personally involved in investigating the role of Christie and all his top staffers, not one Gibson Dunn lawyer interviewed anyone who worked for the Port Authority of New York and New Jersey, the bi-state agency at the center of the scandal.
The Gibson Dunn report found Christie had no role, a conclusion at odds with both prosecutors and defense attorneys in the just-conducted Bridgegate trial. At trial, attorneys presented evidence that Christie knew about the closures while they were going on.  The prosecution's star witness, David Wildstein, testified that Christie laughed when he discussed it, at a memorial service at the World Trade Center site on September 11, 2013, and photos were entered into evidence that showed the governor laughing with Wildstein and Bill Baroni, two of the three people convicted in the case.   
To this day, Christie says the Mastro report cleared him of any wrongdoing. 
But in prosecution circles, the report was dubbed "the Randy Mastro defense brief" and the "slut-shaming of Bridget Kelly." That's because a central conclusion of the report, presented in the fifth paragraph of its executive summary, was that Bridgegate defendant Kelly had a sexual relationship with Bill Stepien, Christie's former campaign manager (who is now in line to be Trump's White House political director): "At some point after Stepien's departure to run the campaign, Kelly and Stepien became personally involved, although, by early August 2013, their personal relationship had cooled, apparently at Stepien's choice, and they largely stopped speaking."
Later, the report returned to the topic, offering the surmise that Kelly's decision to participate in organizing the Fort Lee Lane closures may have had something to do with being dumped by her former boss Stepien: "Events in Kelly's personal life may have had some bearing on her subjective motivations and state of mind." 
But the personal relationship between Kelly and Stepien was deemed so insignificant that it was never once mentioned in the seven-week Bridgegate trial, nor in thousands of pages of pre-trial motions. 
The Mastro Report was criticized for another reason, because neither Yang nor any of the attorneys or assistants working on it took contemporaneous notes, merely "summarizing" contents of interviews.  This practice drew a tongue-lashing from federal district court Judge Susan Wigenton. "The taxpayers of the state of New Jersey paid [Gibson Dunn] millions of dollars to conduct a transparent and thorough investigation," Wigenton wrote in a December 2015 ruling. "What they got instead was opacity and gamesmanship. They deserve better."