29 Injured in Chelsea Bomb Blast Released from Hospital; Motive Still Unknown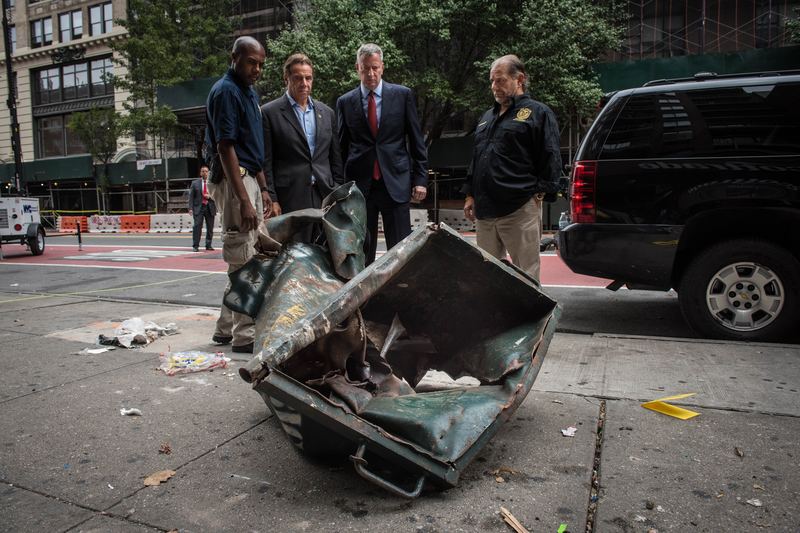 Twenty-nine people who were injured by a bomb blast in Chelsea Saturday night have been released from the hospital. The explosion, which happened around 8:30 p.m. on West 23rd Street between 6th and 7th Avenue, shattered the windows of nearby buildings and sent pedestrians running for cover. 
After closing off surrounding streets, authorities swept the area and found a second explosive device just four blocks north. The device was described as a pressure cooker attached to wiring and a cell phone. That device was removed and is being examined by the NYPD bomb squad.
At a news conference Sunday, Police Commissioner James O'Neill said that investigators at the scene of the blast found "components indicative of an I.E.D.," or improvised explosive device. Witnesses say the explosion came from a dumpster on the street.
No suspect has been identified and the motive for the bombing is unknown. But Mayor Bill de Blasio said that the city is working with federal investigators, including those from the FBI and the ATF, to find out. "We have a lot more work to do to be able to say what kind of motivation was behind this," he said.
Governor Andrew Cuomo said the explosion was an intentional act designed to kill, but that it did not appear to be linked to international terrorism. 
Both the Governor and the Mayor have promised to step up security. Cuomo said that 1,000 state police and National Guard members have been deployed to city transit hubs, while de Blasio said New Yorkers should expect "a very substantial NYPD presence this week. Bigger than ever." 
Chris Gonzalez, visiting from Dallas, was having dinner with friends at a restaurant when the bomb went off. The 26-year-old said she heard and felt a blast, then the restaurant went quiet.
Just after 10 p.m., while police were sweeping the neighborhood for other potential explosives, two National Public Radio staffers stumbled upon the second device. Petra Mayer, an editor at NPR, said she was walking along West 27th Street when a silvery object on the sidewalk caught her eye. It was the pressure cooker.
"There's always a fight between the part of your brain that wants to believe everything's okay," Mayer said, "and the other part that's like, there are wires, and duct tape, and a mysterious device. You should probably call this in." After a moment of internal debate, they alerted the police.
The blast happened just hours after a pipe bomb exploded in Seaside Park, New Jersey, near a site where thousands were scheduled to run a charity 5-K race to benefit the Marines. De Blasio said that the two events did not seem to be related. However, federal investigators in Quanitco, Virginia are examining evidence from both explosions.
Officials are asking anyone with any information or video to call the NYPD at 1-800-577-TIPS.
25 injuries to civilians confirmed at 133 W 23 St #Chelsea. None appear to be life-threatening at this time

— FDNY (@FDNY) September 18, 2016
Apartment is being blocked off - #Explosion #Chelsea #NewYork pic.twitter.com/B14pWOFpZ0

— N∑H∆ (@nnehajainn) September 18, 2016
People evacuated local bars, onlookers filled 23rdSt NYC explosion pic.twitter.com/U7AgyIqrkk

— Liz Mandel (@elisabetherapy) September 18, 2016
Huge explosion in Chelsea blew this dumpster ... pic.twitter.com/1lSIGjRyC8

— Chris Duffy (@voicehalf) September 18, 2016
There are also a number of service changes on subways as a result of the ongoing investigation. Get updates here.  
The Associated Press contributed to this report.